What is a Twitch Starting Screen?
A starting screen for your stream it the first few minutes before you go live. You set it to go first so that your viewers will get notifications and will have time to tune in before the show actually begins. The amount of time the starting screen is up before the streamer appears is up to each broadcaster but is generally between 5-15 minutes.
How Should Your Starting Screen Look?
Your starting screen should be appealing and showcase your brand. While many people use a simple graphic that utilizes their colors and logo and a "Starting Soon" message, there are several other things you can do once you have built up a little bit of a community.
Where to Get A Twitch Starting Screen
While you can create your own there are also plenty of free and premium options found online. Own3D Starting Screens are our pick if you want something fast and professional, guaranteed to catch the eye of new viewers.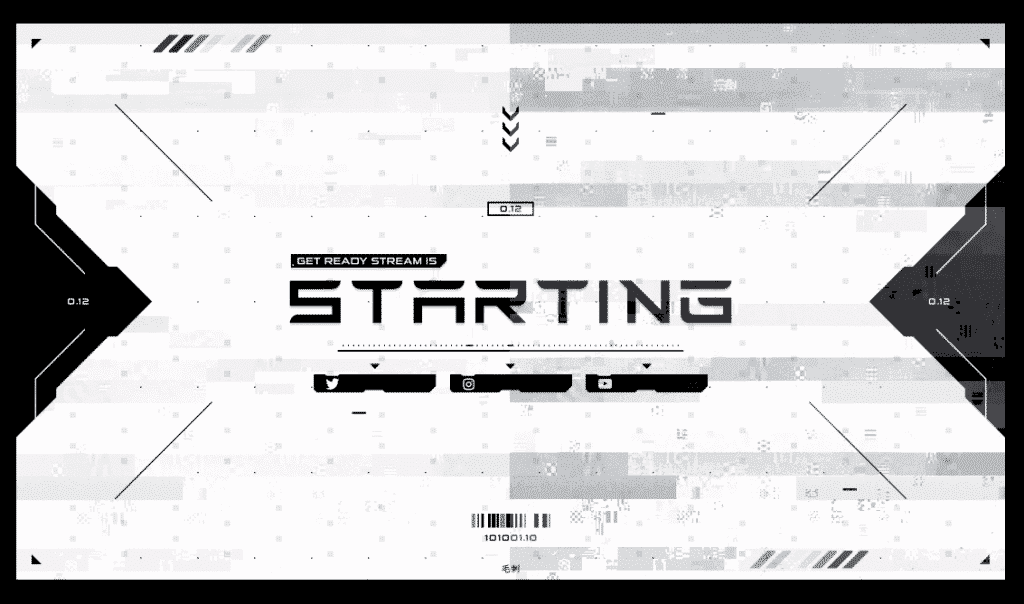 This starting screen is part of Own3D's Glitch Pro pack.
Purchase Pre-Designed Packs
If you are just getting started, you can purchase a streamer pack that includes a starting screen from Own3D. It only takes a few minutes to customize these packs to your branding and set them up for your stream and their professional look and animations show your viewers that you are taking
Custom Designed Starting Screen
When you are ready to invest in your first custom starting screen, head on over to Fiverr where you will find designers who are willing to work with you for a reasonable fee. Make sure to find someone with good reviews whose previous artwork you enjoy. Explain to them exactly what you want and work with them toward your final product.
Design A Very Simple Screen
You can create a basic starting screen on your own, even if you are artistically challenged. All you truly need is a page that says a variant of "Starting Soon." While you will want to update this when you can for a more professional stream, everyone needs to start somewhere.
Once you have imported your starting screen into your broadcasting software, you can even add a countdown timer with a plug-in to let people know exactly when you plan to appear on the screen.
This starting screen is part of Own3D's Good Vibes Package.
Ideas For a Custom Twitch Starting Screen
Here are a few ideas on how you can make your starting screen fun and unique if you have good access to an editor or a designer (or know how to do it yourself):
Video Intro
Create a video intro that will play until you are ready to stream. Have a countdown timer integrated somewhere on the intro. Here are a few things you can showcase:
Compilation/Highlight video – use some of the best clips from your stream to create a fun compilation video to play at the beginning of your stream. It will get your audience hyped as they remember all the good times you've shared together.
Video of Your RL Adventures – if you often talk about things you do in real life, compile several shorts together to show the things you do outside of streaming.
Dancing – everyone loves dancing… especially if you are hilariously bad at it.
Clips from your viewers – have a page on your Discord channel where people can upload their own clips or videos. Pick your favorites and periodically create a new starting intro showcasing your viewers. Have an overlay on the video showing their name (or gamer name) or roll credits at the end right before the stream begins. This is a fun way to interact with your community and get them excited about your stream.
These videos can be placed in a designed overlay screen with your branding to make it more personal.
Movie Previews
Design your starting screen in a movie preview fashion. Make it as obvious as you can as to what you are doing to add to the comedic effect.
Remind people to grab their concessions
If you have something exciting coming up, such as a charity stream, create a preview for it complete with rating and voice-over.
Remind people to turn off their mobile phones
Integrate an "ad" for your Discord channel or other social sites
Complete your previews with "dimming the lights" or the film strip countdown
Add Informational Overlays
If you want to keep your starting screen a little simpler, try one of the following:
Add an overlay displaying your planned content for the day. Doing this would be especially useful to your viewers if you are a variety streamer.
Have different update statuses appear (with a loading bar) throughout your starting screen. Add updates that are funny or somewhat true of what you are doing to prepare (ie, Scrubbing Cheeto Stains Out of T-Shirt, Picturing Audience in Underwear, etc). Have them reminiscent of some games that do the same while the game loads
Integrate Music to Your Twitch Starting Screen
Unless you are playing sounds from showcased clips (or even if you are), try to play music on Twitch with your overlays to keep it a little more interesting and remind people that there is something going on.