They can sift through video clips of the streams they missed to catch your best moments on-air, and clips can also be a way to diversify your content to other social media platforms.
Initially, Twitch fostered the culture of clipping moments in a Stream, but now live streaming giant YouTube Gaming has decided to implement this feature.
Clipping on YouTube Gaming is really straightforward, and not only can you do it on a live stream, but you can also clip on video content!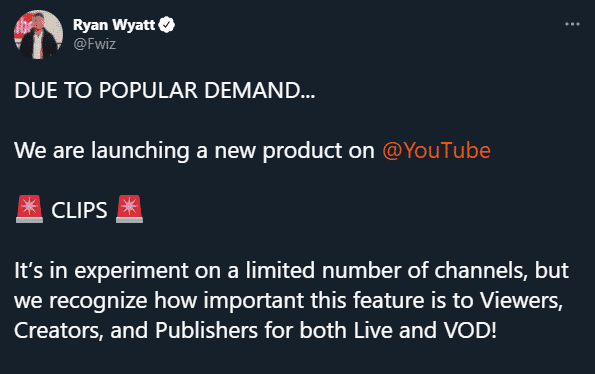 How to Clip on YouTube Live
YouTube clipping is a cool feature anyone can use if the channel has enabled it. The official announcement video from Creator Insider has been specifically selected to let any user clip. Let's dive in so when clips get rolled out to everyone. You're ready to start!
Follow these simple steps to clip a YouTube video:
Step 1

Open YouTube and go to the video you want to clip. Click on the three dots to see the drop-down menu.

Step 2

Once you click on the Clip button with the scissors icon, you'll be shown a new pop-up box that allows you to write clip descriptions, adjust the clip's starting and endpoint, and publish the clip to YouTube.

Step 3

Once you write up a description and set its duration, you only need to click the "share clip" button. You can share the selected clip on various social channels, create embeds, or send it as a link to whoever you want.

Step 4

Once your clip is published, you can navigate to the clips section. This displays all the clips you have created. This clip shows the Title you set, the original video's thumbnail, and the clip's duration.

Step 5

Lastly, if you click to view the clip, it will play the segment you have clipped and will also give you the option to either share the clip on other platforms or watch the entire video.
Note: You can also create YouTube clips on your mobile device. Open the YouTube app on your phone, open a YouTube video or stream, and follow the same steps above. Now, you can clip directly from the app!
Frequently Asked Questions
Who Can Create Clips on YouTube Gaming?

Currently, only select channels can use the YouTube clip feature. This will slowly roll out to more and more users as the feature becomes more robust. You can test creating clips on the YouTube video linked here.

How Long Are YouTube Clips?

Clips are 60 seconds long, and you can set your custom start and endpoint on any live stream or VOD, provided clipping is enabled for your account. It is the perfect way of showcasing special moments of what would otherwise be an hours-long video.

Where Can Viewers Find a YouTube Clip on Your Channel?

Your viewers can find YouTube clips on the original video's watch page. They can either follow a link to the original video or look for popular clips by browsing your channel. This is a good way for new viewers to know what your live streams are about without watching a full video.

Why is a Video Clip No Longer Available on a YouTube Channel?

Clips are short highlights of longer videos on your channel. They are not individual YouTube videos. If you delete or hide a YouTube video or live stream where the clips feature had been used, any clips made from that original video will also be hidden or deleted.

How Do I Disable the Clipping Feature?

If you are a content creator, you can remove the YouTube clipping feature on your Channel. Go to YouTube Studio > Settings > Channel > Advanced Settings to do so. Scroll down until you find the Clips Section. Uncheck the box to disable the clipping feature.

If you leave this checked, it will allow viewers to clip your videos.
Conclusion
Once you can clip a YouTube highlight from your live streams, you'll be able to find new ways to market your brand. You can bring new viewers to your live streams by sharing these short videos on your Twitter, TikTok, or other social networks.
Streamers also can limit who can create clips. They can choose to do them all themselves or allow their viewers to clip a YouTube highlight.