Clipping moments that happen on a Stream is essential for letting your audience know about the funny, interesting or downright epic moments that happen on your streams. They can sift through clips of the streams they missed to catch your best moments on air and clips can also be a way to diversify your content to other social media platforms.
Initially, Twitch fostered the culture of clipping moments in a Stream, but now live streaming giant YouTube Gaming has decided to implement this feature. Clipping on YouTube Gaming is really straightforward, and not only can you do it on a live stream but you can also clip on video content!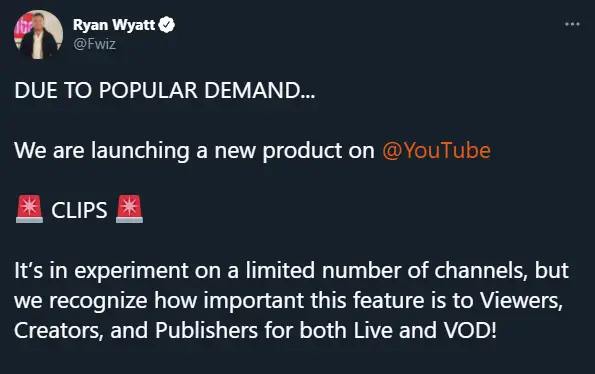 How to Clip on YouTube Live
Currently YouTube clipping has only been rolled out to a select few channels, however the official announcement video from Creator Insider has been specifically selected to let any user clip. Let's dive in, so when clips gets rolled out to everyone you're ready to start! Here's how you will be able to clip on YouTube:
Step 1

When visiting a YouTube video you'll be greeted by a new "Clip" button next to the like and dislike buttons. Once you click this you'll begin editing your 60 second YouTube clip.

Step 2

Once you click on the "Clip" button, you'll be shown a new event box that allows you to make a title for your clip, adjust the clips starting and end point, and publish the clip to YouTube.

Step 3

Once you give it a title and a duration, the share clip button will light up and now you can share your Clip to YouTube!

Step 4

Once your clip is published you'll be able to navigate to the clips section. This displays all the clips you have created. This clip shows the Title you set, the original videos thumbnail and also the duration of the clip.

Step 5

Lastly, if you click to view the clip, it will play the segment you have clipped and will also give you the option to either share the clip on other platforms or watch the entire video.
Frequently Asked Questions
Who Can Clip on YouTube Gaming?

Currently, only select channels can use the clipping feature on YouTube. This will slowly roll out to more and more users as the feature becomes more robust. You can test clipping on the YouTube video linked here.

How Long Are Clips on YouTube Gaming?

Clips are 60 seconds long, you can set your own custom start and endpoint on any live stream or VOD; provided clipping is enabled for your account.