Discord Nitro is a subscription-based service that enhances Discord voice, video, and chat. It allows users to set up a personal profile with an animated tag, make animated emotes and upload large files (up to 100MB). It also enables HD video, screen sharing, and Go-live streaming.
So, how does Discord make money? In this article, we will explore Discord's net worth and business model to find out how they run a free messaging platform.
Discord Net Worth
As of 2023, Discord is valued at an estimated $15 billion, more than doubling its value since 2021. The company's value can be attributed to its 200 million users and an increased effort to monetize via the subscription service Discord Nitro. In 2023, Discord will have $995 million in funding over 16 rounds.
Discord Business Model
Unlike most other players in the socializing space for gamers, Discord is heavily against the use of advertisements. This focus on user experience is perhaps the greatest contributor to the success of the platform. While Discord was introduced at no cost, the major monetization method has been a push for paid customization.
It is astonishing how Discord still offers messaging services free of charge. To add, Discord announced StreamKit and its rich presence as free add-ons that further enhance the integration of Discord into users' gaming experience.
The rise of Discord is greatly attributed to the events of the 2020s global pandemic and the enormous trend toward remote working. These happenings put Discord in a prime position to expand far beyond gaming moving forward.
With more workplaces and even teachers using Discord now than ever before, Discord is in a prime position to start expanding and promoting the platform that has utility far beyond its humble origins. The platform has now built a strong base, and we will likely see more monetization methods introduced in the coming months and beyond.
Is Discord Free?
Like prominent chat apps, Discord is absolutely free. Users can set up their Discord server with channels and roles or join existing communities at no cost. There are paid add-ons available to improve certain features and functions, but they are by no means essential.
Discord Nitro
Discord Nitro is an option Discord subscription you can choose to avail. Discord launched this paid version of the app in 2017. With Nitro, Discord users have access to premium features. There are two types of Nitro plans. You can avail of the Nitro Basic or Nitro.
A couple of these features include:
Custom stickers, emojis, server profile, and video backgrounds
Personal Discord tag
Discord server boosting
Up to 500MB for file sharing
Up to 4k 60fps streaming resolution
Up to 4000-character messages
Join up to 200 servers
Animated avatars
Profile theme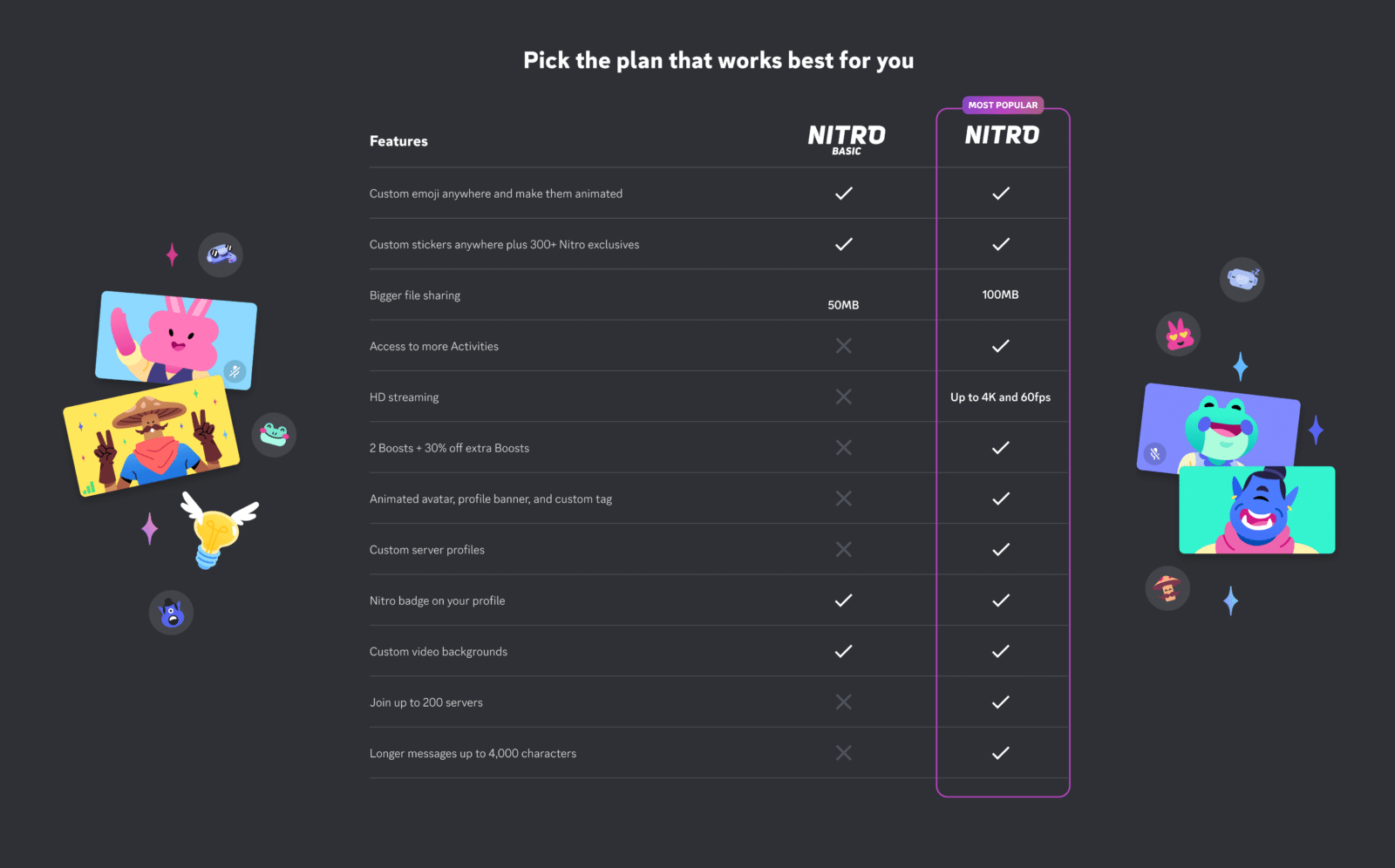 The Nitro Basic costs $2.99 per month, while Discord Nitro costs $9.99 per month.
For interested users, here's how you can sign up for the Nitro subscription:
Other Ways Discord Makes Money
Discord Nitro is not the only way the platform can generate revenue. Here are other ways the Discord platform keeps its business running:
Game Distribution

Discord has ties with game developers, allowing them to market their video games on the platform. This helps the gaming industry promote and sell their games at a lower charge than other play stores. Game developers also have the option to sell games exclusively on Discord.

Discord Merchandise Store

The Discord store has a variety of products users can choose from. They sell shirts, hoodies, bags, and other collectibles.
Can You Make Money On Discord?
Within the last year, Discord has allowed its users to begin monetizing their servers, creating tiers that their communities can subscribe to. This is a great way for streamers to find another way of monetizing their brand.
There are also many other ways you can make money while using the platform. Here are just a few:
Many Twitch streamers add "Sub Discord Channels" in their Discord servers as an added incentive to subscribe to their Twitch channel.
Content creators utilize Discord as a perk for those who donate to them through Patreon.
As you build a community, you can monetize or promote outside services or set up affiliate links in your channels to earn income.
What Is Discord?
Discord is a communication platform that allows voice chat and instant messages. It is designed specifically for communities. It allows users to communicate via voice with a channel-based system known as a "discord server" that is ideal for hosting multiple users in a single conversation. The Discord app also allows for voice calls, video calls, screen share streaming, text messages, and media files.
While Discord rose to popularity throughout the gaming community, essentially replacing Teamspeak. While Discord made no specific plans to target the gaming community, a lot of the platform's initial success can be attributed to subreddit communities that replaced their website URLs for guides, clans, and various other gaming groups with a link to their Discord server. Twitch Streamers also attributed to the success of Discord as the platform was ideal for building and interacting with a community.
What is Discord Rich Presence?
The Rich Presence feature on Discord enables users to let others view their live activity on a game or application. This helps Discord users to give real-time updates about their running activities.
This helps gamers to share their locations with their friends on the server or channel. To be able to use this feature on games and applications, you will have to use the Discord API.
Conclusion
Discord's founders have figured out a way to gain revenue while keeping it a free chat app and online communication channel.
Sources