New people begin their streaming journey on popular platforms every month. In fact, at the end of 2020, there were twice as many active channels on Twitch than there was in January of the same year. With so many streamers, there is bound to be some oversaturation in the market and it is more important than ever to stand out with good production quality and branding.
When people decide to stream on Twitch, they must decide what to stream, how they will attract their audience, and how their channel should look. Proper branding, such as a custom Twitch banner, is essential to potentially turn streaming into a career and Fiverr's Graphics for Streamers is a great place for new content creators to find designers who can create custom graphics for Twitch channels.
How to Market Your Twitch Channel
Earlier this year, StreamScheme surveyed Twitch streamers and viewers on whether or not they would click on a channel without a webcam. A little more than 50% of the respondents said they wouldn't click on a channel without a webcam regardless of what else was going on in the thumbnail.
If you are looking at streaming as a professional career, you need to learn to brand your Twitch channel like a marketer. Use a webcam and consider how your thumbnail and gaming logo appears. What overlays or branding could help set your channel apart?
While you need to approach your channel with your own unique flair, you need to consider what will appeal to your target audience. Take the time to do the following:
Step 1: Find smaller channels on Twitch that you enjoy.
Step 2: Take note of what you enjoy about each one and how the rest of their audience reacts to it.
Step 3: Create a plan on how you can incorporate some of the things you enjoy and how to make it your own.
Step 4: Design custom graphics that will represent you and your future community.
For additional details on how to grow your stream, check out our full YouTube video:
Commission Your Custom Twitch Graphics with Fiverr
The best place to commission custom Twitch emotes for your channel is Fiverr. Fiverr is an online marketplace of designers, coders, and other freelancers who sell custom services. Content creators often use this resource to find graphic artists who are willing to help brand their channels.
Using a marketplace like Fiverr helps protect you as a streamer as well as the artist when working together. In the past, there have been many instances where either the artist or the streamer won't deliver on their promise. Either the artist doesn't get paid or the streamer doesn't receive the art they paid for. Fiverr helps to prevent this by creating a way to ensure both parties are satisfied.
You can search through the portfolios of individual artists to find someone whose taste matches your own. Storefronts on Fiverr will represent designers of all skill levels at varying prices so even beginners are typically able to find something they can afford. Working with the same designer for all your graphics will ensure that you have continuity and proper branding across all of them.
The 5 Most Important Twitch Graphics
Creating custom graphics that represent your personality and your brand will go a long way in setting your channel apart from your competition. Here are the five most important graphics you will need for your Twitch channel:
Overlays
Create or commission overlay scenes that showcase your branding. Take into account the content you'll stream, the colors of your brand, and any mascots you want to incorporate. For starting, ending, "Just Chatting," and BRB scenes, try to have an animated element that keeps your stream interesting.
You will need a webcam overlay unless you use a green screen to remove your background. This extra graphic will help separate your webcam view from your gameplay and show your viewers that you want to offer them quality.
Finally, have an alert box somewhere on your screen that will show the names of your most recent followers, subs, and donators. This will subtly encourage your viewers to support your stream financially.
Panels
One important step that many streamers overlook is filling out their Twitch about me section. This section can give your viewers a lot of context about who you are, what you stream, and where else they can find you online. To organize this data, you should use Twitch panels.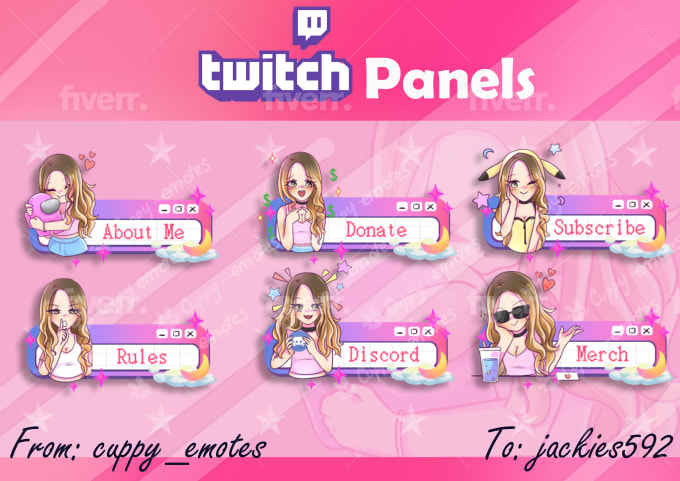 Twitch panels are graphics that act as headings for information or links to social accounts, Discord servers, or affiliate links. While many are rectangular and uniform to each other, you can create unique shapes that help your information stand out and hype your viewers.
You can even use Twitch panels to showcase your current emotes to incentivize your following to subscribe to your channel.
Logo
Creating a gaming logo will give you a lot of different branding options. You can use it as your profile pic, add it to transitions, or use it as an addition to your overlays, panels, banners, social graphics, and more. Ultimately, your goal should be to have your viewers associate your logo with your channel.
Many popular gaming logos showcase warriors or monsters that resemble gaming avatars, but you can create a logo that you feel best represents you and your channel. Other popular options include pets, chibi or anime characters, or icons.
Alerts
Create hype stream alerts that will go off whenever your viewers follow, subscribe, or donate to your channel. You can also set up unique alerts to play at different donated amounts that will entice people to activate them once they know they exist. Be creative in creating these amounts, such as using your birthday's date at the amount, to keep things more entertaining.
Alerts will also notify you and your viewers when someone hosts or raids your channel. You can create custom alerts for these as well to welcome any new viewers that come your way.
Emotes
Your Twitch emotes are arguably the most important graphics on your channel. They can be used to build community with your viewers and they are a good incentive to potential subscribers. You will start out with one emote once you reach Twitch affiliate and will unlock more as you gain subs.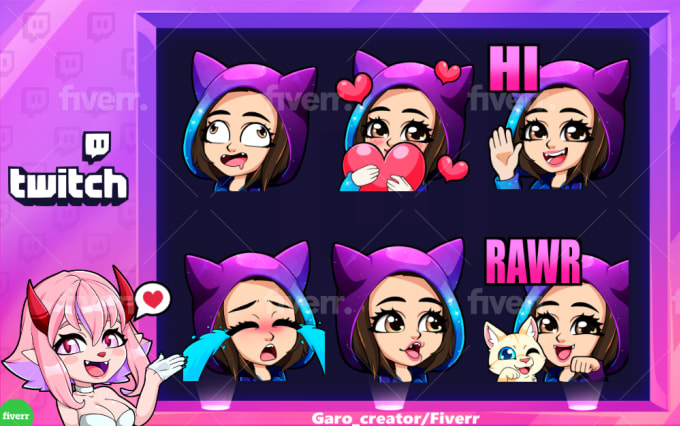 Emotes that resemble the streamer seem to be the most popular channel emotes on Twitch. Find an artist who can create a caricature of you in many different expressions that you can share with your viewers. Sticking with the same artist long-term will ensure that your emotes resemble each other, solidifying your branding.
Conclusion
Fiverr is the superior option when looking for graphics for your Twitch channel. Most streamers are able to find designs they love at a price point they can afford.