In this Epidemic Sound review, we will be reviewing the Epidemic Sound app and if it is a good fit for you to create your customized music productions.
Is the Epidemic Sound Platform Safe?
Epidemic Sound is a royalty-free music subscription service that offers around 32,000 unique songs. The company was formed in 2009 and is one of the largest providers of background music on the market. Epidemic Sound is trusted by users and composers alike with half the revenue the company generates going back to creators.
You will find their huge library of top-quality music played in Twitch streams, YouTube videos, digital ads, Instagram Stories, and anywhere else stock music is needed. With an Epidemic Sound account, you have access to all the music on the platform so that you can find the right song for your campaign.
Content creators with an active subscription get unlimited downloads to new tracks and curated albums. You also have unlimited use of this perfect music without having to pay royalty fees for each song. The best news is that if you choose to cancel your Epidemic sound membership in the future, you won't receive any copyright claims on any content you've previously created (Twitch clips, videos on your YouTube channel, etc).
Can You Use Epidemic Sound For free?
Epidemic Sound is a paid platform but does offer a 30-day free trial available to those who want to try out the service before committing to payment. Epidemic's monthly fee after the trial is USD $15/month, offering a wide assortment of background music for public spaces, Youtubers streamers, video editors, and even podcast creators!
On top of this, an Epidemic Sound subscription also provides access to 60,000 royalty-free sound effects that you can use for alerts, notifications, and anything else you can think of! Once you start your trial or purchase a license, you are free to use the songs and sound effects as much as you like (until the license expires) without the fear of getting a copyright strike.
Epidemic Sound Cost
After the initial free month to the music and sounds of Epidemic Sound, you would need to choose a plan in order to continue on with the service. Epidemic Sound has two different plans, the commercial and the personal plan.
Here are the differences for the Epidemic Sound licensing:
Epidemic Sound Personal Plan – If you need music and sound effects for your ongoing video content for Twitch or YouTube, this plan is exactly what you need. The price for this own-use plan is $15 USD per month or $144 per year with an annual commitment ($12 per month). With this plan, you can use their music forever on YouTube, Facebook, TikTok, Twitch, and podcasts.
Epidemic Sound Commercial Plan – With the commercial plan you can use royalty-free music and sound effects on Epidemic Sound on all online platforms, websites, and digital ads. The price for this plan is $49 per month or $299 for an annual commitment ($25 per month).
Epidemic Solution Sound Enterprise Plan – You will need to request a quote for your specific needs, but with this plan, you can have all of the above as well as multiple user accounts, music curation support, and access to a customer success manager. You can also use the music on TV shows and ads and it allows commercial streaming and VOD.
Purchase a Single Track – If you only like one song and want to purchase and download the full track, Epidemic Sound has several licensing options for the perfect track, starting at $99 USD.
First Impressions of Epidemic Sound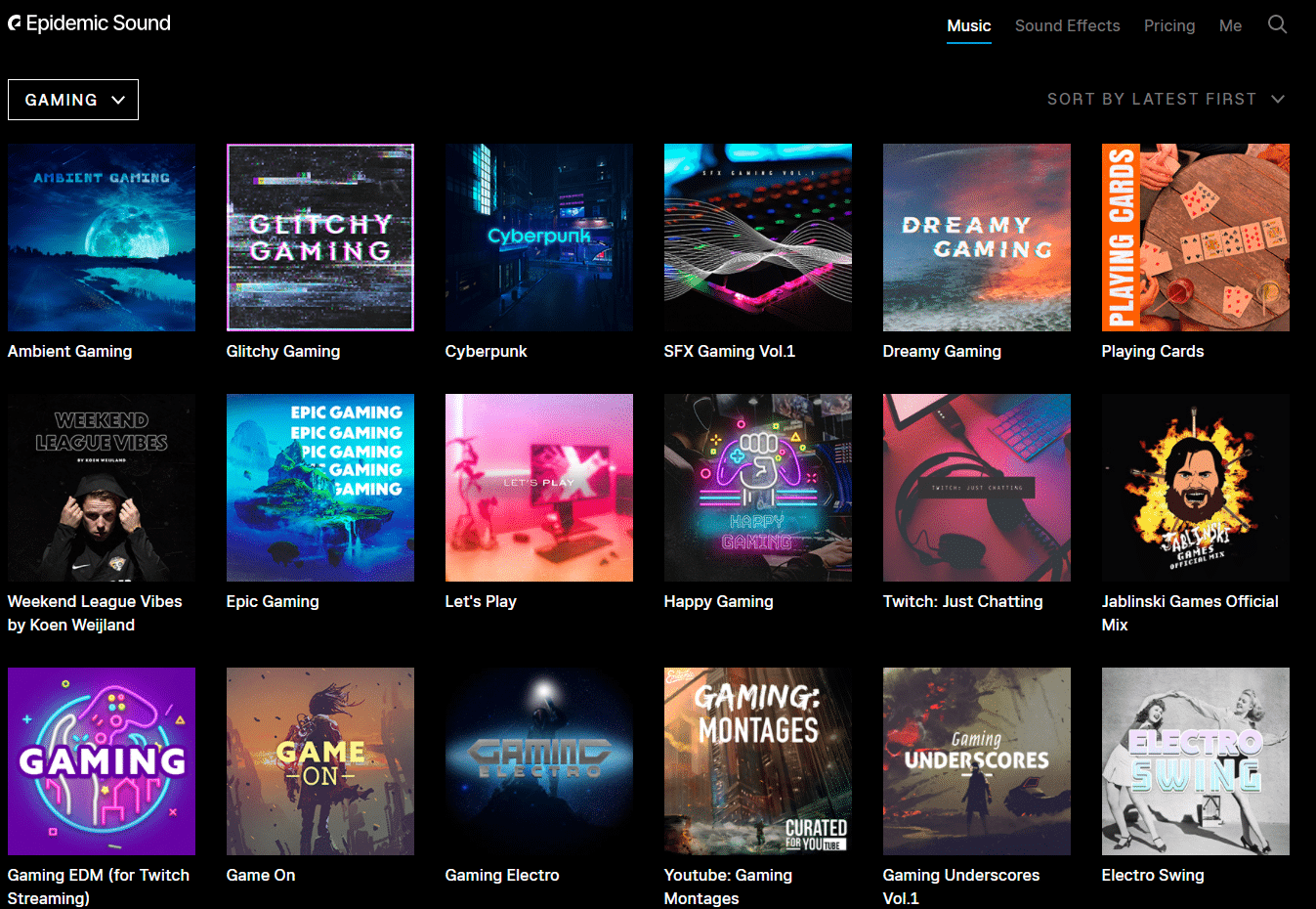 Epidemic Sound has a vast library of royalty-free music and sound effects. Categories include Gaming, Cinematic, Hip Hop, Sports, and more! Songs are nicely separated into playlists to fit any type of mood that you are going for, whether it be hyping up the stream for a big event or winding down with some relaxing gameplay.
You are also able to create your own playlists and even download the audio files for each song! On top of this, Epidemic allows you to add/remove individual instruments from tracks, meaning you can break up a song and change the feeling of the track as you please.
Pros and Cons of Epidemic Sound
No Epidemic Sound review would be complete without a good pros and cons list. Media companies are not perfect for every user. You will need to determine if getting Epidemic Sound's tracks is the right choice for you and your brand.
Pros
Uniqueness: Epidemic Sound offers genuinely unique sounding music that will differentiate the content that you are producing from other creators.
Quality: Each and every song in the Epidemic Sound library is produced with extremely high quality, matching their relevant genre very well
Variety: Epidemic Sound offers over 170 genres of royalty-free music for you to pick and choose from! They also allow you to change a track when you download it, either by removing vocals or other instruments you aren't interested in as a content creator.
Number of Tracks: The insanely large number of tracks, combined with the fact that new music is constantly being created and added to the Epidemic Sound library means that you will find it very hard to run out of songs to use in your content, even in the long term.
User Friendly: The website is very easy to navigate, and comes with a search bar if you cannot find what you are looking for
30 Day Free Trial: Having a 30-day free trial allows anyone who may still be sitting on the fence as to whether or not they should join Epidemic Sound to get a taste for using it. You can try it out for yourself and see if it is for you!
Cons
Subscription Costs: The cost of USD $15/Month can be a big deterrent for potential subscribers, and whilst many people might find that the benefits of the service outweigh this cost, it is worth considering on an individual basis if this pricing is right for you
Subscription-Only Access: You are only able to access the content whilst you have an active subscription. This means that once your subscription is expired, you are no longer able to use Epidemic Sound to create content unless you renew the subscription
Lack of Vocals: Most songs in the Epidemic Sound Library are made with the purpose of being background music. Whilst this is likely what most people are looking for in the service, others may be disappointed to find that there are very few songs with vocals compared to the amount of background music. There are still a decent amount of vocal songs, just not nearly as many as there are background music tracks.
Conclusion
I hope this Epidemic Sound review helped you learn more about this amazing company. I would highly recommend that anyone who is looking for royalty-free music and sound effects gets a free trial with Epidemic Sound! They offer an amazing music streaming service that will ensure you do not receive copyright strikes on any content you create, with tens of thousands of unique songs at amazing quality.
After the trial, you can determine if it would be worth it for you to continue with your Epidemic Sound subscription. Happy streaming!