Are you a streamer looking to upgrade to a high quality, affordable, and easy to use microphone? Look no further, because the Elgato Wave 3 has got you covered.
Audio quality has been proven to be more important to viewers than video streaming quality, so a good microphone is an essential tool for any successful streamer. In this article, we will take a look at the features and software provided by Elgato, and why this microphone is the best value you can get for your money.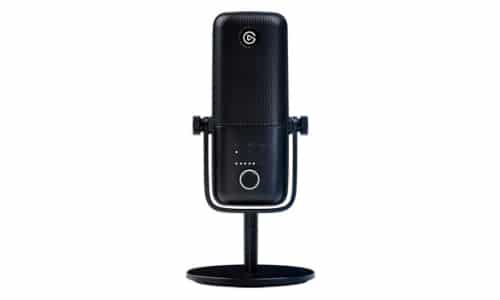 Elgato Wave 3 Features
The Elgato Wave 3 is a USB microphone that will deliver high-quality sound immediately after being plugged in, with little extra setup required. It comes with WaveLink software, which is an easy to learn, yet powerful audio mixer that can be controlled right from your PC or StreamDeck. There are so many amazing features included in this microphone that make it perfect for any streamer, podcaster, content creator, or conference caller.
This post will cover the following features of the Elgato Wave 3:
Design and Build Quality

The Elgato Wave 3 has a lightweight, yet sturdy design made up of a mix of metal and plastic. It comes equipped with a steel grille, giving you smooth sound diffusion while protecting all of the inner components. It also comes with a heavy-duty desk U-mount stand with a padded base.

Currently, the microphone is only available in black. Elgato also produces the Wave 1, which is a variation of the Wave 3, only this one has a few less features.

Polar Patterns

The Wave 3 uses a cardioid polar pattern, meaning it will pick up sounds directly in front of the microphone, with little to no sound from behind, and minimal sounds coming in from the sides. This is the most common recording pattern for streamers, podcasters, and voice-overs.

Multifunctional Dial

Located at the front of the microphone is a dial that will allow you to tweak input gain, adjust headphone volume, and crossfade between your mic and PC mix. Clicking the dial inwards will let you cycle through the three settings. Keep in mind, it is recommended to have this microphone about 6 inches away from your face for optimal sound, so be sure to adjust your gain levels accordingly.

Capacitive Mute Button

Built into the top of the microphone is a capacitive mute button, meaning you can quickly and silently toggle mic input with just a gentle touch. The placement of this button is perfect, as you are unlikely to accidentally press it while adjusting your mic position.

Headphone Jack

On the back of the microphone, you will find a 3.5mm stereo headphone port, providing you with a way to monitor your audio levels with zero-latency. When using WaveLink, you can send different audio levels to both your own headphones and your stream, You can easily switch between the 2 outputs, so you can listen in to exactly what your viewers would be hearing with just the click of a button.

For my own stream, this proves to be an invaluable resource, as there is no longer a need to spend a ton of time doing recording tests before going live, or asking my chat to see if the audio levels seem alright.

Clipguard

While streaming, you may have moments of excitement or frustration that may cause you to get louder than usual, causing your audio to peak. With Clipguard, you will not have to worry about that. This technology will send your sound through a second signal path at a lower volume, and this ensures that there will be no audio peaking. The result is a clean audio output, no matter how loud you scream.

WaveLink Software

WaveLink is a powerful audio mixer built right into your PC, and it is also compatible with an Elgato StreamDeck. It creates two independent output mixes, one for you, and one for your listeners. Simply click the ear icon assigned to either mix to listen in to the desired channel.

The sliders on the left of the sources control your monitor mix, and the ones on the right are for your stream mix, and you can make adjustments to both of them in real-time while streaming. You can add up to nine input channels into your WaveLink audio mixer.
Elgato Wave 3 Accessories
Elgato sells a handful of accessories that are made specifically for the Wave microphones. While you personally may not have the need for all of them, any of the products listed here will absolutely fit any Wave 1 or Wave 3.
Pop Filter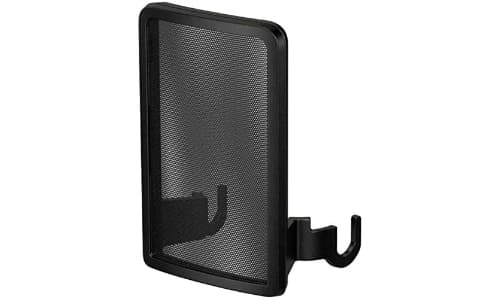 Eliminates pops and hisses
Dual-layer mesh
Custom-built
Shock Mount
Reduces noise
Reinforced suspension
Solid steel chassis
The first is a pop filter, which is a dual-layered steel mesh filter used to eliminate pops and hisses caused by plosive speech sounds (which is a harsh release of air, usually following the letters 'P', 'B', 'T', 'D', 'K', and 'G'). Keep in mind that there is also an additional pop-filter already built-in underneath the steel grille. To install, just align the magnetic attachment points, and allow the pop filter to snap into place.
The second accessory is a shock mount, which provides both secure mounting and the freedom to move independently of the mic stand or boom arm. This will be useful for eliminating sounds and vibrations, typically caused by moving things around on your desk. Unscrew the Wave 3 from its stand, line up the screw holes in the microphone with the shock mount eyelets, and resecure the screws without making them too tight.
The Wave 3 will also come with a multi adapter, totally free, which will allow you to mount the mic to a boom arm of your choice (as long as it works with a ¼ inch, ⅜ inch, or ⅝ inch screw).
The last accessory you may find useful is extension rods, allowing you to adjust the height up to a total of 16 cm / 6.3 in. This will help you get the best sound possible if you plan on keeping the microphone attached to the metal desk stand.
Frequently Asked Questions
How Do You Set Up the Elgato Wave 3?
The Elgato Wave 3 is rather easy to set up. Included is a weighted metal mic stand and a multi-adapter, which will allow you to mount it to any boom arm of your choice with a ¼ inch, ⅜ inch, or ⅝ inch screw. There are a USB-C port and a 3.5mm jack located at the back of the device.
Plug the microphone into one of your computer's USB ports and it should be automatically detected. To ensure that you are getting the best possible sound, speak directly into the front of the microphone, about 6 inches away from your face.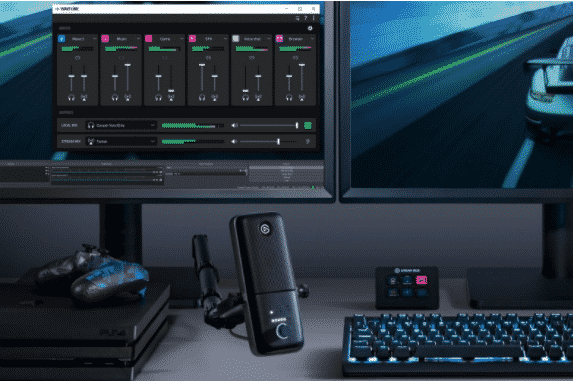 Be sure to install Wavelink as well. This is a mixing software made for streamers which allows you to control sounds from individual sources such as your game, voice, music, in-game teammates, and more, directly from your PC or StreamDeck. From this software, you may adjust gain, output level, mic/pc mix, and toggle an enhanced low cut filter and Clipguard.
The Elgato Wave microphone is very much a "set it and forget it" kind of device. Once you have achieved your desired audio settings, you won't find yourself messing around with levels and filters before every stream, podcast, or recording. Simply turn it on and start creating your content!
Download link for the Elgato Wavelink software.
Is the Elgato Wave 3 Worth the Money?
If you are looking to record music or ASMR content, this may not be the microphone for you. The Elgato Wave 3 was made with streamers, content creators, and podcasters in mind. If you fall into this category, you may have just found the microphone you've been looking for.
While some of the competing brands offer great sound quality themselves, the Wavelink software is what really sets the Wave apart. Wavelink is a virtual audio mixer with tons of customizable options that the other USB microphones simply do not offer.
With the right settings, this equipment will provide crystal clear audio that rivals much more expensive equipment, such as the GoXLR. Normally priced at $160 USD, which is right in the ballpark of most of the other high-end USB microphones, making the Wave 3 a steal.
Is the Elgato Wave 3 Good for Podcasts?
This microphone is tailor-made for any home content creator, including those that run podcasts. Made up of a lightweight mix of metal and plastic, this microphone is extremely sturdy, and even a great choice for creators on the go. The cardioid recording pattern, while recording at a rate of 24-bit/96kHz, makes this an excellent choice for recording spoken word content.
One aspect to keep in mind, the WaveLink software currently does not support multiple Wave devices connecting to the same computer. It will, however, work as normal and allow you to add additional Wave microphones as inputs in programs such as OBS Studio, XSplit, Streamlabs OBS, and more. It will truly be a game changer if Elgato can figure out a way to mix multiple Wave microphones inside of Wavelink.