Not only does the stream deck make it easy for you to switch scenes, play Twitch sound alerts, and mod your stream all at the push of the button, it can also help you in your editing software, keeping track of your metrics, or even timing how long you will need to work on a project.
You can have multiple profiles so that you can switch between your streaming setup to a work setup that either manages your stream business or your day job. Stream Deck integrates with many other programs to allow you to launch media, adjust audio, and more easily.
This post will go over the perks of owning an Elgato Stream Deck and what it can offer you.
Elgato Stream Deck Options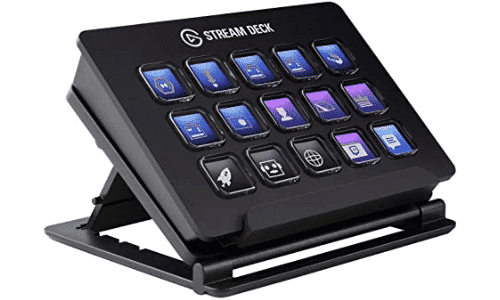 Elgato Stream Deck Classic
Elgato Stream Deck Classic has 15 customizable buttons. A folder system is also available, so you can store as many actions as you need. You can also add custom icons that allow you to see what you are planning to do so you can tap the right thing every single time.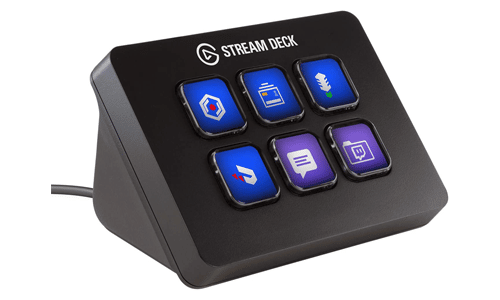 Elgato Stream Deck Mini
The smaller Elgato Stream Deck Mini has six customizable buttons. Like the other Elgato Stream Deck models, a folder system is also available, so you can store as many actions as you need. Good for streamers on a budget or those who are more comfortable working with fewer buttons.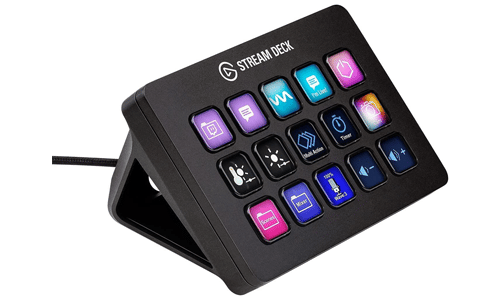 Elgato Stream Deck MK.2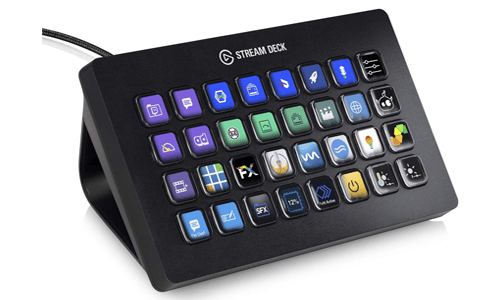 Elgato Stream Deck XL
Elgato Mobile Edition
The Elgato Mobile edition includes the full functionality of the physical edition and, in fact, you can transfer your software settings to a "real" stream deck if you upgrade in the future.
The mobile edition comes with 15 multi-action keys that you can set or create folders with. You can still use any of the widget keys from 3rd party apps. You can use it on either iPhone or Android that operates on a local network, allowing it to be wireless.
The price to use the mobile edition is $2.99 monthly or $24.99 annually. There is currently no lifetime license, though they do offer a 1-month free trial.
Elgato Stream Deck Perks
Owning an Elgato Stream Deck allows you to create custom hotkeys that help you manage your streams and any other projects. In fact, you can create multiple profiles for the same deck so you can switch from streamer mode to editor-mode to work mode at any time.
The Stream Decks are compatible with each other as well, so if you start out with the 6-keyed mini version, you could eventually upgrade to the 15 key and use both simultaneously, giving you 21 keys. You don't necessarily have to cut your function keys down to a certain amount of buttons though, as you can create folders that you can access instantly.
While you can set up your hotkeys manually, the platform also has built-in widgets from popular streaming platforms such as Streamlabs to make things even easier.
Popular Stream Deck Functions for Live Streaming
You can download plugins for all the top streaming software (such as OBS integration) so that you can set your intro and outro graphics to launch at the tap of a button. You can set timers, counters, celebrate new subscribers, and more. You can even set up keys that track stats not only of your channel but of fellow creators.
The stream deck also has several video editing features that will allow you to create quality content backed by visual feedback.
Popular Stream Deck Functions for Gaming
Not only can you set up hotkeys that allow you to do more things on your favorite games, but you can get plugins to track timers, look at Minecraft server stats, and more. While you don't necessarily have to fill all the buttons with special keys, you can create hotkeys for several different games so that you can use this little device to optimize your gaming.
Integration With Other Elgato Products
Elgato creates many products for the live stream industry. With just a few minutes customizing stream deck software can allow you to connect them together so that you can run each item from the device.
Some of the items you can connect with the stream deck include the following:
Elgato Game Capture HD Integration

If you have the Elgato Game Capture card, you will be able to program it to work with your stream deck. You can choose several options: start recording, change scenes, and more. Additionally, if you nest folders, you can create the top folder for the device and fill it in with the unlimited actions you may take while you create your quality content.

Elgato Game Capture HD Integration

If you own the Elgato Key Light, you can automatically adjust it from your stream deck. That being said, you need to make sure that you download the control center and stream deck software. Using a light can raise the production value of your stream and be able to adjust your lighting on the fly can allow you to do even more.

Elgato Wave 3

You can integrate the Wave Link software with your stream deck so that you can adjust audio settings on the fly. You can also set up unique key configurations that make life easier while you are live.
Stream Deck Customization
The other nice thing about the Elgato stream deck is that you can customize it any way you wish. You can add your own custom icons – both animated or static – and create a setup that is visually appealing to you and helps you launch apps with a quick tap.
You can find several stream deck icon packs online, but here a couple of my favorites:
Nerd or Die's Clarity pack – this pack has more than 180 icons that can be animated in 4 different ways: full RGB, slow RGB, slow hue, and pulse RGB. The pack works on all versions of the stream deck.
Champion icons set – this set by Visuals By Impulse has over 200 animated designs in 7 different color schemes. You can customize your stream deck in a way that is visually appealing to you.
Conclusion
The Elgato stream deck is a great tool that will not only improve the overall quality of your streams but also has so much additional utility to it. The versatility will help you both improve and speed up everything you do at your computer.
Using the stream deck makes life easier whether you only use it for streaming or setup different profiles for every aspect of your life.