There are many options for green screens on the market, ranging from free-standing studio setups to large panels that attach to the back of your chair.
The Elgato Green Screen is a free-standing unit that can expand and collapse in seconds. This is the green screen of choice for many streamers. The setup process is quick and easy, making it one of the best green screen solutions on the market.
In this Elgato green screen review, I will cover the pros and cons of this collapsible green screen so that you will be able to determine if it is the right product for your streaming setup.
Is the Elgato Green Screen Right for You?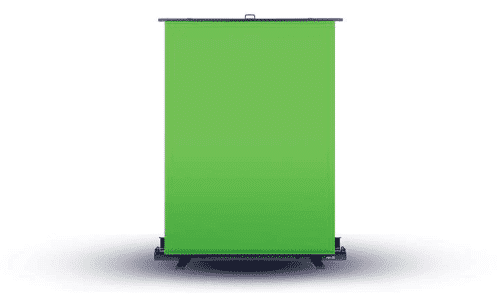 Elgato Green Screen Features
The Elgato collapsible green screen is a high-quality product that gives you fantastic video production. The green screen fabric is resistant to both dust and wrinkles, making it a reliable choice throughout your streaming journey.
The screen can be set up in 3 seconds and lifted to a suitable height. It measures 61.02" x 72.44" inches when it is fully extended, giving you ample space to place behind your desk when you are streaming on Twitch or YouTube. The sturdy aluminum frame ensures that the chroma key screen stays in perfect shape without causing any unwanted shadows in your visuals.
The Elgato green screen has several features that set it apart from other green screen solutions:
Easy Set-Up (and Take-Down)

One of the main benefits of this amazing product is that it's incredibly easy to set up and take down quickly. It requires no mounting, drilling, or hassle of any kind. This way it doesn't take up a ton of storage space in your home.

Flip out the feet on the bottom for stability. Do not forget this step, or else the green screen will fall over and may get damaged!
Undo the two latches keeping the green screen locked.
Flip up the cover.
Grab the handle and pull directly upwards.

To collapse and store Elgato's green screen, simply do the reverse: push down from the center of the top until it's fully retracted, close the cover (make sure the handle is out of the way!), close the latches, and flip the feet in. It's now ready to be tucked away somewhere a bit less conspicuous.

Compact Storage

Another major benefit of the Elgato Green Screen is its compact storage and portability. When it's collapsed, it occupies a very small footprint, making it super convenient for people with limited space. To keep your room space more open, it can be easily stored under a bed, behind a desk, or against a wall.

The key point: This collapsible green screen is easy to get out of the way when you need to use your space for other purposes. While there are other cheaper alternatives that can also be removed (if you don't have enough space), they are typically not as wrinkle-resistant and require additional lighting for a clear picture.

Materials and Durability

The outer shell of the green screen is made of a thin metal along with some plastic on the sides. Without some heavy pressure or a significant dropping force, it shouldn't have any trouble lasting a long time. The extension/retraction mechanism on the back is made of metal. It moves smoothly and does a fantastic job of staying in place at most heights.

The green screen material itself is 100% polyester. The material is thin but tough; it won't easily tear on its own. Pets could easily make some gashes with claws, and other sharp objects will pose a danger to their integrity. However, if it remains retracted in its hard-shell case the majority of the time, that will minimize the risk.

The edges of the polyester sheet are prone to minor creases, waves, and folds, especially while retracting it back into a collapsed state. However, the center of the screen is always perfectly taut and level while the screen is raised, and the slight ruffles on the edges pose no issues with visual clarity.
Verdict
While a green screen isn't a necessity, streamers of all sizes may be able to benefit from the enhanced visual experience that a green screen and proper lighting can provide. The Elgato Green Screen boasts a trifecta of benefits: guaranteeing a flat, even surface, the ability to quickly put it up and tear it down, and a free-standing design, allowing you to avoid drilling into walls or a ceiling.
The major downside of this green screen is its width. While some may find that its small footprint is a benefit, I find myself wishing it was wide enough to cover the entirety of my camera's viewfinder — this would eliminate the need to crop it and give me a wider range of motion in front of the screen.
If this is a big deal for you, you may want to look at other options for a green screen. But for anyone who wants a simple, no-frills experience with a green screen that will last a long time and is easy to set up, take down, and store, look no further — this is the green screen you're looking for!
I hope this Elgato green screen review has helped you learn more about this product so that you know if is exactly what you need to work your creative magic as a content creator. While it is a premium product, if you can afford it, you will likely have zero issues when using the Elgato green screen.