If you want to potentially earn from your love of DOTA 2, hiring a coach could be a good investment in your future. Getting your foot in the door of the esports industry could help you join a team, build a Twitch following, or potentially become a DOTA 2 coach for yourself.
Not only will working with a coach help you to improve your game and rise higher in the ranks, but you may also get the opportunity to network with others who are doing the same, potentially joining or forming competitive teams.
Our Coaching Ranking Process
When reviewing different coaches and platforms, we chose programs through a ranking process. We kept several qualifications in mind as we created this list and will share what we looked for in coaches with you. Here's the process:
Credentials

You will want to find someone that has achieved a lot in DOTA 2, both in personal gameplay and in coaching.

Esports Experience

Look for a coach who has experience in the esports industry, especially if you are hoping to eventually join the pros. They will bring a different perspective than someone who is merely a high-ranking player-turned-coach.

Coaching Experience

Just being a great player doesn't necessarily mean someone will be a good teacher. You will want to find someone who has coaching experience so that your time with them will be maximized.

Price

We understand that price is an important factor for many gamers. While the more experienced pros will charge more per hour, we will provide options that are affordable for most DOTA 2 fans.
Best DOTA 2 Coaching Services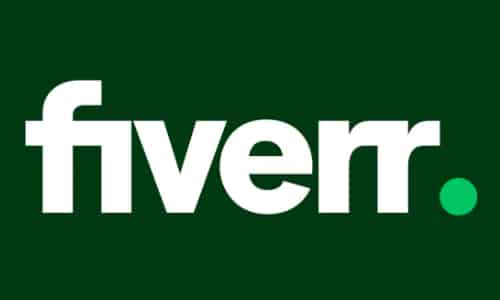 Fiverr DOTA 2 Coach
Fiverr is an online platform for freelancers that offer services in a variety of fields, including game coaching. Every DOTA 2 coach on Fiverr will have their own level of experience and price. Look through each listing to find an affordable trainer that fits within your budget and will give you the training you need.
You will want to read through what they typically offer as part of their service as well as any reviews from other customers before you make your selection to ensure that you find the perfect coach that can help take you to the next level of your gameplay.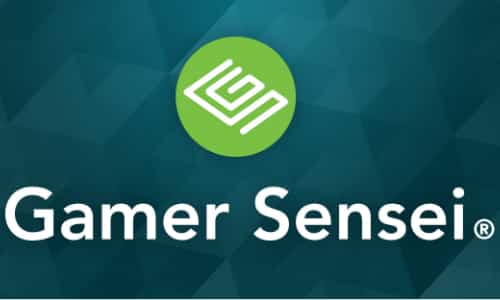 GamerSensei Coaching Services
GamerSensei is a coaching platform that hosts skilled game teachers of all skill levels. Many of the coaches are past esports pros with detailed bios on the site that show their past teams and those that they have coached. You can also see how long they have coached other people in the game. GamerSensei puts their coaches through a 5-stage application process to ensure that they are quality gamers and teachers.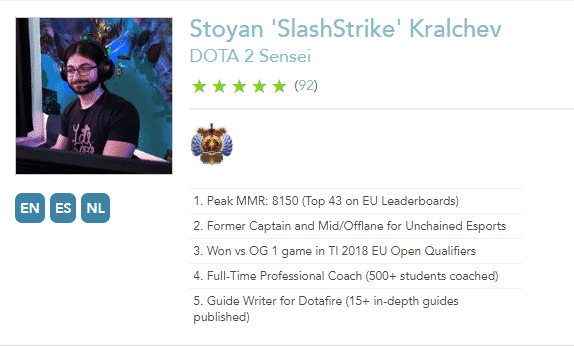 GamerSensei provides the following experiences:
One of One coaching – get full attention from one of the best coaches on the market as they go over your gameplay with you and give you tips and techniques that will help you rank to the next level.
Replay analysis – a sensei can go over your past gameplay and focus on specific areas of weakness to really point out what you could do better.
Team coaching – trying to grow as a team? Coaches can work with all five of you at the same time to help you find ways to work better together.
You can search through dozens of different choices, though the platform already ranks their top coaches in order. You can find help in all ranks and for every role to ensure you are getting the best advice available. The platform also lists each coach's qualifications so you know that you can expect great results.
Better Gamer
Better Gamer allows you to sort through coaches based on their primary skill levels. Knowing what you need to work on in-game will help you find the best coach for your particular needs. Some may be able to help you with early tactics or building, while others can teach you to keep your cool during the end game. 
On individual profile pages, you can see when the coach is next available, look through reviews, read their bio, and even send them a message to learn more about their services or technique. Prices will vary from coach to coach depending on their level of gameplay and their coaching experience. The platform also gives you coins through their loyalty system which you can combine with coupon codes to make their service even more affordable.
Hero Boosting DOTA 2 Coaches
With Hero Boosting, you can quickly find coaches that will help you with your DOTA 2 game. You will be able to quickly see the coach's MMR, what roles they can teach and the languages they can speak. With a brief bio, you will be able to pick your coach. Once you select how long you want to work with them, you'll be able to go to another page where you can discuss scheduling with them. 
DOTA Master Classes
Whether you are new to DOTA or just want to improve your game, you can get access to master classes taught by some of the world's best players through GamerzClass. Many gamers have already taken advantage of some of the knowledge dropped covering strategies, tricks, and techniques that can improve your gameplay fast. They have both free and premium courses available.
Climb the ranks that much faster. The platform also has some exciting features ahead, including coaching and exclusive DOTA communities.
When Should You Get a DOTA 2 Coach?
There are several reasons why you may want to get a coach while you're playing DOTA 2:
Plateau

If you have reached a plateau in your game and struggle to improve your game or rank, a good coach may be able to find things you can improve to get to the next level.

Bad Habits

Playing with the same group of friends repeatedly could make you form some bad habits because you will get used to a specific style of game or shot-calling. A good game coach will notice these habits and point them out to you so that you can extend your advantages in the game.

Changing Roles

If you want to try a different role in the game, you could hire a coach that specializes in the position to help your transition. Some coaching sessions ahead of time may help prevent a drop in your game rank.

Professional Aspirations

If you are looking to become a pro esports athlete, regularly working with a professional coach will help you improve your game as well as learn how to find and join a sponsored team. Most coaches who have previously played at an elite level have industry connections.
DOTA 2 Coaching for Free
If you can't afford to purchase personalized coaching, but still want to learn to improve your game, you can watch YouTube tutorials or skilled streamers. Here are a few that we recommend:
Useful YouTube Channels
GameLeap

GameLeap is this YouTube channel posts DOTA 2 guides, tips for gameplay, and covers what the professional players do best. You can pick up many strategies by watching this channel.

DEFYED

Watch DEFYED if you want to improve your gameplay over time, you can watch the guides and tutorials on this YouTube channel. They cover almost everything about the game to help you improve your knowledge and skill.
Pro Streamers to Watch
AdmiralBulldog

AdmiralBulldog is a very popular DOTA 2 player with a high level of skill who often plays on lower-ranked accounts for fun.

BeyondTheSummit

BeyondTheSummit is this Twitch channel is a broadcasting studio that follows several games, including DOTA 2.
Conclusion
DOTA 2 has remained popular since its release well over a decade ago. Many still begin to play the game, making it one that will last for years. Working your way to the top ranks could potentially land you a gig with a team or help you grow a channel on Twitch, YouTube Gaming, or Facebook Gaming.