On Twitch, Dungeons and Dragons have a sizable fanbase due to the popularity of channels such as Critical Role, which features the world's most beloved tabletop roleplaying game. And thus, the DnD category on the streaming platform Twitch is growing fast.
If you and your friends decide to stream Dungeon and Dragons on Twitch, you will want to set up an overlay where you can all be seen. That way, your viewers will be able to see each of your reactions as they watch your story unfold.
Is an Overlay Worth It?
Absolutely. An overlay with good graphics and a well-thought-out design can serve a number of purposes: it makes your Twitch stream look professional and organize everything on-screen. Moreover, it helps your audience follow the narration and gameplay more easily.
However, a nice, high-quality overlay takes time and effort to make. And not all premade overlays are made equal: some, are just better for another category than others.

Fear ye not, dear adventurers: in this guide, we've put together nifty tips and tricks to help you get your own overlay for your DnD Twitch channel.
What to Add to Your Dungeons and Dragons Twitch Overlay
An overlay that has been well-designed for Dungeons and Dragons will give your viewers the ability to see the following through your stream:
Player Visibility

Design your Dungeons and Dragons overlay so your audience can see every adventurer. You must set up your software to stream with other people on the same channel.

Clearly Defined Roles

Add the roles and names of each player near the video feed of each adventurer. Make it clear which player is the Dungeon Master also. While you want chat participation, you don't want to have to explain your roles over and over.

Dungeon

Whether you are using a physical or digital dungeon map, you will need to showcase it on the overlay.
You should also include your channel branding and the overall feel of your adventuring group. Creating a good Twitch overlay will help you showcase your channel and draw in more viewers.
If you want, you can add some details from a player's character sheet, such as their class and level. You can also add character names next to their username.
However, avoid putting too much detailed information on their windows as this can get distracting and might bore the audience instead. In short, don't put large blocks of text.
Premade DnD Overlays
While you will need to adjust things slightly depending on the number of people in your crew, the following overlays have an adventure quality to them: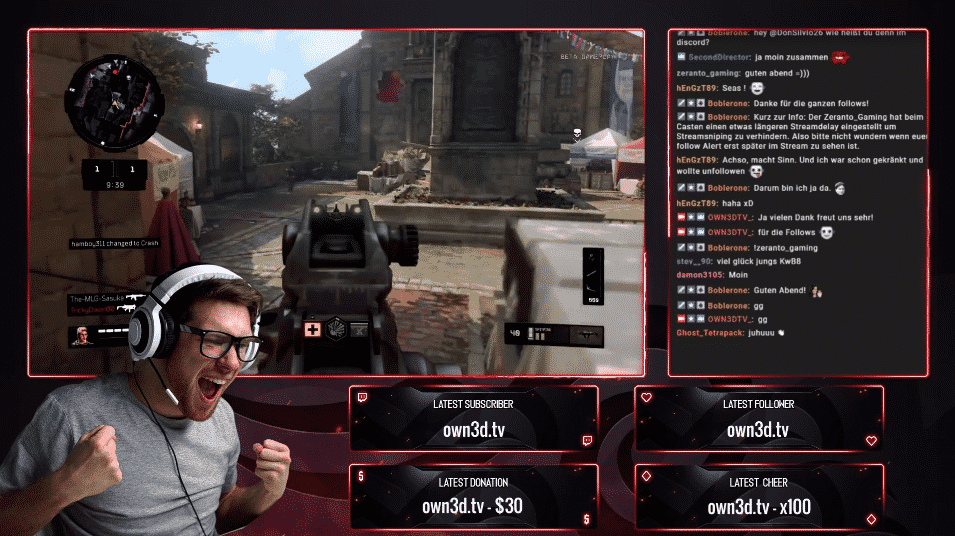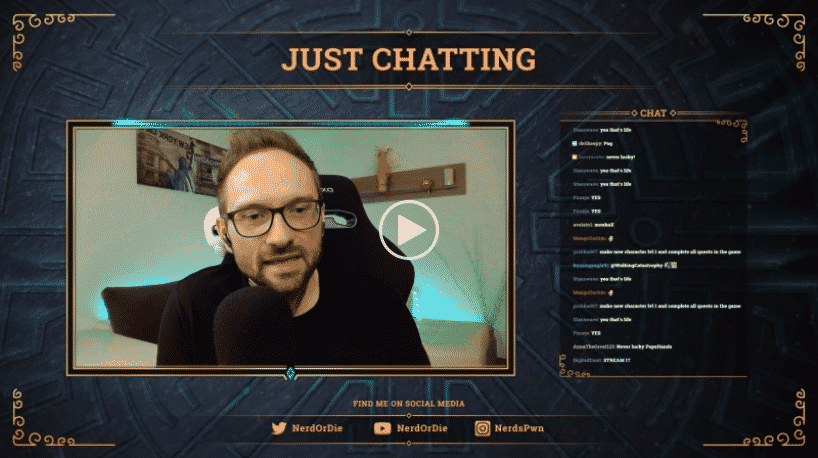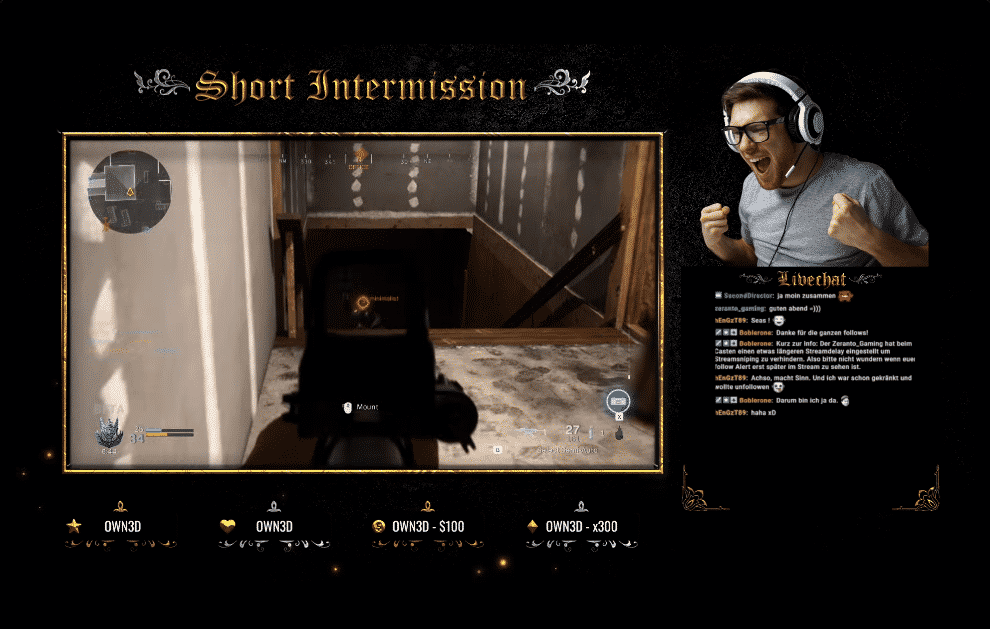 All three of the above overlays have a unique but adventurous feel to them. You can duplicate the webcam overlay several times for each party member, as well as showcase your board (and optionally add a chat overlay). The one you choose could align with the particular adventure you plan to show on stream.
How to Commission a Custom D&D Twitch Overlay
You've browsed dozens of premade overlays, but nothing seems to catch your eye- or maybe, none matches your channel. What if you want a dark fantasy theme for your overlay? Or perhaps you're looking for a theme from the opposite side of the spectrum, one that's airy and bright like a fairy tale?
Since every Dungeon and Dragons group will be different, you probably won't be able to find a premade overlay that works perfectly for your adventurers. You will need to find someone you can commission to create the graphic for you. And the best (and probably cheapest) place you can get a professional to craft your channel a personalized overlay is Fiverr.
Step 1

Go to Fiverr and create an account if you don't have one yet. Fiverr is an online marketplace for freelance designers. You can search through several designers that create Twitch graphics until you find an artist that appeals to you. Preferably, find one who:

Has a great portfolio that matches your needs.
Is clearly active. If you see that they typically reply within a few hours, this is a good indication that they are.
Has great client reviews.
Allows revision.
Delivers on time.

Step 2

Show the artist's portfolio to the other adventurers in your guild and plan how you envision the overlay to look. Create sketches if you can, even if they are rough.

Step 3

Reach out to the designer and explain your need to them. Show them examples of things you want to be included and explain how you want your overlay to look overall. Include pictures of your rough sketches so that they can get a feel for what you are thinking.

Step 4

The designer may have initial questions for you to help them clarify the project in their minds. Answer the questions to the best of your ability.

Step 5

When the artist returns their work to you, look it over carefully and take notes of anything you may need to have them change. You will then need to reach out to them for any revision requests you have.

Step 6

Once the artist has made the changes, pay them for their efforts to be given the graphic. Upload it to the Twitch streaming software you use to get started on your Dungeon and Dragons streams.
Inspiration for Dungeon and Dragons Overlays
If you still have little to no idea how you want the overlay to look, the best thing to do is to find inspiration.
Look at other Dungeon and Dragons channels on Twitch for inspiration on what other groups are doing. While you don't want to copy what anyone else has done, you can find elements that you like and take your spin on them.
Here are two overlays that we found that do a good job of showing the players and the map:
CaptainRoBear

This fantastic overlay is used by the adventurers on CaptainRoBear on Twitch. It does a pretty good job of showing all the names and telling you who the dungeon master is; the map is clear enough for everyone to see. Although it's more detailed than most layout overlays, it's clean and clutter-free.

TheQuelmarRealm

This overlay is used by the adventurers on TheQuelmarRealm on Twitch. The cool graphics are reminiscent of dark fantasy RPGs, which makes it interesting to look at while clearly showing who the DM and the players are. The map is the center image, so people can quickly look at it for reference when settings change.
How to Design a D&D Overlay
Of course, you can design a D&D Overlay using a graphic design program like Adobe Illustrator, GIMP, or Affinity Designer. Learn how to use the program and make a graphic where you can showcase various adventurers and maps.
When designing a DnD overlay, it might help if you download a premade one first even if they aren't DnD-themed. The package's graphics can guide you to the different formats and dimensions you need to create a complete Twitch overlay.
Conclusion
If you and your friends want to share your adventure with the world, make an effort to create a quality product from the beginning.
Quality overlays can go a long way. Not only will people want a good story, but they will also want to see your reactions. They might lose interest if they have trouble looking at the sea of cluttered webcams and scenes because there's no defined organization.
An overlay also increases production value and efficiency on your part. You can upload your VoDs to YouTube afterward so that future fans can easily catch up to the point you are in the quest.