Cameras, lights, and premium overlays each play an important role in crafting a high-quality stream, but none are as pivotal as the microphone. The Blue Yeti USB Microphone has been a popular choice among creators for over a decade due to its crisp audio quality, ease of use, and stylish design. The newer, smaller, and more affordable Blue Yeti Nano claims to provide the same broadcast-quality sound in an all-new compact design. Both microphones are good choices for incorporating into your stream, but here are a few things to keep in mind when making the call.
Blue Yeti Overview
The Blue Yeti's sleek aesthetics and sturdy build are certainly major factors in its overwhelming popularity. The body of the microphone has a dedicated mute button, a volume knob, a gain control knob, and a pattern mode switch. Thanks to Blue's proprietary tri-capsule technology, the Blue Yeti offers four polar pattern modes; cardioid, stereo, omnidirectional, and bidirectional.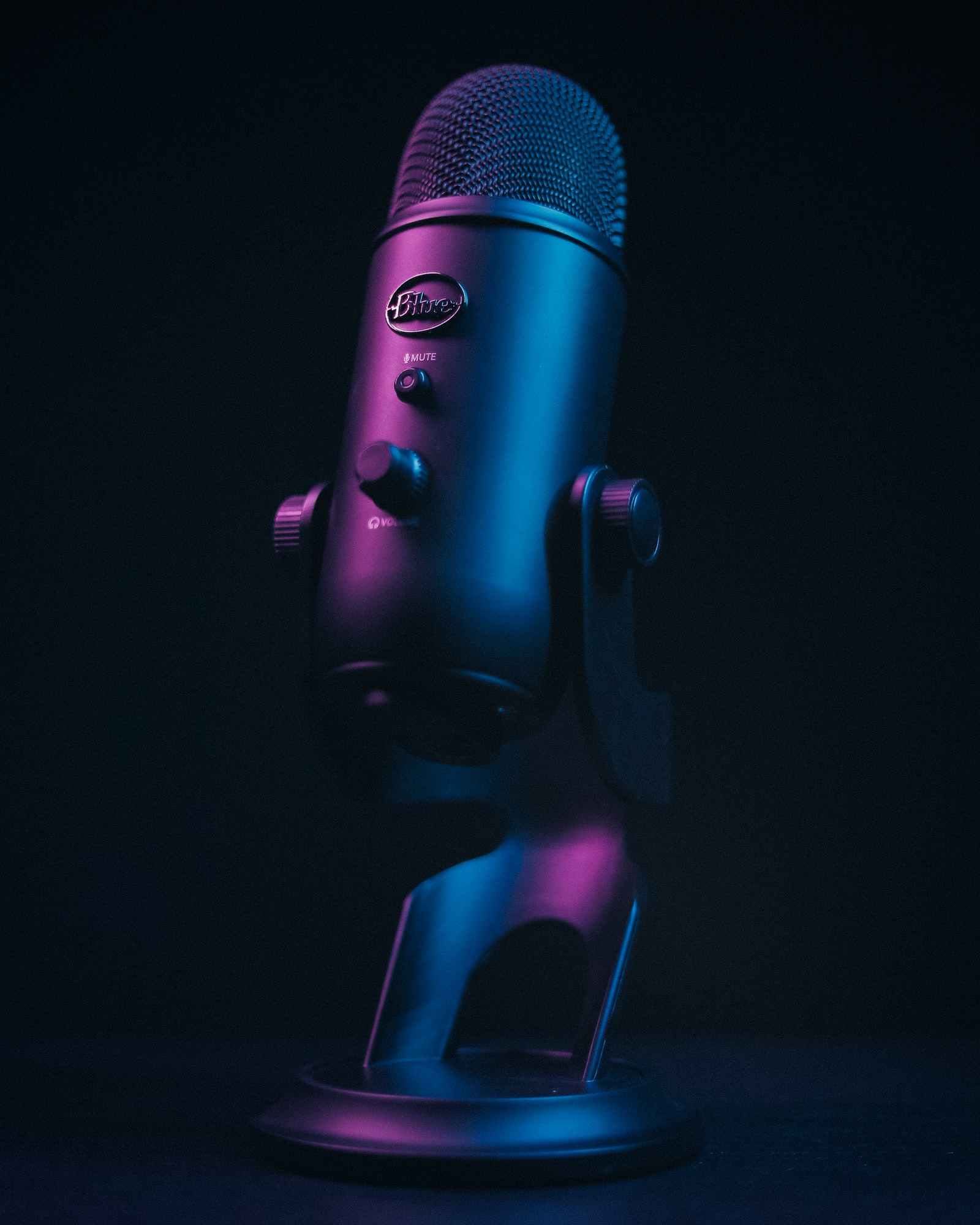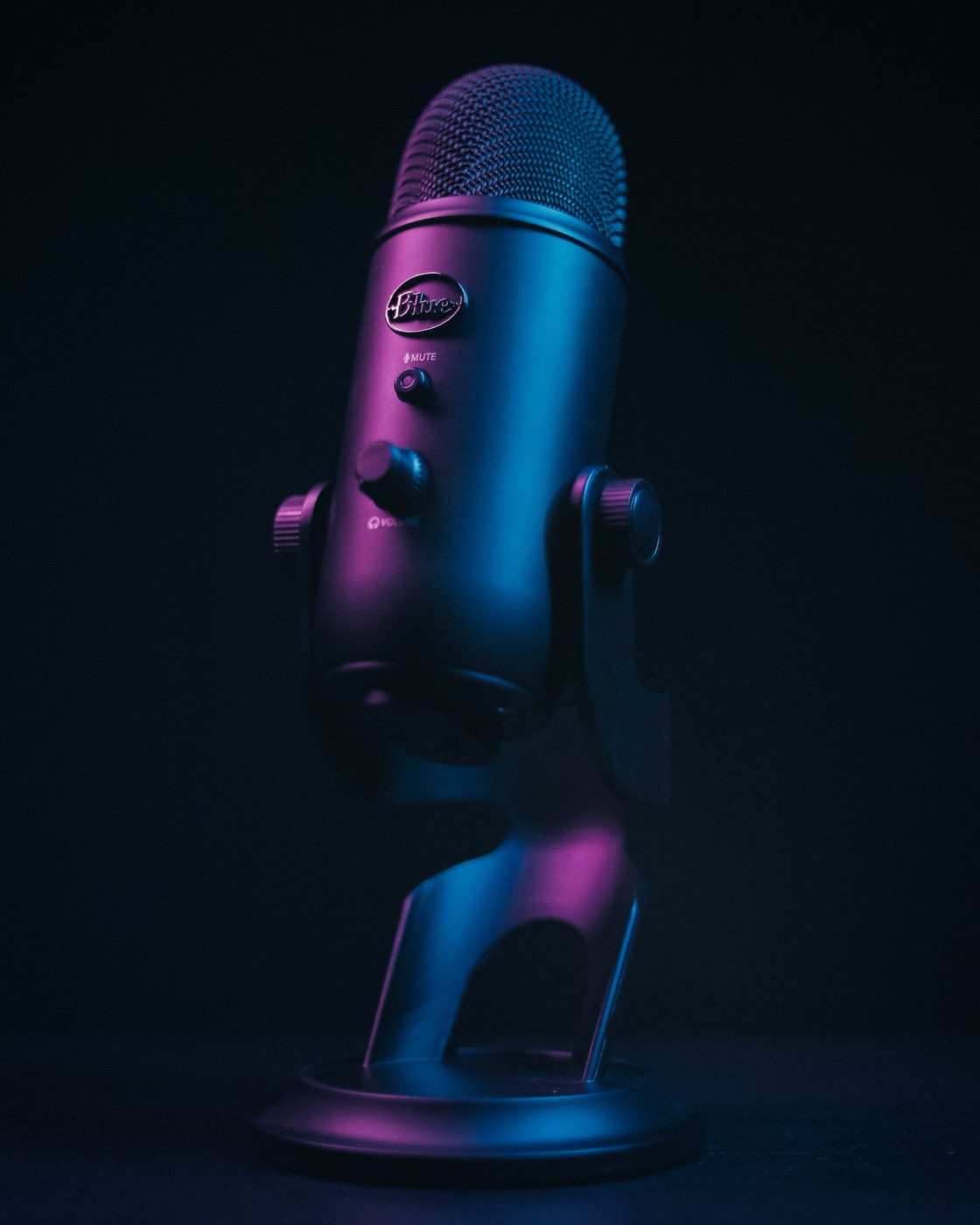 The Blue Yeti comes with a solid adjustable stand, but there's also the option of removing the microphone entirely and mounting it to a separate desk stand or boom arm. The flexibility that comes from a removable stand allows the Blue Yeti to fit into any desktop configuration with ease. The total weight of the microphone plus the stand comes out to 3.4 lbs (1.54 kg) which is a bit heavy when compared to similar microphones.
The Blue Yeti is a USB microphone that gives it a remarkably simple plug-and-play functionality. It can be plugged directly into your Mac or PC and be ready to use within seconds, unlike XLR microphones which require additional hardware to set up.
The Yeti is compatible with Blue's Sherpa software which allows you to change most of its settings through a desktop app. Unlike other Blue products, however, the Blue Yeti is not supported by Blue VO!CE, a software that allows for professional-level filters to be applied to the audio captured through the microphone.
Pros
Clear broadcast-quality audio
4 polar pattern modes
Gain control
Dedicated mute button
Cons
Heavy metal build
Lacks Blue VO!CE Support
Specs
Power Consumption: 5V 150mA
Sample Rate: 48 khz
Bit Rate: 16 bit
Capsules: 3 proprietary 14mm condenser capsules
Max SPL: 120db (THD: 0.5% 1kHz)
Weight: 3.4 lbs (1.54 kg)
Cable Type: Mini USB
Dimensions (Extended): 4.72"x4.92"x11.61" (12cmx12.5cmx29.5cm)
Blue Yeti Nano Overview
As the name suggests, the Blue Yeti Nano comes in a much smaller form factor than its predecessor. It maintains the sturdy and sleek aesthetic of the Blue Yeti, but the design is more reminiscent of the Blue Yeti X with its cuboid shape. Although it is still mostly made up of metal, it is significantly lighter than the Blue Yeti at 1.4 lbs (0.64 kg) which makes it a bit more portable and easy to set up. The body of the microphone bears a volume knob and a pattern mode switch which offers cardioid and omnidirectional polar patterns modes.
The body of the microphone can be removed from the stand and mounted elsewhere similar to the Blue Yeti. The smaller frame of the Blue Yeti Nano actually makes it slightly more versatile than the Yeti in desktop configurations and mounting options.
Since the Blue Yeti Nano is also a USB microphone, it allows for the same plug-and-play functionality as the Blue Yeti.
The Yeti Nano is supported by Blue Sherpa as well as Blue VO!CE. VO!CE provides a variety of professional-level filters such as noise reduction, noise gates, and EQ which can be applied to your voice in real-time. This is a powerful software that allows you to step up your audio production to the next level.
Pros
Near identical quality audio
Lightweight and portable
Blue VO!CE support
Cons
Only 2 polar patterns
Lack of dedicated mute button and gain control
Specs
Power Consumption: 5V 150mA
Sample Rate: 48 khz
Bit Rate: 24 bit
Capsules: 2 proprietary 14mm condenser capsules
Max SPL: 120db (THD: 0.5% 1kHz)
Weight: 1.4 lbs (0.64 kg)
Cable Type: Micro USB
Dimensions (Extended): 4.29"x3.78"x8.31" (11cmx9.5cmx21cm)
Blue Yeti vs Blue Yeti Nano
Sound Quality

The Audio captured from the Blue Yeti is clear and crisp. With proper technique, this microphone excels in recording audio for streaming, podcasts, and even professional voice-overs. The cardioid mode captures the fullest sound and should be the default pattern for most streamers.

The Blue Yeti Nano delivers the same professional audio quality that the Yeti brand is known for. It captures nearly identical audio to the Blue Yeti when recorded in the same scenarios. Admittedly, the Blue Yeti's sound is slightly clearer, but the untrained ear won't notice the difference. The Blue Yeti Nano also has the ability to record in 16-bit or in 24-bit which gives it a bit more flexibility.

The most discernible difference between the two microphones in terms of audio quality comes from scenarios in which stereo or bidirectional polar patterns would be a better fit. With access to the only cardioid and omnidirectional patterns, the Blue Yeti Nano has a bit less versatility.

Audio Monitoring

Both the Blue Yeti and Blue Yeti Nano provide audio monitoring through the 3.5mm headphone jacks on the bottom of each microphone. The ability to monitor an audio recording without delay is an important feature that will benefit those who want to make adjustments to their gain or microphone placement without having to rely on software to record and playback the audio.

Mute Toggle

The Blue Yeti also comes equipped with a dedicated mute button which is not a common feature on most other USB microphones, the Blue Yeti Nano included. A dedicated button for toggling mute bypasses the need to fumble with settings or software to mute your microphone. The Yeti Nano lacks a dedicated button, but can still be physically muted as the volume knob doubles as the mute toggle when pressed.

Gain Control

Another feature that sets the Blue Yeti apart from the Blue Yeti Nano is its gain control knob. Gain controls how sensitive the microphone is to the volume of incoming sound. The Blue Yeti Nano, unfortunately, lacks gain control altogether and you will need to rely on software like Blue Sherpa to adjust it.
Verdict
The Blue Yeti is a versatile USB condenser microphone that delivers crisp and clear broadcast-quality audio with a choice of four different polar patterns. The Blue Yeti Nano successfully replicates the sound and feel of the original Yeti, albeit with a few exceptions. The lack of gain control, stereo and bidirectional polar patterns, and a dedicated mute button may or may not be deal-breakers for some. For most, they won't be.
The Blue Yeti Nano slightly edges out the original Blue Yeti due to its smaller form factor, increased portability, and access to the powerful Blue VO!CE software. Streamers, in particular, won't miss the two absent polar patterns as the cardioid mode will cover most needs. Although physical buttons and dials are certainly preferred, each of the missing features on the Yeti Nano can be solved through the use of Blue's Sherpa software. All in all, the Blue Yeti Nano delivers the same legendary Blue Yeti sound in a modern and streamlined new way.