Twitch has gone through its phases and fads, with different technologies entering and exiting the playing field what seems like every year. However, one type of tech has turned into such a snowball that it's beginning to take the Twitch front pages by storm – VR headsets.
It is a personal cinema screen in front of your eyes, and companies such as Valve, the leading digital publisher of the modern world, have taken it under their wing.
There are plenty of options you can pick up to get into streaming, and we're going to go through some of the best VR headsets in today's article.
Our Ranking Process
We will be diving deep into many categories in our hunt for the best VR headsets, and ranking them based on the following criteria;
Price and value for money
Features
Public opinion
Longevity/robustness
In each VR description, we will give a brief overview of the VR headset and then a rundown of the four main categories, giving them a score out of 10. We will then give it an overall ranking to determine which are truly the best VR headsets.
Which VR Headsets Do Streamers Use?
Is that question still bothering you? Well, wonder no more. We've listed 5 of the best and most-favored VR headsets below.
Meta Quest 2
It's a sleek wireless VR headset with incredibly fast processors and next-generation graphics. It features a full headset alongside two sleek controllers which fit snugly into your hands.
Price and value for money
In terms of value for money, Oculus Quest 2 is far and beyond the winner in this category overall. For a lower range price tag, you will get access to a fully immersive VR experience and two controllers unrivaled by almost everyone inside the space.
Public opinion
The general opinion of many in the public domain, as mentioned earlier, is that it is one of the best VR headsets for the current modern market. Whilst others may be slightly more technologically advanced, either their negative features or price ranges hold them back behind the Oculus Quest 2.
Longevity/robustness
There don't seem to be too many problems with the longevity of the Oculus Quest 2, aside from some controller replacement issues that seem to be prevalent across the VR space – but make sure to do your own research into warranties and future options before purchasing.
The battery life on it seems to be fantastic, with some users reporting battery lives of multiple days before they need to recharge.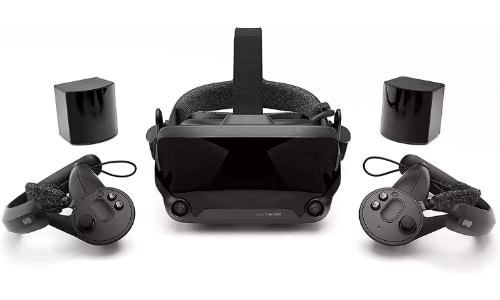 Valve Index
This VR headset is without a doubt the most technologically advanced on the market, and its price point reflects that at a whopping 4 times the price of the Oculus Quest 2. Valve is the frontrunner in this space and it shows, with the Valve Index having top-of-the-range sensors, technology, and gaming experiences. To some, it is absolutely considered one of the best VR headsets.
From a streaming perspective, you will have a great time with this VR headset. Many large creators such as Jacksepticeye have used it for their content creation endeavors, leaving you with little problems other than general tech fixes that come with all forms of streaming life.
Price and value for money
In terms of value for money, the general consensus seems to be that although the Valve Index is the best in terms of technological advancement – it isn't always worth the price tag that Valve has placed upon it.
It would be up to you as the consumer to decide whether spending that money would be worth it and whether this really is the best VR headset.
Public opinion
The public opinion on the Valve Index is much the same as has been discussed already – it is the best VR headset, but it may not be worth the price.
However, despite the huge disparity in price, the Valve Index still accounts for 17.50% of all VR headsets. It is in front of the Oculus Rift S at 17.21% and behind the Oculus Quest 2 at 33.19% of players. So, it is four times the price but has half the player base of the Oculus Quest 2, its main competitor.
It may appeal more to PC gamers than console gamers due to the affiliation with Valve,
Longevity/robustness
The Valve Index seems to be overall robust and long-lasting, with a few of the same problems that often plague many of the VR space right now such as controller replacements.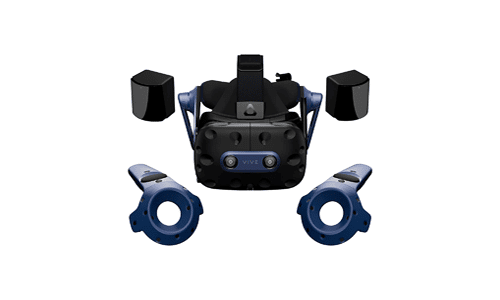 HTC VIVE Pro 2
The HTC Vive Pro 2 is another VR headset that has hit the ground running and is a strong, robust VR headset that will give you a fantastic experience. It is given the title of 'best VR headset' by some, however, some believe it is far too overpriced.
It provides no more benefits to streaming other than some potentially new or unique VR experiences for viewers with the compatible software – and unfortunately, it does not have a very good microphone so you will need to purchase an extra for streaming. Many people love this one, but its flaws have caused some to believe it is not close to becoming the best VR headset.
Price and value for money
The HTC Vive Pro 2 is sold as a standalone VR headset itself and does not include controllers or base stations.
This price includes a two-month subscription to Viveport Infinity, which is a huge library of videos, games, and apps for the HTC Vive Pro 2. A link to this can be found here.
Public opinion
Unfortunately, the general opinion of the HTC Vive Pro is a more harsh version of the criticism of the Valve Index – that the VR headset is fantastic and does exactly what it says it does – but the price tag does not match the quality that you receive.
Again, it would be up to you to put together an opinion as to whether you may want to spend the money on putting together a good setup for this VR headset.
Longevity/robustness
There don't seem to be any huge issues with the longevity of the HTC Vive Pro, leading me to think that it will be relatively solid – however, as per usual, there may be some teething issues with the VR software as a whole.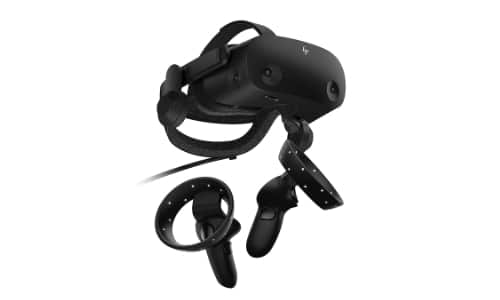 HP Reverb G2
The HP Reverb G2 is one of the top contenders for VR headsets. It does an amazing job at delivering high-quality display resolution while being a comfortable virtual reality headset to wear. Furthermore, it's a favorite VR headset pick for gamers because of its precise tracking.
Price and value for money
For the features you get for a below-$500 VR headset, the HP Reverb G2 is worth it. You get several quality features and it already comes with updated controllers. You get an immersive VR experience coupled with 3D audio for a perfectly reasonable price.
Public opinion
HP Reverb G2 users are more than happy with their purchases. Apart from the comfort this headset brings, its key features such as resolution, audio, and controllers, are among the best in the market today.
Despite having a general consensus of happy customers, there have been issues for others. These issues are related to compatibility and set-up.
Longevity/robustness
Like most virtual reality headsets, the HP Reverb G2 is built with durability and longevity in mind. It's built with quality material but is also built for the comfort of users. Moreover, it handles temperature and moisture well.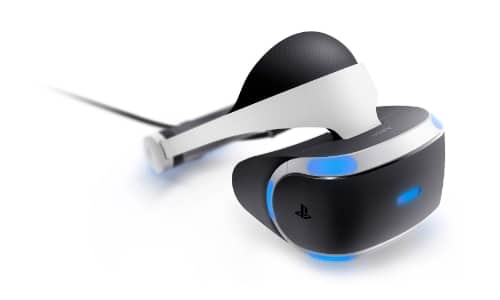 Sony PlayStation VR
If you own a PlayStation, the PSVR is perfect for you. You can easily integrate this headset into your PlayStation VR system. Apart from the device, PlayStation also gives you access to a library of games. This, combined with its other features, makes it a good choice for your first VR headset.
Price and value for money
Compared to other VR headsets, the PlayStation VR is one of the cheapest on the market today. With its impressive display, sound quality, tracking, and build quality, it truly is a bang for your buck, especially if you're a PlayStation enthusiast.
Public opinion
Users of PSVR are satisfied with their VR headsets. They notably appreciate how immersive and comfortable it is. The tracking and overall performance are also superb. Many PSVR users also love easy access to its game library. For all of this, it truly is a value-for-money device.
Longevity/robustness
Like any other device, the PSVR is not immune to wear and tear. However, with proper care and proper usage of the device, it can last you more than its expected lifetime.
Should You Stream VR on Twitch?
Now that we've gone over the best heavy hardware and mobile VR headsets to buy in general, the question of whether you should actually stream VR on Twitch is posed to us. Is it actually a good way to grow a channel? More importantly, is it enjoyable?
While we can't give you an exact answer to this question, we can dive deep into some of the statistics. By looking at the popular game VRChat, arguably one of the most influential VR experiences, we see that it is ranked #62nd in 'unified rating' by TwitchTracker. It has a few thousand viewers per day – and the peak viewers occurred on February 2, 2022 at 127,981 viewers.
Whilst it might not bring in millions of viewers like Fortnite or Minecraft might – it is still very popular on the platform.
In terms of enjoyment, VR is absolutely one of the greatest ways to enjoy playing video games. The drive to become fully immersed in your gaming experience is one shared by millions for many years, and this can now become a (virtual!) reality.
If you aren't too prone to motion sickness or eye glare -you often forget about everything in real life as you become caught up in the stories that you used to only be able to view through a screen.
So, to sum things up, streaming VR on Twitch is absolutely something that should be considered and it can be a thoroughly enjoyable experience.
Best VR Games to Stream
Playing games has become one of the staples of the VR world, and even though it is still a relatively new technology in the grand scheme of things, there have been many VR games that will define the product's history, transcending PC and even console gaming.
Now that you're equipped with your very own VR headset, let's take a look at some of the best VR games you can play. I'll go through three of the 'classic VR games' that defined the genre and set their players up for a whole new world – literally. By playing games on stream, you are all but guaranteed to have a good time!
VRChat

Often hailed as one of the first VR platforms to allow for widespread social interaction, VRChat allows the power of creation to be in the hands of the users by offering hundreds of virtual reality social interactions. (You may remember one such 'Do You Know De Way' meme originating from this game a few years back.)

It truly is one of the benchmarks for which many VR games aspire to.

Its four main features include making friends with people from all across the world, creating your own worlds using the Unity game editor, custom avatars to express creativity, and metaverse virtual space community building!

By jumping into the 3-D specialized audio world of VRChat, you are sure to enjoy yourself and create many (virtual?) memories with you and your chat – even if you are wearing a mobile VR headset.

Beat Sabre

Made for lovers of VR, music, and fast-paced action gaming experiences alike, BeatSabre is a fantastic rhythm game where you use real-life VR controllers to slash and hack the beats as they fly toward you in a flurry of rhythms. Its wealth of VR content will keep you entertained for hours, allowing you to practice your skills with ease.

It is designed in such a way to mimic the motion of dancefloor movements and as such can result in some very elegant (or not!) movement spiels.

The audio and visuals of Beat Sabre are unmatched within not just the VR space, but the video gaming community as a whole.

There is also a whole community of e-sport-like events and competitions revolving around the game – so you won't ever be strapped for things to do within the game. Beat Sabre ties in perfectly with the VR headset and controllers to provide a perfect experience.

If e-sports VR action with a huge community is a thing that you enjoy then Beat Sabre will absolutely be the game for you!

Half Life Alyx

Some people argue that this is the most technologically advanced game ever in existence, and my personal bias would tend to agree. Half-Life Alyx is a fully-fledged AAA game set in the Valve Half-Life universe.

It features an entire multi-ten-hour story alongside a gigantic world with pristine graphics and one of the most advanced VR interaction systems ever. It also garners hundreds of views on Twitch, and as such would be a fantastic game to stream.

As a side note, the VR headset and tracking cameras also provide for a very funny experience on cameras – as can be seen on many of Jacksepticeye's Half-Life Alyx series!

It won VR Game of the Year in a landslide from multiple outlets such as The Game Awards and VR Awards and was worked on by developers from many previous Valve titles. The team who worked on the hit game 'Firewatch' were even involved with the project, showing the true diversity of talent across the board.

This was a new step forward from Valve in their strive to always set the benchmark for video game development and it will hopefully open the door for more revolutionary experiences in the future.

There is a new VR headset rumored to be coming out next year, developed by Valve.
Conclusion
In conclusion, virtual reality is a fantastic option for streaming and there are a wide variety of options for VR headsets for anyone out there – dependent on their budget and what they would be looking for in an experience.
We picked the 'Oculus Quest 2' as our best VR headset for both budget and ability to stream with, but all of the others are fantastic as well and it is, at the end of the day, up to you to make the decision. Whatever you choose, you will take solace in the fact that you will be part of a new generation of video gaming technology.