There are many kinds of graphics that you will need to brand your channel. Purchasing or creating them individually could create a look that clashes with itself. The process could become potentially expensive as well. Purchasing a Twitch Graphics Pack is generally more affordable and each element has been created to complement each other.
Our Twitch Graphics Ranking Process
Here are the things we considered when ranking Twitch graphics:
Branding – we look at popular brands that produce free and premium Twitch graphics that are professionally created that help your channel stand out.
Design Quality – you need graphics that look good and appeal to gaming sponsors. Show your professionalism in everything you do while maintaining the integrity of your brand.
Affordability – many new streamers don't have a lot of extra income. Affordability is key. You need to find a design that fits within your budget.
Diversity – every channel is unique and you will want graphics that appeal to your viewers. We looked for platforms that offer several options that will work for different channel styles.
Best Twitch Graphics Packs
OWN3D Graphics Packages

Own3D has over 100 professionally designed packages that have been designed specifically with streamers in mind. These packs are full of consistent packages that you can use on your channel to create high-quality content for your viewers. Many graphics packages will offer you two options: the basic option and the premium option. The premium will include more features.
Animated overlays keep things fun when your viewers follow or subscribe and the overlays will create a visual appeal that will carry over to the thumbnails on the category pages. When browsing through channels all playing the same game, your title and your thumbnail overlays are the only way to stand out.
What is Included in OWN3D Packages?
OWN3D's basic packages include the following:
Animated stream overlays
Animated stream alerts
Animated stream webcam overlays
Animated stream intermission banners
Stream panels
All static files
The premium packages include everything in the basic packages as well as the following:
Animated stream transitions
Stream transition sound
Stream alert sounds
Animated stream talking banner
Twitch profile banner
Twitch profile picture
YouTube banner
Desktop Wallpaper
Streamlabs import files
Nerd or Die Graphics Packages

With over 2 dozen stream packages, Nerd or Die offers a good selection of full-channel graphics packages. These packages are all unique, making it easy for most streamers to find something that is appealing to them. They also have a few free options for streamers who are just starting out and can't afford something more high end.
With the source files, you will have the option to change colors and minor details that will reflect your channel's personal brand. Create thumbnails that stand out and keep your viewer's attention with high-quality content.
What is Included in Nerd or Die Packages?
The Nerd or Die packages include the following:
Overlays
Webcam overlays
Stream Alerts
Stingers
Starting, BRB, and Ending Screens
Placeit Unlimited Graphics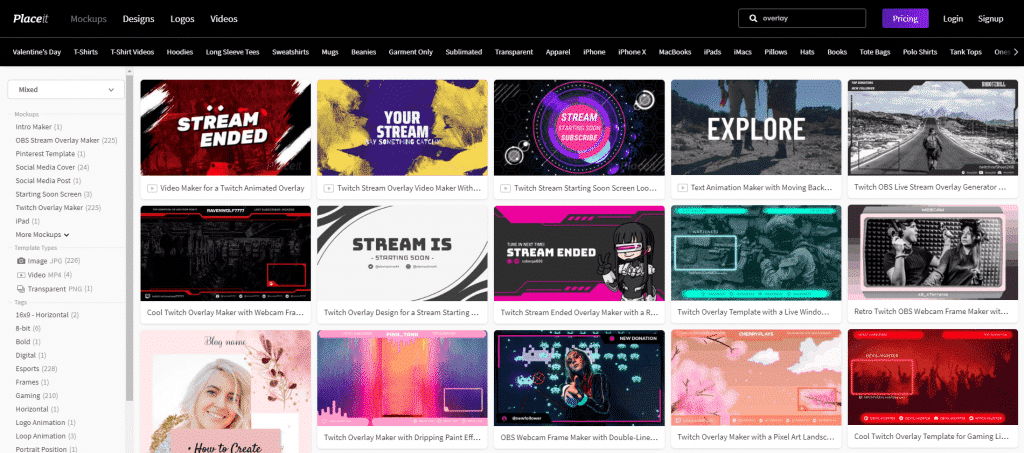 Placeit is a hub that was created to allow content creators to easily manipulate professionally designed templates in order to create graphics that are custom to a particular channel. With Placeit, the opportunities are seemingly endless as you can upload your own images and graphics to incorporate with some of their templates.
Placeit operates under a different system from its competitors. Instead of packages that can be purchased one at a time, Placeit offers a month-to-month plan that allows you to customize unlimited templates. This allows you to create several different looks for your stream to match the content you are playing.
Placeit also offers templates for other social platforms such as Twitter, Instagram, and Facebook. This will make it easy for you to build your consistent brand across all socials without a lot of extra effort. You can also create visual posts that will appeal to your audience.
What is Included in Placeit Packages?
AS far as Twitch graphics go, you can expect to find the following with Placeit:
Logos
Animated logos
Video intros
Twitch banners
Twitch offline banners
Overlays
Panels
Starting Soon, BRB, Ending scenes
Visuals by Impulse Graphics Packages

Visuals by Impulse have more than 75 different stream graphics that showcase their expertise in design. They offer both static and animated versions and you can often choose between a few colors to make the graphics stand out to you a little more.
Scrolling through their collection, you should be able to find several sets that stand out to you and will resonate with your audience. If you don't, you can always contact the company about created custom content specifically for your channel.
What is Included in Visuals by Impulse Packages?
The following graphics are available in Visual by Impulse's packages:
Stream alerts
Icons
Overlays
Screens
Profile art
One-click setups
Animated stream transition
79 Panels
Design files (PSDs Only)
Alert sound effects
Instructions
Conclusion
Stream packages are a great way to set up your channel graphics within a few minutes. Take your channel to the next level without a lot of effort.