Emotes are an important aspect of your channel's branding. Unlike other graphics on your channel, emotes are unique in that professionally-created designs can generate income through subscriptions. They encourage subs and viewer interaction, build community, and can potentially influence merchandise sales.
Best Twitch Emote Services
1. Own3D.tv Twitch Emotes

Own3D is dedicated to creating packages for streamers to help improve the visual quality of their streams and channels. As an addition to their multiple services, they also create packs of Twitch emotes. These are professional-quality, fall under Twitch's ToS for emotes, and you don't have to wait for a design turn-around time (though you will still have to go through Twitch's approval until you are a Partner).
Own3D are currently running 50% off all products with the coupon code: STAYHOME to encourage isolation during the COVID-19 crisis.
Twitch Emotes
Own3D emotes are delivered in the appropriate sizes for Twitch (28×28, 56×56, and 112×112) and in PNG format. They have hundreds of options for you to choose from and have some emotes that are game-specific. They have ensured that all emotes are up to Twitch's standards.
With over 1,200 search results, you can browse through packs of eight emotes or individual emotes. They have created high-quality graphics for several different scenarios. You can browse them and choose the ones that would fit in with your community's culture.
As a new streamer, commissioning all custom emotes can be quite expensive. Using pre-made bundles are a great way to offset the cost and offer value to your community quickly.
Own3D Twitch Emote Generator
Own3D also has a Twitch Emote Generator that allows you to change a template to resemble yourself or another character. You can create up to 26 different emotes using the character, making it easy to create branded content on the fly.
What Else Does Own3D Produce?
In addition to emotes, Own3D also produces the following:
Twitch overlays
Twitch panels
Sub badges
Stream alerts (static and animated)
Animated stream transitions
Giveaway banners
Starting, Pause, and Ending Screens (both static and animated)
2. Fiverr Twitch Emotes

Fiverr is an online marketplace full of freelancers. You can virtually have anything on this platform created, including Twitch emotes. All you need to do is search for "Twitch emotes" in the provided field and you will be taken to the section of Fiverr where you'll find portfolios by talented designers.
Research each designer. Look at their reviews and pay attention to their artwork. Look for a creator whose work stands out to you.
Custom Orders Through Fiverr
Every order through Fiverr should be custom made. Make sure you know what you want before you reach out to the designer. While they will be able to ask you questions to make your ideas more clear if you can give them more information at the beginning of the transaction, you'll ultimately get a better product and a faster turnaround time.
3. Visuals By Impulse Emotes

Visuals By Impulse specialize in designing many different features for Twitch, Mixer, and other platforms. They are always adding something new to browse and are open to custom orders.
Twitch Emotes
Search through available inventory of emotes on Visuals by Impulse. Inventory will fluctuate based on demand and what has recently been created
Custom Orders Through Visuals by Impulse
Visuals by Impulse is happy to take custom orders for emotes and other graphics. After reviewing an order, a manager will get back to you with a quote for an exact price. The company requires you to put up a 50% deposit upfront to start the projects.
You will have 30 days to examine the project and request edits. If a month has passed, they will still edit the image for a small fee.
What Else Do Visuals by Impulse Produce?
Visuals by Impulse also produce the following:
Twitch Overlays
Sub badges
Twitch Panels
Stream Alerts (static and animated)
Screens
Logo Design
Stream transitions
Stream Deck key icons
4. Stream Fixers Emotes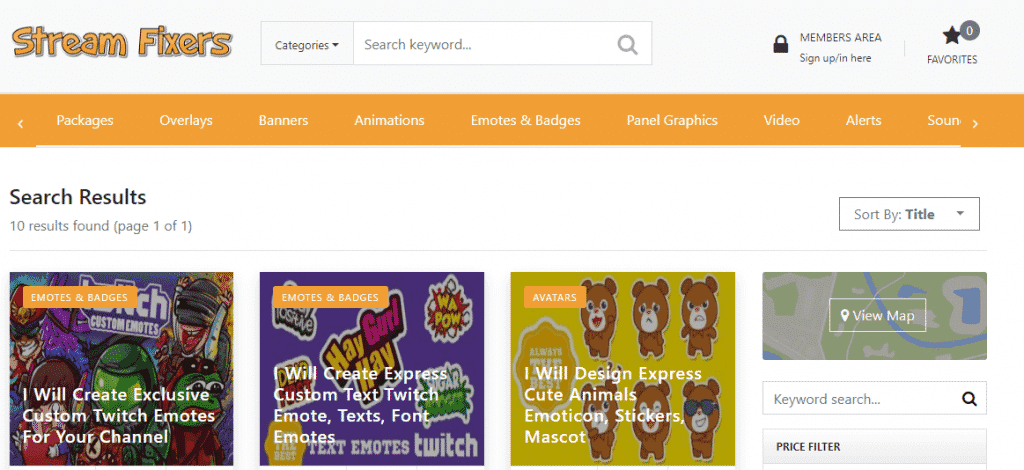 Stream Fixers is a similar site to Fiverr in that they showcase designers who are willing to create custom graphics for your stream. The difference is that this site works solely with graphics for streamers, so you don't have to sort through irrelevant information to find what you need.
Custom Orders Through Stream Fixers
To create a custom order through Stream Fixers, you will need to find a designer you want to work with. From their profile page, you can either contact them or purchase their services. You will need to give them a detailed description of what you would like and work with them from there.
Like Fiverr, these designers are individuals so their quality and pricing will vary. It is important for you to read reviews and ask for other samples before you begin so that you can ensure that you get the product you want.
5. Etsy Twitch Emotes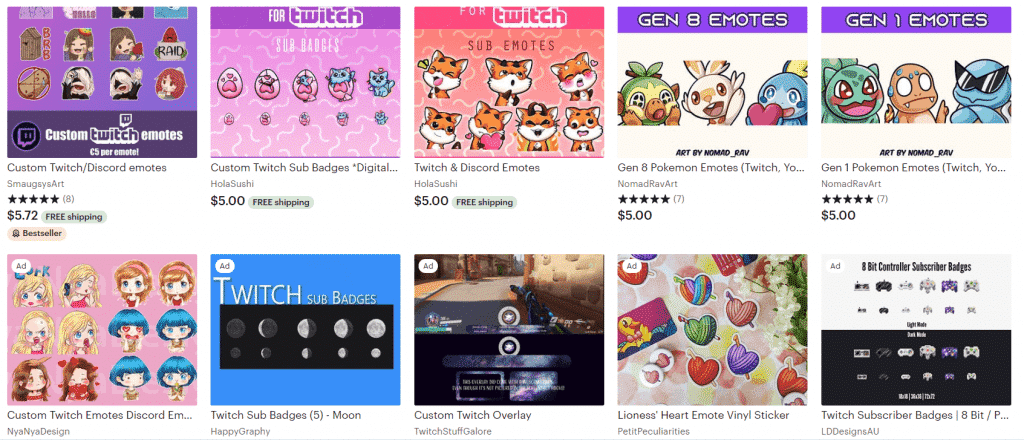 Etsy is an online marketplace for crafters and designers. As with Fiverr or Stream Fixers, you will be dealing with an individual designer, not Etsy themselves. There are multiple emote and badge creators on the platform and you can browse through their portfolios to find someone to work with.
Custom Orders on Etsy
Most of the time, your orders on Etsy will be custom, though you will find the occasional badge or emote pack. Make sure to read the descriptions of each listing to know what you are purchasing and what to expect. When ordering custom work, be sure to include as much information as you can about what you want.
6. RissaRambles Twitch Emotes

RissaRambles is the personal website of a full-time artist and illustrator names Rissa. She specializes in designing emotes (as well as other graphics) for streamers. You can view her portfolio on her website and cross-check them with the streamers who use them!
Rissa is a very talented artist who has reasonable pricing for her services. In addition to emotes, she also designs the following:
Shirt designs
Avatars/Icons
Chibis
As she receives a number of inquiries, make sure to carefully read her ordering information and only write to her when you have a rough idea of what you would like her to complete for you.
7. Uguubear Twitch Emotes

Uguubear is another personal website for the illustrator, concept artist, and entrepreneur Allison Henderson. Allison has been designing emotes and other graphics for several years. Among her extensive portfolio, you will find several well-designed Twitch emotes.
When she is open to new commission work, she labels it at the top of her website. You can contact her through the email address on her contact page. She also designs chibis.
In addition to her design work, Uguubear streams 4 days per week.
8. Twitch Creative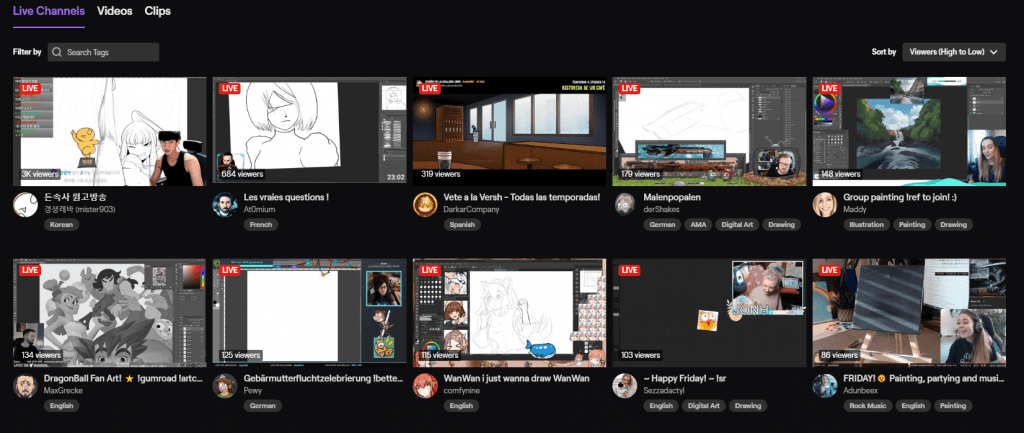 There are many freelance designers who are happy to create emotes for your stream. There are multiple places you can find them outside of the resources mentioned above. Here are three social platforms you can use to find designers:
Twitch Creative Section
Many designers stream while they draw emotes for other broadcasters. Visit Twitch's creative section to browse artists. If you find someone whose work you like, reach out to them and ask them for their prices.
Streamer Facebook Groups
There are many Facebook groups that help streamers network together. Many of them will have designers who are willing to work with you. Talk to the mods of the group to find out which creators they have vetted to ensure that you are not scammed.
Twitch Creative Reddit Thread
Reddit has a Twitch Creative thread where creators drop little bios of themselves. You can scroll through the listings and reach out to any that interest you.
9. Where to Get Free Twitch Emotes
Though artists will generally always charge for their work. streamers can occasionally find free Twitch emotes through competitions, giveaways, and networking.
Even though there isn't really a place where you can go get "Free Twitch Emotes" on the regular, you may be able to win or trade for some if you keep your eyes open.
Frequent designer's streams to see if they are hosting giveaways. Occasionally, some will do a commissioned piece as a prize.
If you are a semi-popular channel, you may be able to trade services with them. Some designers are willing to work at a low rate in exchange for valuable promotion.