In this article, we will be looking at what you should look for when buying an audio mixer for streaming, and we'll be checking out some of the best on the market.
What to Look for in a Streaming Mixer
Picking out the right sound mixer is much easier than you think! When looking for an audio mixer, it's important to choose one which fits your needs.
Mixer Type

Do you prefer a digital or analog setup? What's the difference?

Well, analog audio mixers will normally have more channels and include knobs or faders for you to control the gain and the equalization of separate audio tracks. However, these are normally a lot larger than other audio interfaces so you will need extra desk space.

Additionally, analog mixers do not have customization options and have fewer connections than digital mixers. But you can get analog mixers at a cheaper price than digital ones.

Digital sound mixers are great for tuning your audio. They provide great customization and sound effects. At the same time, these mixers also do a better job of reducing white noise. These mixers are also perfect for those with smaller desks. Most are lightweight and compact.

On the other hand, digital mixers may be difficult to navigate and get used to, especially if you are a beginner. Most of their features are advanced. You have to take the time to learn its ins and outs.

Depending on your needs and familiarity with audio mixers, the choice between analog and digital can be obvious. If you are a beginner and would like an easy-to-use mixer, then go for the analog. On the other hand, if you want more options for customization, a digital mixer is better suited for your needs.

Number of Channels

Ask yourself: how many channels do you need your audio mixer to have?

Let's say you want to do a music stream; you are going to need something with multiple channels so you are able to plug in all your instruments and microphones all at once. So, you'll need enough channels to accommodate your equipment.

If you mainly use the mixer for video game streaming, you wouldn't need more than 4 channels. But if you'll be doing more than that, you may want to consider an audio mixer with more or less eight channels to connect more audio devices.

Tuning

How well can the mixer adjust, customize, and control your audio?

This is one of the most important things for audio mixers. An ideal mixer can control compression and its channels. Some mixers have EQ knobs for the bass and trebles.

Your audio output greatly depends on the audio mixer's tuning. Your goal is to produce good sound quality and having tuning options can help with that.

Microphone

You have to consider 2 things about your audio mixer when plugging in a microphone. One, does it have enough phantom power? And how can you connect your microphone to it?

You can't use the mixer for streaming if you can plug in your microphone. If you have a USB microphone, you should look for a mixer with a USB interface. On the other hand, if you use an XLR mic, then you need an audio mixer with XLR inputs.

Next, your audio mixer should provide at least 48V phantom power to properly power condenser mics. If the audio mixers give it any less than that, you'll be in for a headache and mic-related audio issues.

Size

How much available space do you have for an audio mixer?

Having one will take up a substantial amount of your workspace. While some audio mixers, especially digital ones, have smaller footprints, they may have limited capabilities.

On the contrary, if you get a fantastic audio mixer with all the bells and whistles, it will most probably take over your work area. So, consider the maximum size you can buy while getting all the features you're looking for.
Best Mixers for Streaming
The market for audio mixers has become competitive with the rise of live streaming and podcasting. Brands are constantly improving their devices to keep up with the consumer's demand for quality and features. Let's take a look at 7 of the best audio mixers below.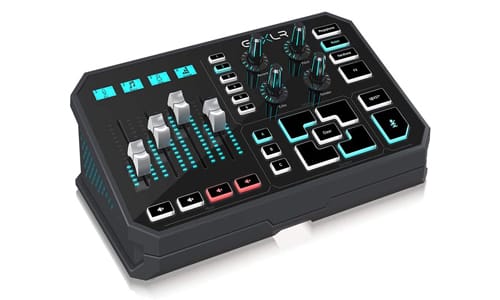 TC-Helicon GoXLR Mixer
Lightweight and Compact

Comes with a mic cable

Customizable
The GoXLR audio mixer is possibly the best audio interface on the market for streaming! There are two options for the GoXLR, the full-size unit, then the GoXLR Mini. Both have four faders that you can assign to adjust volumes of voice chat, music, stream audio, and more. There are also buttons to quickly mute, push to mute, or even censor your microphone and audio.
The accompanying app for GoXLR allows you to easily equalize, compress and even add a noise gate to your audio input device – this gives an XLR mic a professional sound. To make use of the GoXLR's voice changing and sampler features, however, you will need the full-size unit as the Mini does not include any of these features – If you do want to save yourself over $200, though, you can purchase Voicemod for $25 for a lifetime subscription.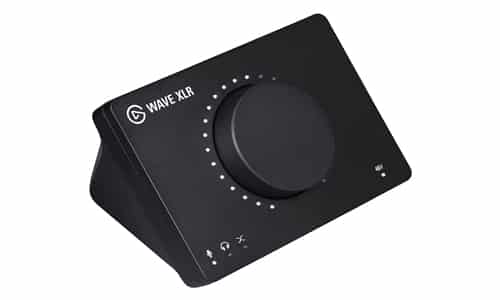 Elgato Wave XLR
The Elgato Wave XLR is Elgatos's very own audio interface, which essentially turns any XLR microphone into an Elgato Wave. Just like the GoXLR, the Wave XLR has great software in which you are able to separate audio on your PC. The Wave XLR Only has a single knob, which is clicked in order to switch volume controls rather than faders making it a little less convenient sometimes much like the mute button on the back of the unit. The software, however, is pretty much flawless.
The Wave Link software has a built-in clip guard stopping horrible microphone peaking, and an enhanced low cut filter used for removing background noise. This alone gives your microphone a professional sound. The best thing about the Elgato Wave XLR is how affordable it is, costing only $160.
Behringer X1204USB
Unlike the previous products, the Behringer X1204USB is not an audio interface but a mixing desk. Audio interfaces are used to record tracks on your computer separately, whereas mixers are designed to mix multiple tracks into a single stereo output. This model, in particular, includes; 12 inputs, 3 separate knobs used for equalization, multi-fx processor, Inputs for XLR, RCA, and 6.5mm jack, and outputs for 6.5mm jack, RCA, and USB. You will also find the X1204USB has a low-cut filter to reduce background noises.
The X1204USB does not control system audio like the GoXLR or Elgato Wave XLR, but it does offer a high-quality sound to your audio inputs and really is the clear option for streamers looking to broadcast music or Podcasts. Costing about $180, if you want extra control over system volumes, you could purchase both the Behringer X1204USB and the Elgato Wave XLR for less than the full-size GoXLR and still have enough to buy a decent XLR microphone like the Audio Technica AT2020.
Accessories You Need with a Mixer
Correct cables

XLR, 3.5mm, and 6.5mm are the most common cables you will require, although depending on your speakers you might need a few left RCA cables or adapters.

Headphones

You will be able to gain a much better perspective of how your setup sounds if you are using headphones rather than just stereo speakers.

Audio interface

If your mixer does not have a USB output, you will need to connect your mixer to your PC using an audio interface.
Frequently Asked Questions
Do You Need a Mixer for Streaming?
If you are using a USB microphone, this plug straight into your computer and often comes with software to handle equalization. If you are using an XLR, to connect your microphone to your PC, you will need a mixer or an audio interface to do so.
What Type of Mic Do You Need for Mixers?
Any XLR microphones will fit pretty much any mixer you can buy. However certain USB microphones have 3.5mm jack output which can easily be connected to a mixer using a 6.5mm jack or RCA converters, though it would sound a lot better just using the USB instead.
What Do Mixers Do to Audio?
A Mixer is designed to mix multiple audio sources into one stereo output. They will provide phantom power to XLR microphones which are required for them to work, and amplify instruments. Though on certain mixers you might even have dials to add effects such as reverb.