For this reason, you should ensure you get a microphone that will give your viewers the best show possible.
This post will go over our favorite microphones for streamers and what you should look for when selecting your own.
Quick Peek at the Best Microphones for Streaming
Elgato Wave 3
Best Overall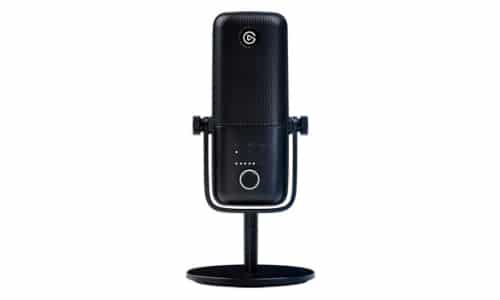 Compact, high-quality microphone
Avoids clipping mic signal with Clipguard technology
Versatile and easy-to-use software
Razer Seiren Mini
Best Budget Microphone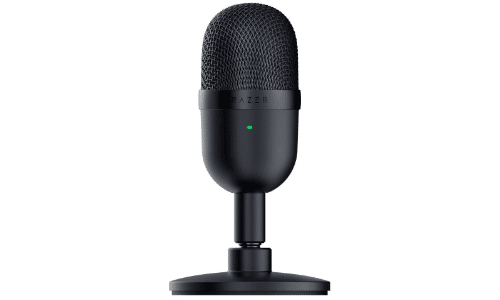 Easy to use
Small, portable, and lightweight
Premium microphone for an affordable price
Shure SM7B
Best Sound Quality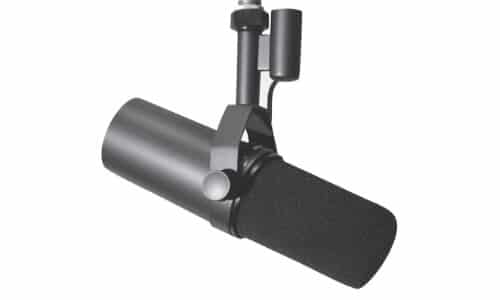 Electromagnetic shielding for clearer recordings
Rejects internal and off-axis noise
Well-built mic for professionals
How to Choose a Good Microphone for Twitch Streaming
We kept the following things in mind when looking at microphones so that we could offer you options in a range of prices and qualities. Here is what you should consider when making your selection:
Price

When you are just starting out as a streamer, the price of your equipment can seem staggering. While you may not be able to afford the best mic yet, there are options on this list that you can get for far less than $100.

Quality

You want a microphone that will pick up your voice but minimize background noise. It should also ensure that it will clip the static sound by "going into the red" when you get overly excited about something.

Special Features

Some of the mics will come with special features that are perfect for some streamers. These include a mute button or a way to easily attach another microphone if you are a musician or ASMR artist.
Best Microphones for Twitch Streaming
It's not easy to look for the perfect streaming microphone. That's why we're here to help. Below, we've listed the best microphones for streaming.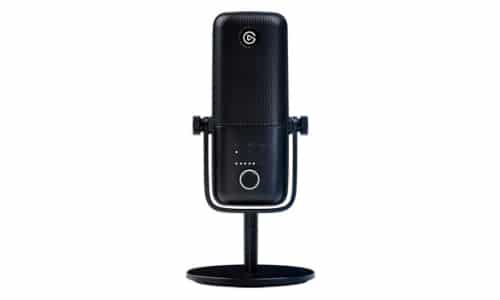 Elgato Wave 3
Lightweight and sturdy

Low-latency headphone monitoring

Easy to use

Wave Link software is great for streaming
Pop filter and shock mount are sold separately

Fixed polar pattern
Elgato is known for creating high-quality equipment specifically for streamers, and the Elgato Wave 3 is no exception. As it was designed with streaming in mind, it is comparable with most boom arms and can manage up to 8 different audio channels that can easily be imported to Streamlabs, OBS, or XSplit.
It has a control interface allows you to mute yourself easily and control other aspects of your sound quality. The clipboard option will ensure that you don't create harsh, static sounds when you get animated and speak a little too loudly into the device. The device can be used for a number of different styles of content, including music, general discussion, and ASMR.
Shure MV7 Podcast Microphone
Produces professional sound quality

Compact and durable

Comes with a good software
Stand or mount is sold separately
The Shure MV7 Podcast microphone is an excellent streaming microphone. It produces crisp and clear audio recordings. This is possible with its Voice Isolation Technology. With this feature, the mic focuses on your voice while blocking out background noise. You'll be sure to get the best audio quality with the MV7.
Shure's MV7 also has a built-in headphone jack. This helps you monitor your sound output and make the necessary adjustments to improve your overall audio quality. Despite being a one of the USB microphones offered in the market, it's also an XLR mic which makes it perfect for professional studio use. This is the best microphone for streaming if you are a veteran streamer.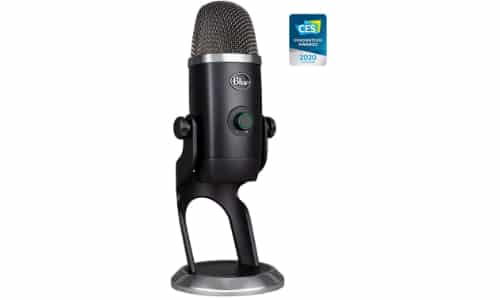 Blue Yeti X
Crisp and clear audio quality

Smart knob controls

Shows on-mic audio level
No available DSP presets

Pop filter not included

Shock mount is needed
The Blue Yeti X is one of the most popular microphones among streamers, and for a good reason. It boasts excellent sound quality for the price, has an easy mute button, and has an adjustment knob that you can use to tweak your audio easily. It has three capture patterns: omnidirectional, bidirectional, and cardioid, and it comes with the G Hub software that allows you to choose or customize voice filters.
One of the reasons that the Blue Yeti X is so popular is that it is relatively inexpensive for its quality. It offers exceptional performance that you can count on, is simple to set up, and comes in a few styles so you can choose the best one for your stream room.
For more information, read our Blue Yeti Review. A special shock mount is needed if you want to use it with a mic stand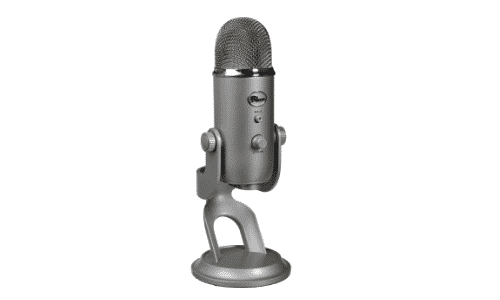 Blue Yeti
Beautiful and durable design

Plug and play mic

Recording studio sound quality
Accessories sold separately

Does not have a power switch

Can be too sensitive that it picks up background noise
Blue microphones have been making their mark for many years. The Blue Yeti is the most popular USB microphone on the market. It's a reasonably priced streaming mic that's perfect for content creators.
What's more, the Blue VO!CE software provides several vocal effects for streamers to play with. Plus, the Blue Yeti has 4 polar patterns you can choose from. This quality mic offers the following modes: Cardioid, Stereo, Omnidirectional, and Bidirectional.
This mic also gives you maximum control over a number of mic settings, such as mic gain, mic sensitivity, and even a dedicated mute button. In addition, you get headphone monitoring without delays. It's truly a dynamic microphone that'll help you improve your streaming sessions.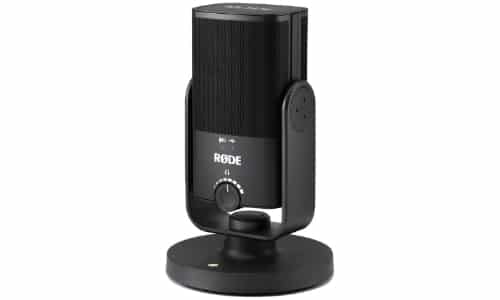 Rode NT-USB Mini
Plug and play

Small, sleek, and modern design

Zero latency for headphone monitoring

DSP-free signal
Lacks gain knob

Mic stand has limited adjustability
Although the Rode NT USB is affordable, it still produces professional-sounding audio while having the look of a studio mic. It comes with a pop shield and typically has a better sound quality than other mics in its price range.
That being said, the Rode NT USB only has the cardioid polar pattern, so it isn't capable of some forms of sound quality.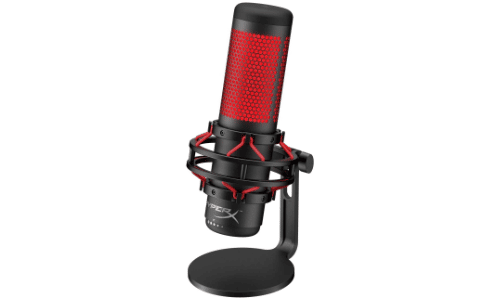 HyperX Quadcast S
Well-built

Great value for the price

Superb audio quality

Programmable RGB lighting
The shock mount is not removable

Lacks XLR

Software is limited to PCs only
If you are looking for a mic with an easy setup and a sense of style, the HyperX Quadcast S may be a good fit. It has a clear sound and features that will help you send good audio to your viewers.
The microphone has a built-in shock mount which prevents it from making a sound when it is accidentally bumped during your stream. It also has a mute button at the top of the mic that is useful if something happens in your real life that you don't want people to hear.
The HyperX also comes with RGB lighting to brighten up your room and give your viewers something visually interesting to look at. If you prefer to not have the lighting, you can still use the HyperX Quadcast.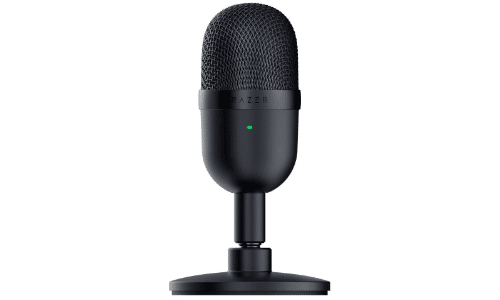 Razer Seiren Mini
Premium build material

Compact and portable

Professional sound quality

Plug and play
Software only works for Windows

No onboard controls

Fixed polar pattern
The Razer Seiren Mini is the best USB condenser microphone today. The small and compact form factor of the Seiren Mini has made it popular with many streamers and podcasters alike. Apart from its size, this is an affordable streaming microphone.
What sets this streaming microphone apart from the others is its Supercardioid polar pattern. This type of pattern helps the mic to capture your voice better and reduce the pick up of unwanted sounds. This enables the mic to produce high-quality sound for streaming.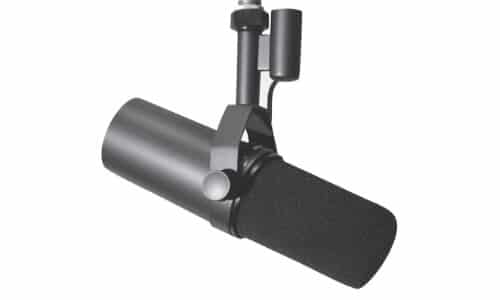 Shure SM7B
Reproduces sound that's natural and clear

Premium and durable build material

Rejects internal and off-axis noise
Not the best mic for beginners

Heavy
You may recognize this mic if you watch Shroud and a few other top streamers. The Shure SM7B is perfect for picking up your vocal tones without losing their qualities. Many people who host talk shows or want their voice to be crisp, full, and clear will opt to spend a little more on this microphone.
It comes with the cardioid polar pattern and uses air suspension to keep out any noises you may make by bumping into it or bumping your desk. It also has a pop filter that eliminates many backgrounds and breathing noises, a bass roll-off, and an improved rejection of electromagnetic humming. It uses yoke mounting with a captive stand that gives you full control of how it is positioned in front of you.
For more information, read our Shure SM7B review.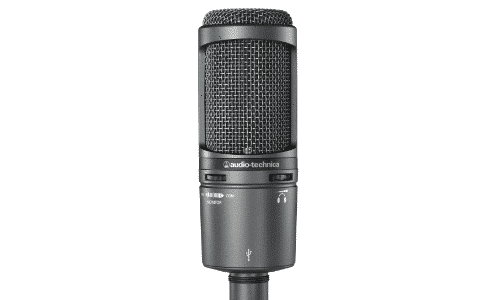 Audio-Technica AT2020+
Affordable

Good audio quality

Plug and play

Rejects off-axis noise
Fixed polar pattern

Tripod is flimsy
The Audio-Techinica AT2020+ is a plug-and-play gaming microphone that's offered at a budget-friendly price. This mic offers zero latency for headphone monitoring, giving you real-time audio feedback.
The Audio-Technica AT2020+ is a USB mic which is perfect for most beginners. With this mic, you can advance in your broadcasting career, without the complexities of an XLR mic. It is a highly reviewed microphone that is perfect for both podcasts and streams where voice quality is a little more important.
Rode PodMic
Budget-friendly

Premium audio quality

Durable build material
Mic stand not included

Not the best for beginners
The Rode PodMic is a dynamic microphone packed into such a small and durable body. Rode made sure this mic produces richer and fuller sounds to enhance the sound quality of your streaming sessions.
What's more, the PodMic comes with an internal pop filter and shock mount. It even has an integrated swing mount that will help you position the mic at an optimum position when streaming.
Conclusion
There you have it, the best streaming microphones on the market this year. We've offered dynamic mics, USB mics, and XLR mics. So there will surely be one that fits your bill. Keep in mind to look for a mic that offers high-quality audio reproduction.
And even if you have a budget microphone, there are ways you can improve the sound overall. Check out our article on how to make any microphone sound better on Twitch to find out more.