When you're first starting out, there may be several pieces of equipment you need to purchase to set up your stream lair. It can be difficult to figure out the best way to spend what you've budgeted to get the best results.
Personally, I use the Logitech C922x because it is known as the "industry standard" for streamers. At the time I purchased it, it was around $80. I did very little research before purchasing it and I might have made a different choice if I had as I don't use any of the "streamer features" included with the webcam (though I did try out the 3 months of XSplit).
Since my purchase, I have researched several Logitech webcams and will share what I've learned with you in this post. I will cover four different Logitech webcams to help you determine which would be best for you as you begin your streaming journey.
This post will review and compare the following four Logitech webcams: C270, C920, C922x, and BRIO.
Do You Need a Webcam as a Streamer?
I've seen a few online polls asking this question and the results are almost always the same. It is roughly a 50-50 split with a tad more weight on the "have a webcam" side. The truth is, while there are people who most definitely say they would prefer a streamer with a webcam over a streamer without one, there are nearly just as many people who don't mind either way.
A webcam allows your audience to connect with you on a more personal level. They can watch your expressions change as you play your game and react to their comments and feedback. It is definitely a good investment to draw in a bigger crowd. While there are exceptions (we're looking at you, LIRIK) a webcam is used by almost everyone who takes streaming seriously.
Things All of Logitech Webcams Have in Common
While each of these webcams has its own qualities, there are a few things that they all have in common:
Compatibility with Streaming Software
All four of these webcams will work with OBS, Streamlabs, XSplit, and several other broadcasting software, so you don't have to worry about software compatibility issues. It is important to note that some Windows 10 and Mac users had problems with some of the webcams in general, but many don't have these issues.
Poor Mic Quality
Compared with polls asking about the importance of a webcam, it is almost universally acknowledged that a microphone is absolutely a necessary streaming essential. In fact, the only people who generally vote for "no microphone" are streamers who absolutely don't want to use one and insist they will be able to grow their following without one (so far with little results to show for it).
None of the microphones on these webcams are great. While they are decent enough if you are close to them, you should allocate a good amount of your budget into getting a good microphone, even if you have to skimp a bit on the quality of your webcam to do so.
Older Technology
All of these webcams are dated and are a part of relatively "old" technology. The Logitech C922 is known as the "industry standard" for streamer webcams and it was released in 2016. In a world where Apple releases a new iPhone every year, it is hard to fathom purchasing a "new" technology created "so long ago."
Logitech C270 Review – The Budget Option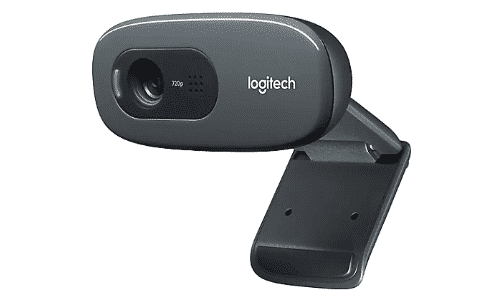 The Logitech C270 is an entry-level webcam that is a similar quality to a basic laptop webcam. It has an HD 720p widescreen angle lens and will capture at 1280 x 720 in decent quality. You will need to have good lighting otherwise the image is too pixelated.
Its built-in microphone isn't great (as mentioned above) and you will want a different microphone as a part of your set-up.
It isn't tripod-ready as the other models are and it can be hard to place if you have a thin monitor or no flat place to put it. I do have a friend who used sticky tack (removable mounting putty) to help secure it in place and it works quite well for him.
When you are just starting out as a streamer, a Logitech C270 is an amazing value for the price. When you do upgrade in the future, you can use it as a secondary camera for your pet or keyboard.
Logitech C920 Review – The Balanced Option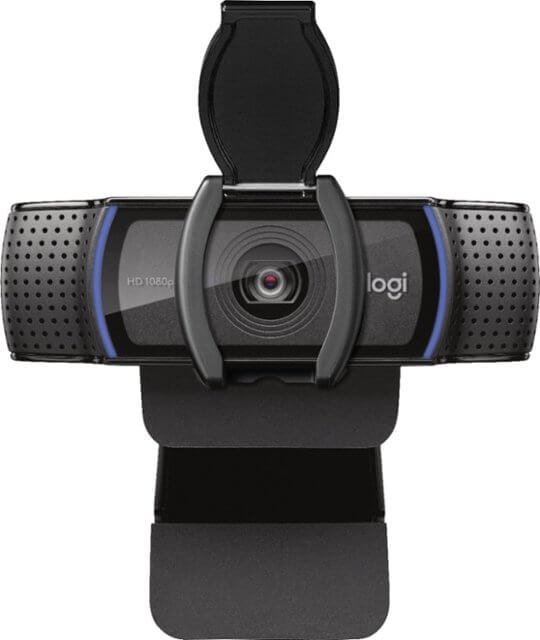 The Logitech C920 is a step up from the C270 in that it allows you to stream at 1080p at 30 FPS with automatic light correction. You also have the option of streaming at 720p at 30 FPS if you need to limit yourself due to bandwidth.
Though it comes with dual stereo mics with noise reduction, you will want a separate microphone for high-quality streams.
The webcam is tripod-ready making it simple to place it anywhere in your room. It can be placed on top of most monitors and won't fall unless it is disturbed.
If you know you are the type that would typically forget to stop your stream (or are worried about hackers), you can also upgrade to the Logitech C920S which has a privacy shutter.
The Logitech C920 is a fantastic webcam for both beginner and advanced streamers. It has everything you need to provide quality content for your viewers.
Logitech C270 vs Logitech C920
If you are using the webcam feed as a smaller cam within your content, 720p is just fine for streaming as long as you have decent lighting to give you a clear picture. If you have scenes that showcase you in full-screen or want to upload videos to YouTube, you will want 1080p or higher.
While the Logitech C920 has a better microphone over the C270, neither is great and up to par with stream quality. If you are on a tight budget, it may be better to go with the Logitech C270 so that you can invest more into a high-quality microphone. When you have more funds in the future, you can upgrade your main webcam and turn your C270 into a secondary cam.
Logitech C922 Review – The Industry Standard
The Logitech C922x was designed specifically with streamers in mind. This glass-lens webcam gives you the ability to stream a 1080p at 30 FPS or 720p at 30 or 60 FPS. You should know, upfront, that unless you have a powerful graphics card and good lighting, you may have issues with clarity on the 720p at 60 FPS. Many users have complained that it can give off a blurry image. While there is light-correction, if you want a high-quality stream, you need to have good external lighting.
As with the other webcams on this list, while it has a built-in mic, it isn't great and you should get a quality microphone for your audio needs.
The C922x does come with a complimentary 3-month subscription to XSplit Premium, letting you try out their features to see if you would like to upgrade to them in the future.
The C922x also gives you the opportunity to remove your background with Personify's background replacement tech. Unfortunately, unless you have optimum external settings, it will be difficult to get great results from this program.
The Logitech C922x is a quality webcam and, with its extra features for streamers, it is easy why many see it as the industry standard.
Logitech C920 vs Logitech C922x
The Logitech C920 has better light correction over the C922x, though the C922x has slightly better video quality. Other than that, they are very similar in as far as what they can do. They are both reasonably priced, are easy to configure, and have great versatility.
The key differences between the two webcams are the extra streamer features – the background removal with Personify, the 3 months of XSplit Premium, and the 720p at 60 FPS. If you want to use any of these three features now or in the future, choose the C922x.
As they currently sit, the Personify background tech and the 720p at 60 FPS aren't great features unless everything else in your stream environment is perfect. Personally, I wouldn't spend the extra money on this webcam for those features alone.
However, if you are interested in trialing XSplit, this may be a good opportunity to do so. As of this writing, you can get a 3-month Premium XSplit subscription from their website for $24.99. If the price difference between the C920 and the C922x is less than that, there's your deal.
Logitech BRIO Review – Future-Proof Your Stream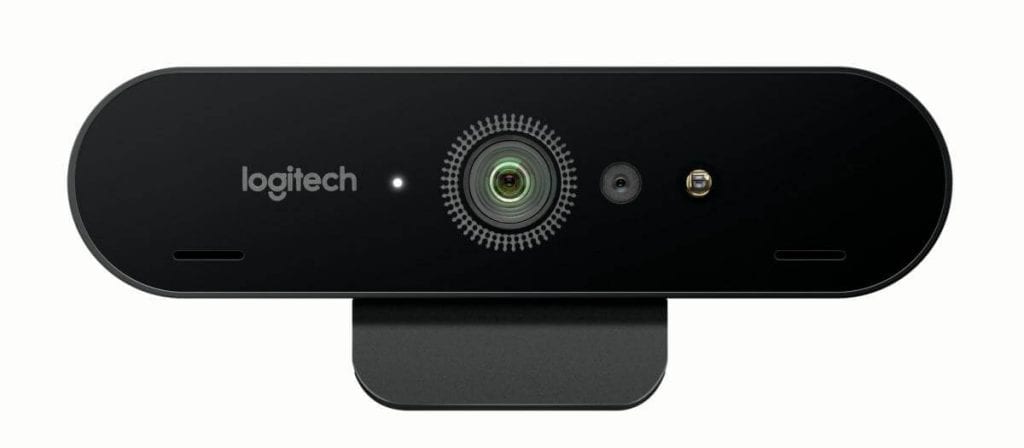 The Logitech BRIO uses RightLight 3 technology to automatically adjust the lighting to give clarity to your video feed. Of the webcams mentioned on this list, the BRIO has the best lighting-correction.
The BRIO will allow you to stream in 4K (though you can also stream at 1080p or 720p). You will need to have a USB 3.0 port for it to work. The BRIO also gives you the ability to stream at 1080p at 60 FPS (as long as your computer and your internet can handle it).
With BRIO, you have the ability to digitally zoom in with its premium glass lens without losing the HD resolution, though it often takes some time to auto-focus. The BRIO has a 90° FoV camera (65° and 78° are crops of the 90°)
Like the C920 and C920x, the BRIO has a 2 omnidirectional mic. Unfortunately, it won't give you the audio quality you need for your content.
The BRIO also gives you the option for background removal, but it doesn't come close to the quality you would get if you were to use a green screen.
Like the C920S, it does come with a camera clip cover for privacy purposes.
The BRIO is the highest-quality webcam on this list. Whether you want to use it for its color-correction, 60 FPS at 1080p, or get it for future-proofing for 4k quality streams, if you have the money available to invest in it, you shouldn't be disappointed.
Logitech C922x vs Logitech Brio
While there are some streamers who stream on 4k, many viewers are unable to watch it at that quality (especially if they are watching it on their mobile devices). Twitch does have 4k support, but won't always show the stream at the highest quality, especially if you are having bandwidth problems. In the future, this may change as technology progresses.
If you also make YouTube videos or want to use it to record high-quality footage for other purposes, the BRIO will deliver great results.
When working with a limited budget, it would be better to stick with the Logitech C920 or C922x and use the savings toward a good microphone and quality lighting. While the BRIO can be seen as a good investment for the future, it isn't the first thing you need when building your channel.
Conclusion
If I were to purchase my webcam again, I would personally pick the Logitech C920 as I don't take advantage of the extra streamer options. It offers great quality for the price and has great light-correction. If and when you decide to upgrade to the Brio or take the jump to stream from a DSLR, it makes a great secondary cam for alternate footage, a pet, or keyboard cam.