Are you looking to build a brand new streaming PC, but you can't decide on which graphics card (GPU) to purchase? The GPU is the most important component in a gaming PC. Recently, getting your hands on a new GPU is almost impossible due to supply shortages coupled with incredibly high demand. This article sets out the key features to look for in a GPU, lists the best GPUs on the market right now, and addresses some frequently asked questions.
What You Should Look For in a GPU
Your GPU is the component that will affect your gaming and streaming the most. Here are some of the most important features to look for when purchasing a GPU:
1. Brand

Nvidia and AMD are the two main companies that make GPU chips. These chips are the most important part of the graphics card and are extremely intricate and complex. Nvidia has the bigger portion of the market share. However, other companies, including EVGA, ASUS, MSI, and Gigabyte, utilize the Nvidia and AMD chips and manufacture the rest of the graphics card, such as the body and the fans. EVGA cards might be more expensive as it's more of a premium brand, while Gigabyte cards are more budget-friendly.

2. Ray-tracing

More recent GPUs have ray-tracing capabilities. Ray-tracing creates much more realistic in-game lighting effects. This really makes a difference in the overall graphics for games that utilize ray-tracing. A GPU with ray-tracing usually has the "RTX" label in the product name.

3. Memory

Most GPUs come with up to 12 gigabytes of video memory. Some of the newer cards, such as the Nvidia GeForce RTX 3090, come with a whopping 24 gigabytes of video memory. The higher the memory, the higher resolution you can play at.

4. Clock speed

The clock speed affects the framerate that your GPU can produce, amongst other things. The higher the clock speed, the higher the framerate your games will run at.

5. Cooling

Since GPUs emit lots of heat, it is important to purchase one that has enough fans to cool down the GPU. If the GPU runs hot, you must make sure there are enough fans in the rest of your PC build to keep temperatures cool.

6. Power

When you purchase a GPU, it will tell you what the minimum power in watts that is recommended. It is important that your power supply unit adheres to this minimum requirement, especially because it doesn't only power your GPU, but the entire PC and all of its components.
3 Best GPUs for Streaming
These are the best GPUs on the market, regardless of price. These GPUs will yield high resolution graphics and higher frames per second, which in turn makes your stream look better.
Nvidia GeForce RTX 3090
The RTX 3090 is the best graphics card on the market, hands down. If the hefty price is within your budget, go for it. However, its performance will only be 15% better than the RTX 3080 below. It has a whopping 24 gigabytes of memory, meaning that you will be able to run any single game at the highest possible settings. It will even run games at up to 8K resolution at 60 frames per second (FPS), but streaming platforms, such as Twitch, only allow you to stream in 1080p, which is the highest resolution that your audience will see. It's also extremely large in size, so you'll need a big enough case for it.
Nvidia GeForce RTX 3080
The NVIDIA GeForce RTX 3080 graphics card has 10 gigabytes of memory, which is way less than the Nvidia GeForce RTX 3090, but as a gamer, that will do the job. You'll be able to game in 4K at high frame rates, but you'll still only be able to stream in 1080p on Twitch. Additionally, you'll get a nice performance boost over even the best 20-series cards, such as the RTX 2080. The downside to this card is that it is still pretty expensive.
Nvidia GeForce RTX 3070
This is the best graphics card for the average gamer. It is much more cost-efficient than the RTX 3090 and the RTX 3080. It comes with 8 gigabytes of memory and offers fantastic performance, allowing gamers to play their favorite games in 4K. In comparison to the last generation graphics cards, it is approximately equivalent to the RTX 2080 Ti, but it's even cheaper. You simply can't go wrong with this GPU.
3 Best Budget GPUs for Streaming
Now, let's take a look at some of the best budget GPUs. These GPUs will be cheaper than the 30-series cards and will still offer a great gaming and streaming experience.
Nvidia GeForce GTX 1660 Super
The GTX 1660 Super is budget-friendly and offers great performance for 1080p gaming, including high frame rates. This will translate to a smoother stream for your audience. It features 6 gigabytes of memory. However, there are some drawbacks. You'll need your CPU to take care of the video encoding for your stream since this is not a 20-series card or newer. Also, it does not have ray-tracing features.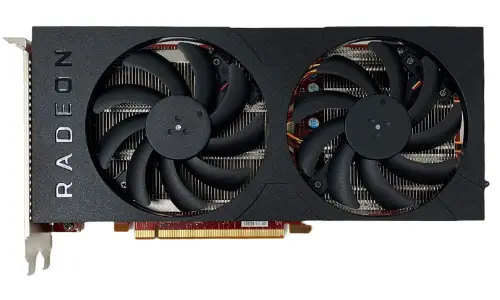 AMD Radeon RX 5700
This AMD GPU offers great performance for 1440p gaming and has 8 gigabytes of memory. However, it does not have ray-tracing features, and you will need a powerful CPU to encode the video for your stream. It comes with up to 1755 MHz game frequency to keep your game looking smooth.
PNY GeForce GTX 1650 Super
This card features 4 gigabytes of memory and can offer solid performance for 1080p gaming. Similar to the other two budget cards, it doesn't have a built-in chip that can help with video encoding, so you'll need your CPU to be good enough to handle this for your stream. Also, it doesn't come with ray-tracing. However, it is a relatively small card compared to the aforementioned GPUs, so it will have more of a discrete look and can fit in much smaller PC cases.
Frequently Asked Questions
Will a Graphics Card Affect Your Stream?

A graphics card will affect your stream in several ways. Firstly, it will affect your stream visually. If you have a lower-end GPU, you will have to turn down your game's graphics settings. Also, you might not be able to achieve 60 frames per second, which will adversely affect your stream. If you have a better GPU, you will be able to achieve your target frame rate of 60 and turn up the in-game settings, which will make a favorable difference for your viewers. Lastly, a 20-series GPU or newer will also be able to encode your video for your stream, which can offload some workload from your CPU and result in a more stable stream.

Does a Good GPU Improve Your Gaming?

A good GPU will have the biggest impact on your gaming experience compared to any other PC component. This is why most of your PC budget should be allocated towards the GPU. The GPU is responsible for rendering in-game textures, polygons, and graphics. A better GPU will allow you to achieve a higher framerate, more realistic graphics, higher resolution, and a better and more enjoyable overall gaming experience.