Time to upgrade your mouse to get that competitive advantage in your favorite game? This article will cover what you need to look for when purchasing a new mouse, what the best gaming mice are, and address some frequently asked questions.
What Mouse Do Most Twitch Streamers Use?
Here is a list of the best gaming mice in the market, in no particular order. I will briefly describe their respective features and indicate which are best suited for different gamers.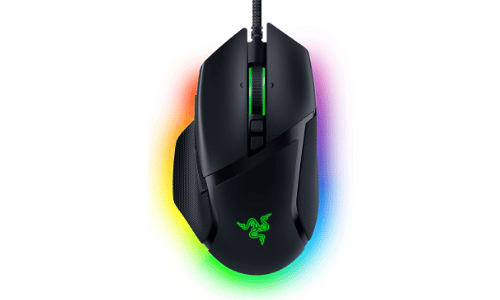 Razer Basilisk V3 Gaming Mouse
Ergonomic design

Premium build quality

RGB lighting

Great scroll wheel

Programmable buttons and button profiles

2 years warranty
Might be too heavy for some users
The Razer Basilisk V3 is arguably the best gaming mouse on the market. It's the perfect mouse for gamers who want a versatile and feature-heavy gaming mouse.
Its features include 11 easy-access, programmable buttons, 5 custom button profiles for different games and tasks, 11 Razer Chroma RGB Lighting Zones, and Razer Focus+ 26K DPI Optical Sensor.
The Razer Basilisk gaming mouse also has the following scrolling modes: Tactile Cycling, Smart-Reel, Free-Spin Scrolling, and Virtual Acceleration.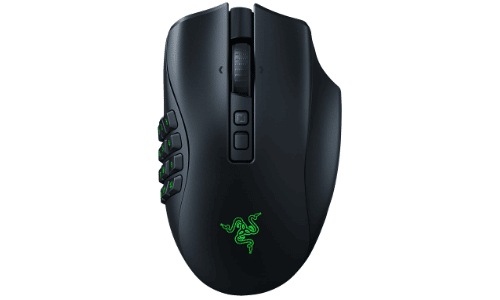 Razer Naga Pro
Programmable buttons

Switchable side plates

Sleek and modern design

Good built quality

Premium scroll wheel

Low-latency gaming mouse
Not the most ergonomic mouse
Razer Naga Pro is a perfect mouse for gamers who are into MMO, Battle Royale, and FPS games due to its features, making some believe that it is the best gaming mouse for competitive gaming.
If you are interested in wireless gaming mice, you may want to check out this product. It allows the user to optimize their control and adaptability to meet their needs.
While the Naga Pro will never be confused with a simplistic gaming mouse, if you are looking for a mouse with a wireless connection for your PC gaming setup, look no further.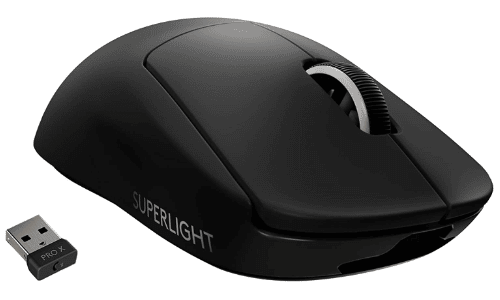 Logitech G Pro Superlight
Lightweight, fast-response gaming mouse

Available in 4 colors

Durable build despite its weight

Up to 70-hour battery life
Not the best mouse for gamers with small hands
This comfortable gaming mouse is perfect for competitive FPS gamers who prefer going wireless. It's the best wireless gaming mouse for people who mix work and play daily.
This 63-gram lightweight mouse is one of the most precise and consistent on the market. Equipped with large zero additive PTFE feet, the Pro Superlight delivers smooth and fast movement.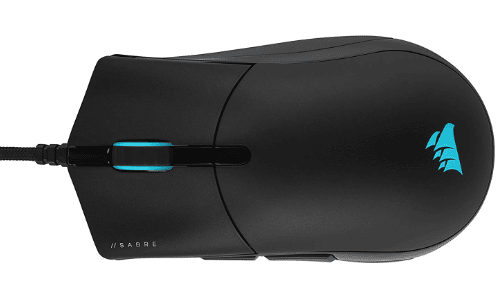 Corsair Sabre RGB Pro
Lightweight

Premium mouse cable

Ergonomic and sleek design

Great Corsair

Up to 8000Hz polling rate
Maximum polling rate requires certain CPU specs

Has a bit of drag on desks and mousepads
Designed and tested by esports players, the Corsair Sabre is a great pick for those looking to go pro. With spring-loaded buttons and Corsair Axon hyper-processing, you; 'll be at the top of your game with this light mouse.
Corsair has specifically engineered the Sabre RGB Pro as a gaming mouse for the best professional Esports players. It's an ideal mouse for FPS and MOBA gamers.
Many people wish to avoid a wired model due to drag from the chord. While most gaming mice keep this in mind, Corsair went a step further to provide a drag-reducing paracord cable to this mouse.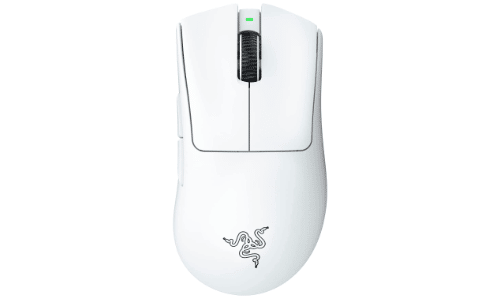 Razer DeathAdder V3
Lightweight and ergonomic

Great battery life

Well-built body

High-quality optical sensor
Lacks storage for USB dongle

HyperPolling Dongle not included

No RGB (for RGB fanatics)
This Razer DeathAdder V2 is the all-around best gaming mouse for gamers who play a wide variety of games. When you test gaming mice, you'll find that this wireless model still typically connects 25% more than other wireless mice on the market. With up to 90 hours of battery life, you won't have to worry about wirelessly charging the device often.
It comes with the Razer HyperPolling Wireless Dongle that allows up to 4000Hz wireless polling rate and a Focus Pro 30K Optical Sensor for better tracking, control, and accuracy.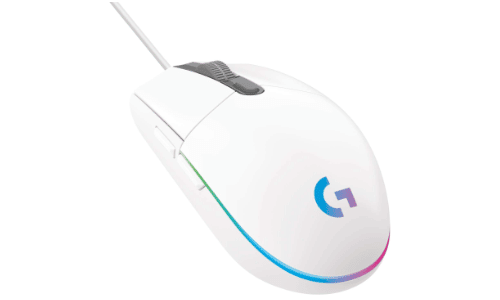 Logitech G203 Lightsync
Excellent build material and design

Great companion software

Glides well on different surfaces

Exceptional sensor

Great value for the price

Available in 4 colors
Might be too small for some users
The Logitech G203 Lightsync is a fun and functional gaming mouse for people who love to add color to their gaming setup while achieving a smooth gaming experience.
While this is seen as a cheaper mouse, it is still very versatile and still has many features (such as thumb buttons) that gamers prefer.
The Logitech G Hub allows up to 5 programmable presets for sensitivity, and the LightSync RGB Color Wave lighting is programmable.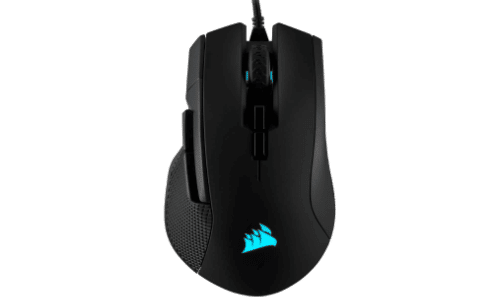 Corsair Ironclaw RGB
Excellent grip

Durable switches

Excellent and accurate optical sensor

RGB lighting

Great for people with bigger-than-average hands
The Corsair IronClaw Pro is one of the best-value gaming mice on this list. Although it's relatively cheaper than those on the list, it does has great features, including its Pixart PMW3391 native 18000 DPI precision optical sensor for ultra-accurate tracking.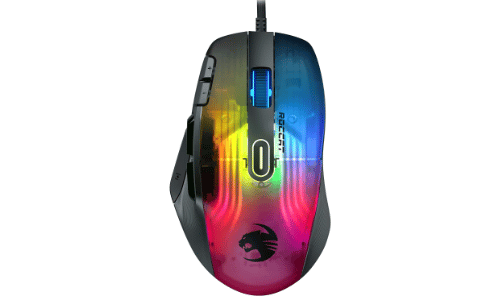 Roccat Kone XP
Beautiful design and 3D lighting

Good quality programmable buttons

Excellent 4D scroll wheel

Compatible with NVIDIA Reflex
RGB lighting has limited customizations
Kone XP is ROCCAT's best-selling gaming mouse because of its superb features offered at such a reasonable price. Even though this is a wired version, it is one of the most comfortable gaming mice that moves as though it has wireless connectivity.
You will get optimal scroll wheel resistance with the Krystal 4D wheel on this budget mouse. You will also be able to take advantage of the Titan Switch Optical for a responsive and tactile touch.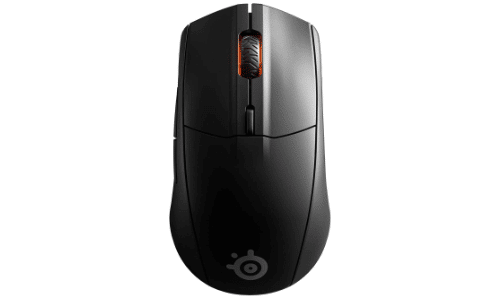 Steelseries Rival 3
Affordable

Durable build material

Ergonomic and lightweight
SteelSeries Rival 3 is the perfect mouse for gamers who are on a budget. Although it's the cheapest mouse on our list, it does have some great features, including TrueMove Core optical gaming sensor that allows up to 8500 counts per inch or CPI.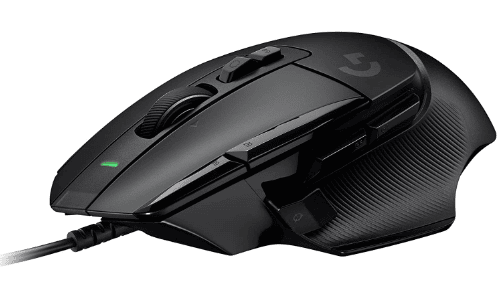 Logitech G502X Lightspeed Wireless
Outstanding battery life

Great companion software: Logitech G Hub

Faster response rate compared to its predecessors
Wireless and RGB add to the costs
The Logitech G502 Lightspeed Wireless is the perfect gaming mouse for gamers with big hands who prefer a wireless setup. It boasts several features, such as:
LIGHTFORCE Hybrid Switches that combine both optical and mechanical capabilities.
LIGHTSPEED Pro-grade wireless, making it 68% faster than the original G502.
HERO 25K DPI for improved accuracy.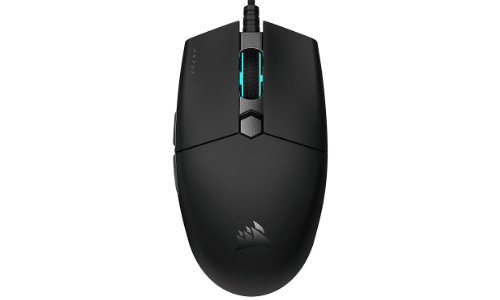 Corsair Katar Pro XT
Light and durable

Adjustable CPI

Low latency

Plug-and-play
The RGB lighting is only found on the scroll wheel
FPS and MOBA gamers will surely appreciate the Katar XP Pro from Corsair. Plus, it's one of the cheaper and feature-packed gaming mice on this list. One of the most popular features of this mouse is the CORSAIR QUICKSTRIKE spring-loaded buttons for better and faster clicks.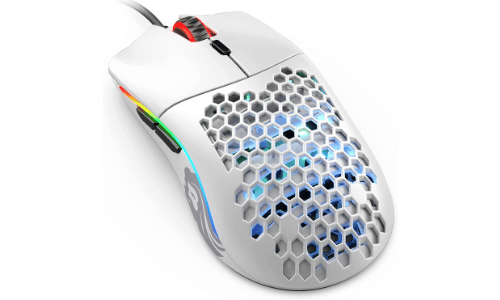 Glorious Model O Gaming Mouse
Lightweight, aesthetic design

High-quality switches

Good quality mouse cable

Option for either glossy or matte coating

Available in 3 colors
Honeycomb design means dust can enter the mouse
The Glorious Model O is for gamers who are looking for a lightweight gaming mouse option. And if this isn't light enough for you, check out the Model O- which comes at a stellar 58-gram weight.
This gaming mouse offers superior speed and control to ensure the best experience regardless of what you play. It is comfortable and has an ambidextrous frame to meet all gamers' needs. The honeycomb shell offers both strength and ventilation to keep your hands cool.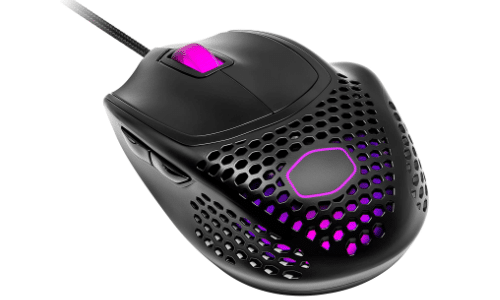 Cooler Master MM720
Ergonomic design

Durable and fast switches

Premium cable

Has RGB accents

Compatible with NVIDIA Reflex
Not the best side buttons
Many gamers will appreciate the style, form, and function of the Cooler Master MM720. It's also the best budget gaming mouse for most people. The mouse comes with a lightweight honeycomb shell with an ultra-weave cable.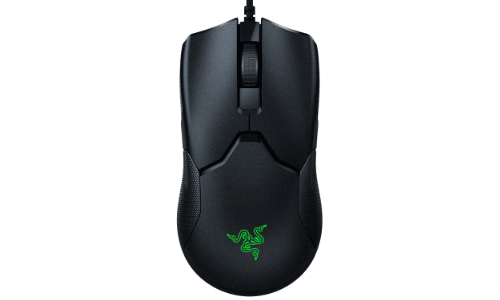 Razer Viper 8K
High-quality switches and optical sensor

Ambidextrous design

8K Hz polling rate

Low latency
Peak performance is only possible with a 144Hz screen or higher
The Razer Viper 8K is a versatile gaming mouse that's perfect for both left and right-handed gamers. This is an excellent choice for most gamers today. The mouse's Razer HyperPolling Technology allows up to 8000 Hz polling rate for smoother cursor movement.
Razer Orochi V2
Customizable mouse design

Uses AA or AAA batteries

Low latency

18000 DPI

Amazing battery life
No RGB lights

Bluetooth connectivity is not the best choice for gaming
Razer Orochi V2 has been engineered to provide its users with the best and most comfortable gaming experience. This wireless gaming mouse is for gamers who are looking for a lightweight, wireless device that is both stylish and functional. Here are the features of Orochi V2:
Razer HyperSpeed Wireless allows up to 425 hours of gaming
Bluetooth connectivity allows up to 950 hours of gaming
Razer 5G Advanced Optical Sensor
2nd generation Razer Mechanical Mouse Switches
What to Look for in a Gaming Mouse
These are five things to consider when purchasing a new gaming mouse:
Game Genre

The genre of game you will play can determine to a certain extent what mouse you should purchase. Certain gaming mice have more buttons for MMO games, where you will have easy access to complex macros at the click of a button. Some mice have fewer buttons but are more lightweight, so you can track enemies more easily in FPS games.

Grip and Weight

Mice come in different shapes that fit different grip styles better, such as palm grip, fingertip grip, or claw grip. It is important to research what style the specific mouse you are purchasing is best for.

In addition, some mice have adjustable weights. Some people prefer lighter mice since they take less effort to move, while others prefer heavier mice since they fit better with their gaming style.

Types of Sensors and DPI (Dots Per Inch)

There are two main types of sensors for gaming mice, namely optical and laser. Optical mice use LED lights to track movements and must be used on opaque surfaces.

Laser mice use a narrow, more targeted laser light to track movements. Arguments can be made for both regarding which is better. Mice with customizable DPI are also sought after. The DPI is the rate at which your cursor moves on the screen compared to the distance you move your mouse.

Bigger monitors usually require higher DPI. Some manufacturers also use CPI (counts per inch) instead of DPI, but they are the same.

Wired or Wireless

The main difference between a wired and wireless mouse is the price. A wireless mouse offers a slightly slower, less stable connection than a wired mouse with a USB connection.

However, in recent years, many technological improvements have made wireless mice function almost as fast as wired mice, but without having to worry about cable management.

Customization and Lighting Effects

Mice should also be customizable, whether it is adjusting the DPI easily, button remapping, adding macro functions, or adjusting the RGB lighting.
Frequently Asked Questions
What Mouse Do Pro Gamers Use?
There are several mice that are used by pro gamers, but a few of them are more prevalent. The genre of game where mice matter the most is FPS games. Professional gamers in the biggest e-sports games, such as Counter-Strike: Global Offensive, use the Razer DeathAdder v2, the SteelSeries Sensei Ten, or the Logitech G Pro as their mouse of preference.
What is the Fastest Gaming Mouse?
According to Razer, the world's fastest gaming mouse is… Well, the Razer Viper 8K, and is priced at $79.99. This is due to the Razer HyperPolling Technology, which provides a polling rate of 8000hz.
The current industry standard is 1000hz, so the polling rate is eight times faster. The polling rate is the frequency at which the mouse sends data to the computer.
A higher polling rate can eliminate micro-stutters and can make a difference in gameplay, where every fraction of a second count. Currently, manufacturers do not put much emphasis on the mouse's polling rate, and Razer is taking advantage of this.
Is a Wired or Wireless Gaming Mouse Better?
More often than not, a wireless mouse will provide a better gaming experience. Moreover, a wireless mouse is also generally cheaper than a wired mouse.
However, a wired mouse offers a faster and more stable USB connection. Therefore, there will be less input lag, and the mouse will feel more responsive. On the other hand, a wireless mouse does look nicer, and you will not have to worry about managing cables.
Is Logitech Better Than Razer?
There isn't a simple answer to this, as this depends on the model of the mouse. However, there are a few general rules of thumb. When it comes to wired mice, Razer builds them well.
Wired Razer mice, such as the Razer DeathAdder v2, truly have a great form and feel completely natural when holding them in your hands. In addition, they offer great customization, accuracy, and barely any latency.
If you prefer wireless mice, then Logitech mice, such as the Logitech G502 Lightspeed Wireless, might be the way to go. Logitech has experimented more with wireless mice and has very reliable infrared and laser sensors.
Conclusion
There you have it! The best gaming mice available on the market. Remember that technical specs alone are not enough to decide on the perfect gaming mouse for you.
Consider its form factor and ergonomic design. You wouldn't want to be stuck with a gaming mouse that's simply uncomfortable to use. And hey, check out our suggested Amazon links to get today's best deals!