When selecting the best gaming keyboard for your needs, you will need to consider what type of gaming you do, how much space you have, as well if you want wireless connectivity. It is a good idea to get a gaming keyboard with mechanical keyboard switches. Not only do they offer the clicky sound that will give you tactile feedback, but they register your moves better, ensuring more accuracy.
In this article, we will look at the different gaming keyboards out there, and we will tell you exactly what you need to look for when purchasing a new gaming keyboard.
Best Gaming Keyboards for Gamers and Streamers
Whether you want a compact gaming keyboard or a full-sized keyboard, we have creates a list of the best gaming keyboards currently on the market. Each will offer different bonus features depending on the product, including media keys, a wrist rest, key switches, USB pass-through, and more.
Here is a list of eleven of the best gaming keyboard deals that are available on the market:
Corsair K100 RGB – Best Gaming Keyboard Overall
The best gaming keyboard currently on the market is the Corsair K100 Optical. While you will need ample space on your desk to hold the gaming keyboard, you will be able to take advantage of all the features it has to offer.
This great gaming keyboard is created from quality materials to ensure that it remains durable. Its aluminum frame is backlit by dynamic RGB lighting and a three-sided light edge.
This full-size keyboard comes with an iCUE wheel that will allow you to manage your media, Corsair software, and backlighting. As an added bonus, you can customize it to sync with your game, performing specific actions.
Each mechanical switch on this board is the best that gaming keyboards offer. There is a minute 1.0mm actuation distance, allowing top-tier gaming performance where every key-stroke matters.
You can store up to 200 different onboard profiles, allowing you to switch how your gaming keyboard works with each game. This will include changing how the dedicated macro keys work, making it completely efficient.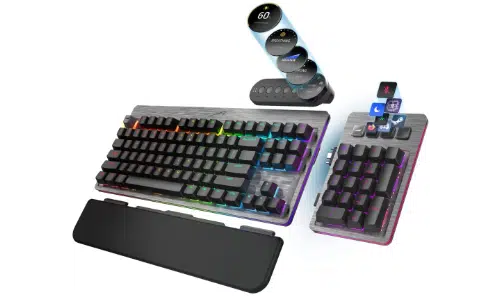 Mountain Everest Max – Best Customizable Gaming Keyboard
The Mountain Everest Max is a fantastic gaming keyboard that allows you to quickly switch from work mode to game mode. If you prefer to have a full keyboard complete with 9-key capability while you work but want a compact gaming keyboard, this is the best option. This keyboard is modular, meaning you can remove the 9-key board or attach it to either side. The media controls are also detachable.
This amazing gaming keyboard offers the following features:
Per-key RGB Lighting – If you want your WASD keys to stand out with different colors, you can set this gaming keyboard up to those specifications. In fact, every key can be given a unique color if you wish.
Customizable display keys – Twitch streamers will be happy to know that the keyboard comes with customizable media keys. The gaming keyboard already comes with OBS studio integration and you can set them up to show custom icons.
Rising Feet Design – Everest has created a keyboard with a custom foot design that allows you to place it to your best height.
Removable Media Dock – Like your number pad, you can choose where your media dock will sit. This small dock holds all your media controls and shows a clear display.
SteelSeries Apex Pro
The SteelSeries Apex Pro is hands-down one of the best gaming keyboards on the market right now. It has features that make it an attractive option for competitive gamers, which include:
OmniPoint mechanical switches, which have customizable actuation points. These switches have a much shorter actuation distance than Cherry MX Speed switches and standard mechanical switches.
OLED smart display, which will show music track information from Spotify, Discord, or your game.
Customizable RGB lighting.
Razer Huntsman Elite
The Razer Huntsman Elite directly competes with the SteelSeries Apex pro in terms of price, quality, and features. This keyboard is also great for gamers who are into competitive games, such as first-person shooters. Here are some of its features:
Razer Optical switches that use light-based actuation. The key presses have a shorter actuation distance than other clicky switches.
Razer chroma offers fully customizable RGB lighting that also offers integrations with many of your favorite games.
This keyboard comes with an ergonomic leatherette magnetic wrist rest that can provide additional comfort during longer gaming sessions.
All keys and keypress combinations can be remapped with Razer Hypershift, offering fully programmable macros.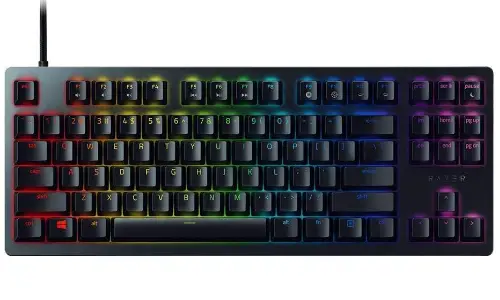 Razer Huntsman Tournament Edition
The Razer Huntsman Tournament Edition offers most of the same features as the Razer Huntsman Elite, with a few key differences:
This keyboard uses oil-resistant keycaps, meaning that there will be less grime build-up in the long-term.
Its tenkeyless design makes the keyboard more compact, meaning that this is perfect for on-the-go gamers.
Corsair K95 RGB Platinum
The Corsair K95 RGB Platinum might be one of the best keyboards on the market for streamers right now for a few reasons:
This keyboard features six fully programmable, dedicated macro keys. In addition, these macro keys can be used to program special streaming commands using the Elgato Stream Deck software integration.
This keyboard uses Cherry MX Speed RGB Silver mechanical switches, offering fast actuation times.
The Corsair K95 RGB Platinum offers per-key customizable RGB lighting and a detachable magnetic leatherette wrist rest.
Razer Blackwidow V3 Pro – Best Wireless Gaming Keyboard
For gamers who are looking for the best wireless gaming keyboard, the Razer Blackwidow V3 is a fantastic, yet expensive option. Here are some features this keyboard offers:
Supports three modes of connectivity, including HyperSpeed Wireless, which provides a lag-free gaming experience; Bluetooth, which provides more efficient power consumption; and USB-C, which allows for charging while the keyboard is being used.
Razer's Green Mechanical Switches provide a quick actuation time and are also great for typing.
This keyboard boasts Doubleshot ABS Keycaps, which guarantees that the key labels don't ever wear off.
It also comes with an ergonomic, detachable wrist rest.
Razer Cynosa Chroma – Best Membrane Keyboard
While most gamers and streamers will look for the best mechanical keyboard in their budget, there are some that prefer membrane keyboards (or a non-mechanical keyboard). The Razer Cynosa Chroma is a budget keyboard that will serve as a part of your gaming rig.
This gaming keyboard comes with the following features:
Spill-resistant – Ever get so excited after gaining victory that you spill your Red Bull all over your gaming keyboard? Fortunately, this gaming keyboard will have your back. While it isn't completely waterproof, it is spill-resistant, meaning that you might not have to replace it as often.
Durable – This keyboard comes with a 2-year manufacturer's warranty and will support up to 80 million clicks.
Ability to execute up to ten commands simultaneously, which is ideal for gaming.
Full RGB support through the Razer Chroma software.
All of the keys and keypress combinations can be remapped through Razer Hypershift.
Logitech G Pro X Mechanical Gaming Keyboard
The Logitech G Pro X is another keyboard that has a tenkeyless design. It is designed specifically for e-sport athletes. Shroud, a well-known streamer, and professional gamer, uses this keyboard. Some of its features include:
Three different types of advanced GX mechanical switches, including GX Blue Clicky, GX Red Linear, and GX Brown Tactile. These switches are also removable, which means they can be changed in the future.
Compact design so that the keyboard can be easily taken with you during tournaments or e-sports events anywhere in the world.
Customizable RGB lighting through the Logitech G Hub software.
Logitech G915 TKL Lightspeed
The Logitech G915 is another tenkeyless design, which is ideal for gamers who want a smaller, more compact keyboard, or more room for mouse movement. This keyboard boasts many features, including:
Low-profile mechanical switches come in three options: GL Tactile, GL Linear, or GL Clicky.
Wireless design that provides up to 40 hours of gaming time per charge. It takes only 3 hours to fully recharge.
Fully customizable RGB lighting through Lightsync technology.
HyperX Alloy Elite 2
The HyperX Alloy Elite 2, is a great keyboard for casual or competitive gamers on a tighter budget who do not want to spend the hefty price tag of the Logitech, Razer, or SteelSeries keyboards already mentioned. Among its many features are:
HyperX mechanical switches that provide a short actuation distance.
The HyperX Pudding keycaps boast an exposed LED, which results in brighter RGB lighting.
Customizable RGB lighting effects through HyperX NGENUITY.
Dedicated media keys, including a volume wheel.
What to Look for in a Gaming Keyboard
There are a few things to consider when purchasing the best gaming keyboard for your needs:
Mechanical vs Membrane Keyboard

Perhaps the most important thing to look at is whether the keyboard is a mechanical keyboard or a membrane keyboard. Most gamers prefer mechanical keyboards, as the keys have faster actuation times or shorter actuation distances.

The actuation time is the time it takes for the user to press the key until the time it takes for the computer to register the keypress. Faster actuation times can give gamers a competitive edge while gaming.

Switches

Within mechanical keyboards, there are various types of switches. There are Cherry MX Brown, Cherry MX Blue, and many others, each offering different characteristics. Brands such as Razer, also make their own switches, namely Razer Green, Orange, and Yellow.

Certain switches, including Cherry MX Blue or Razer Green switches, have a tactile and clicky feel to them. Others, such as Cherry MX Brown or Razer Orange switches, have a tactile, but quiet feel to them. The Razer Yellow switches, among others, have a linear feel to them.

Connectivity

Another thing to consider when purchasing a keyboard is the connectivity, that is, whether it is wired or wireless. While some gamers prefer wired since there is less input lag, others prefer wireless since it offers a cleaner look. Of course, the overall look of the keyboard is important.

Many gamers also like keyboards that offer fully customizable RGB lighting. Some keyboards also have in-game integrations, which change the RGB lighting depending on the game that is being played.

Others even have integrations with apps like Discord or Spotify, which let you change the songs or the volume straight from the keyboard. Finally, the keyboard's quality and price should be taken into consideration in order to get the most bang for your buck.
Frequently Asked Questions
What Keyboard Do Pro Gamers Use?
The keyboards that pro gamers use vary depending on what keyboard the gamer prefers and what sponsors the gamer has. Some keyboards that pro gamers use are Logitech G Pro X Mechanical Gaming Keyboard (used by Shroud, as well as many professional Counter-Striker: Global Offensive and Overwatch players), the Razer Hunstman Elite (used by famous streamers, including TimTheTatman and Dr. Disrespect), and Corsair K95 Platinum (used by various e-sports gamers in Fortnite and other FPS games). 
What is the Fastest Gaming Keyboard?
The fastest keyboard on the market right now is the SteelSeries Apex Pro, thanks to its OmniPoint switches. According to the Amazon product description and image are shown below, the actuation point of the OmniPoint switches is 0.4mm compared to 1.2mm for the Cherry MX Speed switches found in many Corsair keyboards (formerly known to be the fastest keyboards), and 2.0mm for other standard mechanical switches.
The lower the actuation point, the faster the switches are. When you are selecting switches for gaming, it is important to note that linear switches are generally faster than tactile switches.
Is a Membrane or Mechanical Gaming Keyboard Better?
When it comes to the long-term durability and gaming performance, a mechanical keyboard will undoubtedly yield better results than standard membrane keyboards. Although the difference may be very subtle, or even unnoticeable, a mechanical keyboard does have faster actuation times than a membrane keyboard. This can be the difference between winning or losing the game.
Are Gaming Keyboards Worth It?
Whether you will prefer a gaming mechanical keyboard or a regular membrane keyboard is entirely subjective. Some people prefer the quietness of regular membrane keyboards, whereas others prefer the faster key actuation times, performance, and durability of a mechanical keyboard. If you have the budget and you care about getting that competitive advantage in your favorite FPS game, then a mechanical gaming keyboard is definitely worth the cost.
Conclusion
We hope this article about the best gaming keyboards has helped you find the perfect gaming keyboard for your specific needs. With so many products on the market, it is impossible to showcase every style (i.e. a split keyboard, for example), but whether you choose a wired keyboard or a wireless keyboard, you will be able to use your arrow keys to easily move through the gaming environment.