This post will go over our list of the best desks that would work for gamers and streamers and a few things you should consider.
A Quick Peek of the Best Gaming Desks
Secretlab Magnus Pro
Best Overall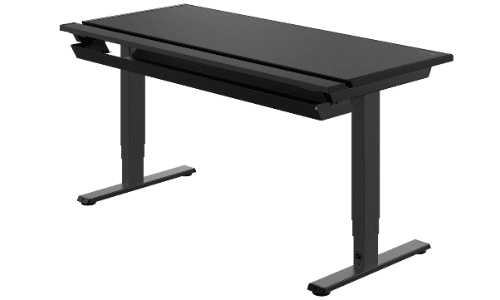 Cable management system
Well-built standing desk
Comes in 2 sizes
GreenForest L-shaped Corner Desk
Most Budget Friendly
L-shaped design
Made with durable material
Durable
ApexDesk Elite Standing Desk
Best Overall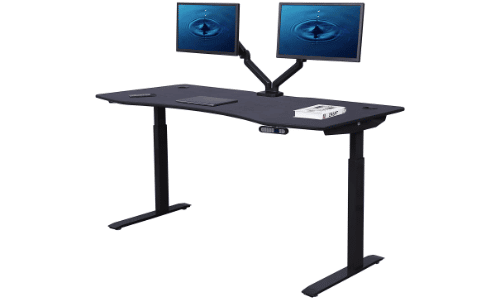 4 height presets
Extremely customizable
Ergonomic design
What to Look for in a Gaming/Streaming Desk
Here are a few things you should look for when investing in a desk for your gaming or streaming setup:
Ample Space

As mentioned in the intro, gamers and streamers require a lot of space for their setups. Many gamers run two monitors while they game – one for the game and another for guides/communication. Most streamers start with two monitors and move to 3-4 by the time they consider their setups "complete."

Functionality

You don't need all the bells and whistles (such as a cup holder) when it comes to desk functionality. In fact, some "functions," such as in-built tower compartments, can cause airflow restrictions. That being said, if you are using your space for more than one purpose, having a drawer or two to hide your work while you play or keeping spare parts around could be nice.

Shape

If you have the space for it, setting up an L-shaped desk is great for streaming because it offers many options. You can showcase merch or other items on one part of the desk or keep your set up in the bend and use the extra space to set up lighting and camera equipment. It also gives you a lot of extra space for non-stream-related activities. That being said, you should note that a corner desk gives you less space for your gaming experience.

Ergonomics

While your gaming chair will also play a large part in this, you should ensure that you have a comfortable desk and the right size. You can use a desk height calculator to help you find your desk height.

Quality

You need to ensure that your desk is high enough to manage the weight of all your equipment for years to come.
Best Desks for Gaming or Streaming
Now that you know a little about what you should look for in a desk, we will show you several desks that we love broken into two different categories:
We will also show the ultimate gaming desk that encompasses everything anyone could ever need in a desk.
Sit-Down Gaming Desks
When looking at sit-down desks, you want to find something that has a lot of room where you can also sit comfortably throughout your gaming session. Here are our top three picks for traditional gaming desks this year: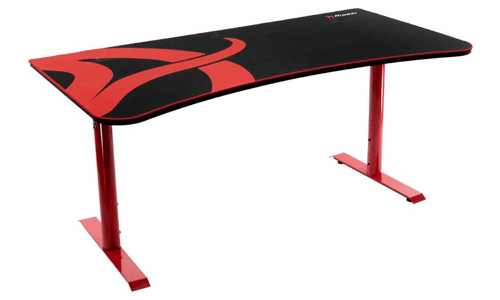 Arozzi Arena Gaming Desk
Premium build material

Water-resistant and washable

Adjustable table height

Large desk space

Built-in cable management
Not the easiest to assemble

Adjustable height knobs can be stiff and difficult to use
If you are one of those gamers with the XL mousepads and still don't have enough movement space, then the Arozzi Arena gaming desk is for you. It features a full-desk mousepad that sits atop the desk. It has a microfiber, water-resistant surface and comes in multiple colors and designs.
The desk itself is strong, holding up to 176 lbs as long as everything is evenly distributed. There are three holes where you can insert cords that can be held in netting under the desk to keep everything looking neat and tidy. It can easily hold three monitors and the equipment you need to stream or game.
The ApexDesk Elite standing desk is one of the highest-rated desks on this list. It comes with an ergonomic cutout that will help keep you comfortable and give your room a classy look regardless of where the future takes you. The lift in the desk moves from 29″ to 49″ tall, giving you a lot of options about how it will fit your body.
The desk is strong and sturdy and can hold up to 225 pounds. It is 63″ long, allowing you to hold a lot of equipment so you can see clearly. This may be the perfect desk for you if you have several monitors or a lot of streaming gear that needs to sit on your desk.
Vitesse T-shaped Esport Gaming Desk
Supports a maximum load of 260 pounds

Gaming rack

Cup holder

Headphone hook

Stylish and sturdy

Cable management
Assembly instructions can be confusing
The Vitesse T-shaped gaming desk is jam-packed with gaming accessories. It includes features like a headphone hook, cupholder, and controller rack. Apart from that, the 63-inch tabletop can carry multiple monitors without sacrificing space for other gaming equipment.
This gaming desk has a built-in charging port that allows you to charge multiple devices simultaneously. It even comes with a full mouse pad that's perfect for gaming. This T-shaped table is one of the best gaming desks on the market. It's a popular choice for many because of its many features, great build quality, and affordability.
Mr. Ironstone L-shaped Gaming Desk
Resistant to water and scratches

Great value for its price

Easy to assemble

Minimalist design
Lacks adjustability options
An L-shaped gaming desk is also a popular option in the gaming community. The Mr. IRONSTONE L-shaped gaming desk is a high-quality table at a reasonable price. This is a cheaper desk compared to the others on this list.
This desk comes with a metal frame which provides stability and style. The desk offers ample room for multiple monitors, a keyboard, and other accessories as well. This desk has a monitor shelf on one side to help elevate your screen to an optimal and ergonomic height.
GreenForest L-shaped Corner Desk
Modern design

Option to expand desk space

The desktop is scratch and moisture resistant
Assembly instructions can be confusing
The GreenForest corner desk is similar to the Mr. IRONSTONE gaming desk. It's a reversible L-shaped table, so you can decide which side you want to place the extra desk space.
This table has a sleek and modern design that's perfect for people who are aiming for that minimalistic gaming setup. With the L-shaped desk, you have enough space for your gaming setup. In addition, the tabletop is water and scratch-resistant. So you won't have to worry much about placing things on top of it.
Walker Edison Soreno 3-Piece Corner Desk
Sleek and simple design

Dedicated space for your keyboard and CPU

Sufficient leg room

Easy to assemble
No cable management

The glass top is prone to fingerprints
The Walker Edison Soreno is a beautifully made L-shaped gaming desk with various features. This table has a CPU holder and a sliding keyboard tray.
What's more, the entire desk surface is made of tempered glass, which adds to its overall aesthetics. The Soreno has a steel frame that's easy to assemble. If you're a minimalist, this is a great gaming desk for you.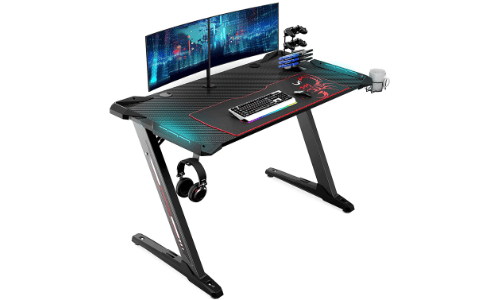 Eureka Z1S Gaming Desk
Cup holder

Headphone hook

Controller stand

Comes with its own custom mouse pad

Provisions for cable management
Not the most ergonomic gaming desk
The Eureka Z1S is one of the best-looking gaming desks today. It has RBG lighting that enhances your gaming space. Furthermore, it has a carbon fiber texture for its desktop, making it look amazing.
In addition, its Z-leg design makes it a sturdy desk for gamers and streamers. This desk was specifically designed for Esports training. The balancing lever of this gaming desk reinforces the table for maximum stability.
Eureka also includes its very own mouse pad that's made with the utmost care and attention to detail. You also won't have a problem with wires since this desk comes with cable management grommets.
And have I mentioned the cupholder, headphone hook, and controller stand? This is truly one of the best gaming desks, so it's worth checking it out.
Ikea UTESPELARE
Adjustable table legs (6 different heights)

Deep tabletop

Quality build material

Provisions for cable management
No additional accessories
The Ikea UTESPELARE is a metal desk that offers a clean and functional design. You have a desktop space of 63.5 inches which is more than enough for all of your gaming equipment. This Ikea desk also has a metal mesh section at the back that helps manage air flow to your devices.
This gaming desk achieves its clean design by having a dedicated cable management system below the tabletop. This system does not take up much space, so you still have sufficient legroom.
Standing Desks for Gamers and Streamers
Funny as it sounds, sitting at a desk for several hours at a time can be exhausting in and of itself. Using a standing desk (or an adjustable desk where you can both sit and stand) allows you to move a little more than you normally would. Several studies on the benefits of using a standing desk have yielded positive results.
Here are three standing desks for gamers that could be used for Twitch streaming: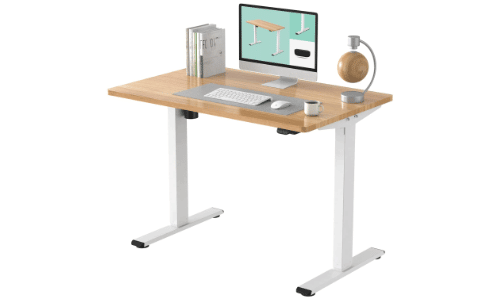 FlexiSpot EC1 Standing Desk
Affordable

Motorized standing desk

Operates silently during height adjustment
The electric motor doesn't have a casing

Lacks cable management
The FlexiSpot EC1 is a great standing desk choice for most people. It has a workable desk space of 55 inches and a height range of 28 to 47.6 inches. These specifications are more than enough for most gamers.
This is a motorized standing desk. The motor operates silently, which minimizes distractions and annoyances. This is a good gaming desk for beginners and professionals alike.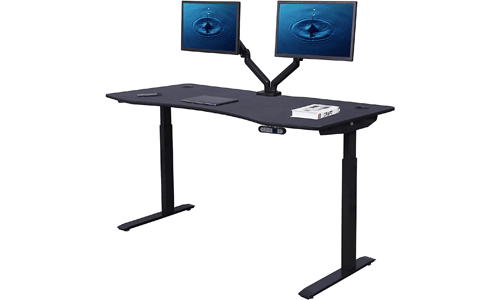 ApexDesk Elite Electric Standing Desk
4 height presets

Spacious desk space

Customizable tabletop and frame colors
The motor can be noisy to some
The ApexDesk Elite is a premium standing desk. It has an ergonomic design which helps reduce pains and sores while gaming. Because of this, the desk is perfect for long gaming sessions.
In addition, it has a 1.5-inch per second lifting power. You also have 4 programmable height presets that'll make it easier to switch from sitting to standing positions. You won't regret getting this as your new desk.
Eureka EGD S62 Standing Desk
4 height presets

RGB lighting

Has a cable management system

Cupholder

Headphone hook

Controller stand
Heavy

Not easy to assemble
Your gaming rig will surely fit on the EGD S62 standing desk. It has a 62-inch desktop that is perfect for all of your gaming essentials. In addition, it has a cupholder, a headphone hook, and a controller stand.
You also get RBG lighting with the S62 standing desk. The table has a maximum height of 48.4 inches, and its control panel allows for 4 height presets.
The frame of this desk is durable and resistant to rust. Eureka offers a full-surface mouse pad for the EGD S62. You've got nothing to worry about with this desk. It's a great choice for all gamers and streamers.
The Ultimate Gaming Desk for Streamers
Here it is! The best of the best. Learn more about the many features of the Secretlab Magnus Pro gaming desk.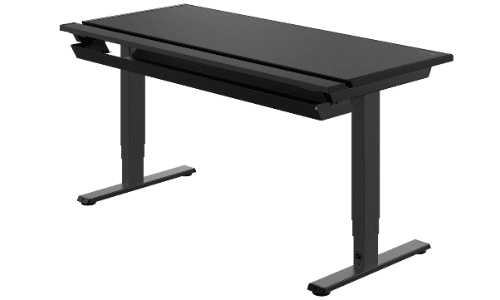 Secretlab Magnus Pro
Beautiful, functional, and modern design

Durable and premium build material

Available in a bigger size

3 height presets

Several desk mat options

Optional add-ons (accessories and cable management systems)
Other accessories and cable management components are sold separately
Secretlab's Magnus Pro comes in Large (60″) or Extra Large (70″). It's a standing desk with 3 programmable presets. This desk is made with quality material and has been engineered to carry up to 265 lbs.
Apart from those basic specs, the Magnus Pro has one of the best cable management systems for gaming desks. It has a dedicated cable management tray to store your extension cords and cables.
This desk is also customizable. Secretlab offers a variety of desk mat options. You can choose one that best suits your style and gaming setup. Lastly, Secretlab offers a ton of add-ons for accessories and cable management. This way, you can build the best gaming space for your wants and needs.
Where to Find Cheap Gaming Desks
If you can't afford to purchase new, you can always look at Craigslist or Facebook Marketplaces in your area. Check out thrift shops or garage sales as well. Most of the time, you'll find something that would work while you save up for your personal dream desk.
Conclusion
Whether you choose a desk where you sit or find one that adjusts to a standing desk, choose one that will work for your needs for years to come. With a standing desk, you can also get accessories that help you keep your legs less tired while you are on them, such as a balance board.