When sitting for hours of gaming or streaming, it is important to have a chair that is both comfortable and gives you the proper support you need. You also want something that is aesthetically pleasing so that it looks good to any visitors to your home or viewers on Twitch.
This post will go over our top 6 picks for gaming chairs as well as help you determine what you should personally look for when picking one.
What to Look for in a Gaming Chair
When looking for a gaming chair for your office or stream room, you should keep the following things in mind:
Ergonomic Support – you need to keep your body comfortable and healthy and using ergonomics can help do that. Choose a chair that is adjustable to your height and body shape so that you can have the proper support while you game.
Quality – while gaming chairs aren't cheap, it is better to spend a little more for one that you won't have to replace anytime soon. Look at it as an investment in your future.
Style – choose something that will match the rest of your decor and that can "grow with you." While racing stripes look cool, styles often change. Going with an option that could also double as an office chair will give you more mileage out of the seat.
Best Gaming Chairs in 2022
We will present our top 9 picks for gaming chairs for PC streamers:
Aeron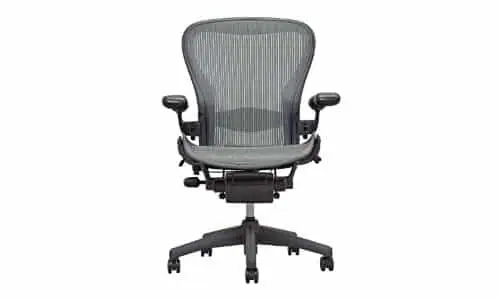 Top Quality
Comfortable
Classic Design
Noblechairs ICON
PU Hybrid Leather
Moulded Cold Foam
Reclinable
EWIN Champion
2.0 PU Leather
Cold Cure Foam
High Quality
Herman Miller Aeron
Herman Miller chairs have been used by many of the top streamers (including xQc and Shroud). It is adjustable and ergonomic with a tilt lock. The Aeron is a remastered design of the original Aeron chair originally designed in 1992.
The chair has 8 latitudinal zones of tension so that you can have the support you need to remain comfortable for hours. The Aeron also moved to the natural movements of your body, whether you are edging forward to focus on the kill or leaning back to watch a movie. It is perfect for gamers, streamers, and professionals alike.
Noblechairs ICON Gaming Chair
Hailed as an extremely durable chair, the Noblechairs ICON Gaming Chair was built with quality materials that ensure that will last longer than many of their competitors. The PU leather/vinyl hybrid material was created with both durability and comfort in mind so that you stream for hours without pain.
The Epic Black Edition has a design that appeals to both gamers and professionals so that the style can grow with you wherever you go in life. As a high-quality product, you can definitely see your purchase as an investment for the future of your comfort.
EWIN Champion Series
Chairs from the EWIN Champion Series are made with stain-resistant 2.0 PU leather. If you frequently spill things on your chair, you will be happy to know that you should be able to clean it off, helping your chair look brand new for months or even years to come.
The cold-cure foam of the padding has been engineered to be twice as heavy as regular foam, nearly creating the feeling that you are sitting on memory foam. Not only is it comfortable, but it is also extremely durable. The chairs are height adjustable and you rotate the armrests in and out. Don't forget to recline as you watch your favorite Twitch streamer at the end of the day.
EWIN Hero
2.0 PU Leather
Cold Cure Foam
High Quality
ErgoChair 2
Prevent Back Pain
Ergonomical
Mesh Back
CyberChair E500
Adjustable headrest
Heavy Duty
Comfortable
EWIN Hero Series
The EWIN Hero Series comes in several colors and designs. The chairs are easily adjustable to lower or raise the height of the seat. The armrests are also adjustable to maximize your comfort. You can recline in your chair after a long day of gaming by using a lever. Lock your chair in place when you reach your maximum level of comfort.
EWIN uses quality products when creating their chair. In fact, you can see the "bones" of their chairs on their website. Each includes a durable steel frame, high-density foam for the padding, and a top-of-the-line aluminum base.
Autonomous ErgoChair 2
The Autonomous ErgoChair looks more like an office chair than a traditional gaming chair, but it is extremely comfortable and ergonomic. Almost every part of this chair is adjustable or customizable so that you can get the perfect fit for your body type.
The chair comes with a breathable mesh back that allows you to stay cool while you game, edit videos for YouTube, or stream to your viewers. That being said, it is very stylish and will fit in any office or gaming environment.
Thermaltake CyberChair E500
If you plan to play or work at your desk for long hours at a time, the ThermalTake CyberChair E500 will help you ensure that you have the adequate support you need. Not only does this chair look modern and stylish with the black mesh, but it has been created with lumbar support in mind.
The armrests are adjustable so that they can give your shoulders rest as you game, allowing you to keep your energy and focus on the screen. The simple and elegant design will fit in more gaming rooms and offices, growing with your style and taste for years to come.
Secretlab Titan
Ample Space
Comfortable
High Quality
Musso Fabric
Comfortable
Quality Fabric
Warranty
DXRacer Master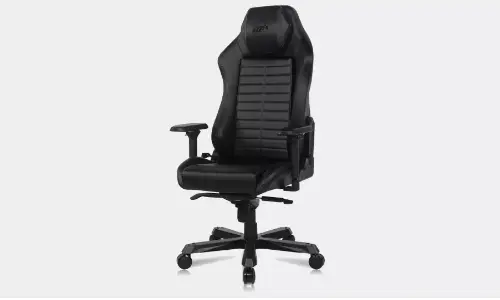 Comfortable
Racing Look
High Quality
Secretlab Titan
The Secretlab Titan is arguably the best gaming chair that has recently launched. It has been designed to be both durable and comfortable for long periods of time. It is a larger seat, making it ideal for gamers and streamers who want a little extra room than provided in a standard chair. You can also choose between their SoftWarve fabric and Prime 2.0 PU leather. Both tend to hold up better than other brands to keep your chair fresh for months.
The Secretlab Titan comes with adjustable armrests that adjust in 4 different directions so that you can get the ergonomic fit that is right for your body. It also has a neck pillow that has been lined with cooling gel to help keep you fresh when you game for a long period of time.
Musso Fabric Gaming Chair
If you like the feel of fabric against your skin, look into the Musso Fabric Gaming chair. It comes in three different colors so that you can match the style of the rest of your decor. The padded cushions and lumbar pillows will keep you comfortable and offer ergonomic support.
The fabric is actually more durable than leather ensuring that it should last for a few years. The company does offer a one-year manufacturer's warranty. As with other chairs on this list, the muted colors look good for both gamers and professionals alike, allowing you to change up your style but keep your favorite chair.
DXRacer Master
The DXRacer Master is known for its superior comfort. It is considered a luxury item since it is one of the more pricey chairs on the market, but it is also highly customizable to give each user the exact feel they want. It is a durable chair with built-in lumbar support and a mounted headrest. The armrests are also adjustable in four different ways.
The microfiber leather of the DXRacer Master is both sturdy and soft to the touch. The chair is built to endure wear and tear and should last for years. It is also designed for both gamers and professionals so that you can work from home as well as game in style. When you are ready to rest, you can recline the chair to 155 degrees as you watch your favorite Twitch channel.
Conclusion
When choosing a gaming chair, it is important to consider style, comfort, ergonomic support, and quality. You want to make sure that you are comfortable and that the chair will last for years to come.