The CPU you choose for your new gaming rig is super important because it will greatly impact many different things, such as the frames per second (FPS) you can achieve and much more. With the dozens of solid options available on the market, it can be pretty difficult to choose the right one for your build. In this article, I will tell you what you should look for in a CPU and discuss the best gaming CPUs.
What You Should Look For in CPU
There are certain features to look for when shopping for a CPU that's entirely dedicated to gaming. These features are very similar to those for streaming CPUs, but the priority is a little different.
1. Clock Speed/Frequency

For gaming, this is one of the most important features to look for. The clock speed, or frequency, is the speed of the processor. It is measured in gigahertz (GHz). In general, the higher the number, the faster the processor is. The CPU will have a major effect on the FPS that your PC will output. There are also other factors within the CPU that affect the performance, so sometimes a higher frequency does not necessarily mean a faster processor.

2. Number of Cores and Threads

This is also very crucial. Most CPUs nowadays come with two to eight cores. Some even come with a whopping 16 cores. The more cores your CPU has, the more efficient your CPU is since it can split tasks more easily. This is especially important if you're doing more than just gaming, such as streaming or using multiple applications at once; different cores will handle different tasks. Also solely for gaming, modern games will make use of the extra cores. Threads are similar to cores. The more threads on the processor, the better.

3. Cooling Power

Gaming can be quite CPU-intensive. Therefore, it is important that the CPU comes with an adequate cooler so that the temperature doesn't rise too much and overheat the CPU. If the CPU doesn't come with an adequate cooler, it might be a good idea to purchase one.

4. Compatibility

The processor must be compatible with the motherboard socket that it is being installed into. A great website that many people use to verify the compatibility of the entire PC build is PCPARTPICKER.
3 Best CPU for a Gaming PC
If you take your gaming seriously, and have lots of money to splurge, here are the three best gaming CPUs you can purchase: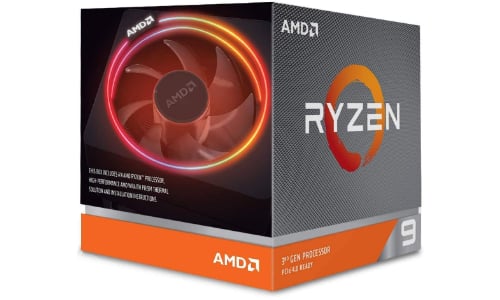 1. AMD Ryzen 9 3900X
The AMD Ryzen 9 3900X is one of the best AMD CPUs on the market. While it's not the fastest CPU on our list, at 3.8 GHz, it is possibly the best all-around. It can be overclocked to 4.6 GHz, which will give a boost in FPS. It boasts 12 cores and 24 threads, which is better than the vast majority of CPUs on the market. It comes with the Wraith Prism LED cooler so you don't have to worry about purchasing a CPU cooler. This CPU can also easily handle 4K-resolution gaming.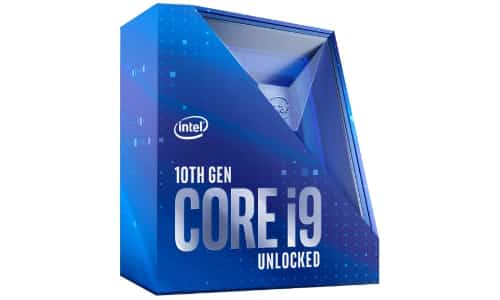 2. Intel Core i9-10900K
The Intel Core i9-10900K is the best Intel CPU for gaming. It has a base clock speed of 3.7 GHz and can be overclocked to a whopping 5.3 GHz. It also has 10 cores and 20 threads, which future proofs you for a while for gaming and even streaming. While those specs are all outstanding, it does have some downsides. It does not come with a cooler, so that will have to be purchased at an extra cost. Moreover, it needs to be paired with a Z490 motherboard. If not, it will not work. Lastly, for the price, the performance increase over some of the other CPUs on the list is probably not worth it.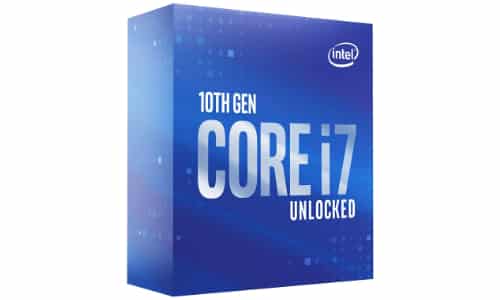 3. Intel Core i7-10700K
The Intel Core i7-10700K has a base clock speed of 3.8 GHz, and can be overclocked to a 5.1 GHz. It has 8 cores and 16 threads, but it does not come with a cooler, so that will have to be purchased at an extra cost. In terms of performance, you might not get the same FPS values as the Intel i9 CPUs, but the difference will be very marginal. Also, you'd be saving money that can be spent on a better GPU, which would ultimately result in better overall performance.
3 Best Budget CPU for a Gaming PC
If you cannot afford the high end CPUs for gaming, here are three budget options that are fantastic alternatives: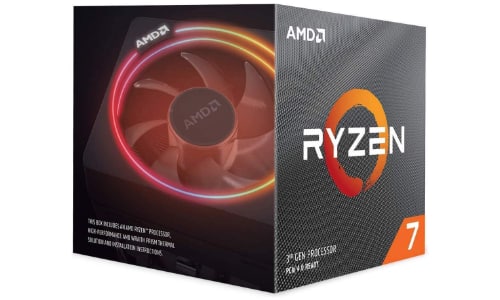 1. AMD Ryzen 7 3700X
This processor is a great bang-for-your-buck CPU. While the price is very similar to the Intel i7-10700K, this processor comes with a Wraith Prism LED Cooler. This CPU provides great gaming performance thanks to its 3.6 GHz clock speed, which can be overclocked to 4.4 GHz. In addition, it boasts 8 cores and 16 threads. While you'll get a slightly lower FPS than its Intel counterpart, you will get a much better performance when it comes to other CPU-demanding tasks, such as video editing.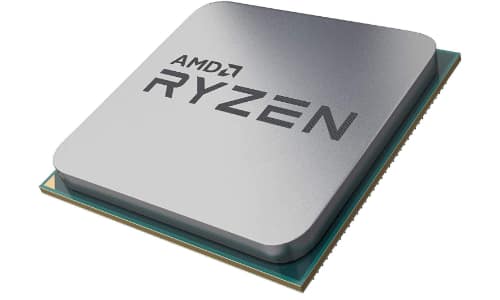 2. AMD Ryzen 5 3600
This is another great bang-for-your-buck CPU, especially for gamers on a budget. At only $240, you get a 3.6 GHz processor with 6 cores and 12 threads. This CPU also can be overclocked to 4.2 GHz if you need the extra speed. In addition, it also comes with the Wraith Stealth cooler. Its AM4 socket is compatible with many motherboards on the market right now.
3. AMD Ryzen 3 3300X
The AMD Ryzen 3 3300X CPU is so popular, which makes it extremely difficult to find at a retail price right now. However, if you're lucky enough to find one, it would be a great fit for a budget build. This CPU boasts 3.8 GHz clock speeds with 4 cores and 6 threads and can be overclocked to 4.3 GHz. It also comes with the Wraith Stealth cooler.
Frequently Asked Questions
What CPU Do I Need for Gaming?

A great rule of thumb is that a CPU with a clock speed of at least 3.5 GHz is good enough for gaming, and the more cores/threads, the better. While some games will only require one core to run, there are also some games that will run on multiple cores. A really popular option right now is the AMD Ryzen 5 3600. If you want to go with something else, any CPU on our list will do a great job, and it ultimately comes down to how much you want to spend, and how it fits with the rest of your build.

What Does CPU Affect in Gaming?

Perhaps one of the most important things that the CPU affects in gaming is the frame rate, or FPS. A better CPU will result in better FPS when paired with an adequate GPU. In addition, the CPU performs other tasks related to artificial intelligence and game logic. An example of this would be the actions certain computer-controlled players take in a game of FIFA, or what actions any non-player controlled character would take in your favourite single-player game.