Many may be aware that PC prices, no matter where you look, have quite hefty price tags. However, we'll do our best to give our best recommendations, as well as provide good resources to do your own research and pick your own parts based on your needs. Let's get started!
Before you start, I recommend making an account on PC Part Picker and starting a New System Build so that you can build along with the guide.
Budget Streaming PC Components – What to Look For
This post will go over what the streaming PC components are as well as tell you the best budget option for each of the following. Please note that, while these are our picks, the best budget streaming pc build for you will depend on your overall needs.
To avoid extra cost, it is always a good idea to research what you need to enhance the quality of your stream before you re-purchase everything. You may find that getting a graphics card with higher framerates is enough to develop and improve new content.
Best Budget CPU
Price: $100-200
The processor is essentially the place where all the magic and calculations happen. It truly is the "brain" of the computer. Right now, AMD is the king when it comes to power-per-dollar, and I cannot recommend them enough. Confused by the terminology? "Cores" and "threads" basically refer to how many calculations the computer can perform at once, and "clock speed" is how quickly it can do each one. Generally higher numbers for each are better!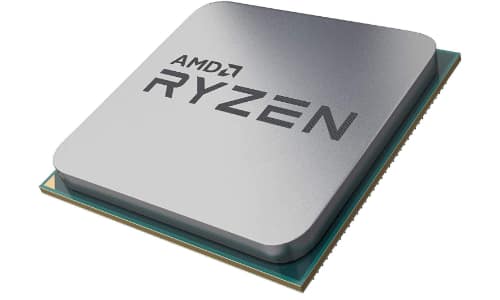 AMD Ryzen 5 3600
The best CPU you can get on a budget is the AMD Ryzen 5 3600X. Typically this will run for an affordable price and blows everything in its price class out of the water. When purchasing this CPU, you will receive the following:
Ryzen 5 3600 3.6GHz 6-Core AM4 Processor
Wraith Stealth Cooler
AMD 3-Year Limited Warranty
It is easy to install and is a good budget processor for gaming. The CPU has a high-performance cooler that keeps things cool and efficient while remaining quiet. With the extra processing boost, your computer can smoothly run more tasks without issues.
You can opt for the AMD 3 3300X or the Ryzen 3 3100 if your streaming PC has a smaller budget.
Best Budget GPU
Price: $200-400
The graphics card will often be the most expensive component and the most important part of your streaming machine. The market today for GPUs is highly competitive, but worry not. We're here to help. We've found the AMD Radeon RX 6600 XT as the ideal budget GPU for your streaming PC build!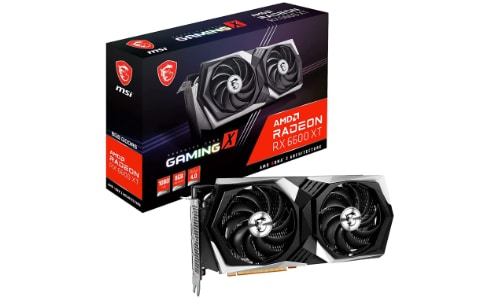 AMD Radeon RX 6600 XT
The AMD Radeon RX 6600 XT is one of the best bang for your buck GPU on the market today. It's built with the AMD RDNA 2 architecture. You also get an impressive 1845HZ clock speed and GDDR6 memory. This GPU allows streamers and gamers to reach a resolution of 1080p. And for its price point of less than $400, it has great value for money.
The truth is that GPUs are sold at very high prices right now, and my best suggestion is to try to pick up a used GTX1070 (or similar) for $200 or less, then save up some money to buy a nicer card when prices come down later. Search for deals on sites like Craigslist, Facebook Marketplace, and r/HardwareSwap.
Best Budget Motherboard
Price: $65-90
This is one of the simplest components to choose from. For the most part, your motherboard doesn't matter — its job is to get your other components working together. For all but the most dedicated power users, the motherboard is mostly arbitrary, so we can select one of the cheapest options. The main concerns you have with your motherboard are going to be size, RAM slots, and the chipset.
Let's break that down real quick:
Size

There are three main sizes of motherboards: ATX, Micro-ATX, and Mini-ITX. Due to size, cost, and functionality, I always recommend Micro-ATX for budget builds. (And just in general, really.)

Ram Slots

You only need two RAM slots on your motherboard. However, if you want to leave room to upgrade your PC with more later, it may be worth investing a little bit more into a board with four slots. That way, instead of buying all-new RAM, you can simply supplement what you already have.

Chipset

The "chipset" is just about compatibility and features. Since we're looking at the Ryzen 3000 series of CPUs on a budget, we only need to look at motherboards labeled B550, A520, or X570.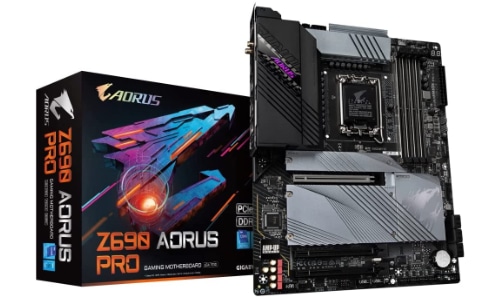 Gigabyte Z690 Aorus Pro
The Gigabyte Z690 Aorus Pro is an ideal motherboard for gamers and streamers who are AMD fans. This AMD motherboard has dual channels for DDR4 RAM. In addition, the X570 has great cooling solutions with its fins-array and high thermal heat conductivity pad.
If you're looking to do a complete rebuild with all brand-new parts at some point in the future, a B450 motherboard will get the job done. They'll cost less and get the work just fine. Snag yourself the $80 Asus Prime B450M-A/CSM if you want four RAM slots for future upgrades.
If you want to upgrade to a nicer, newer processor without a complete rebuild, get an ASRock Z690 Extreme WiFi 6E for around $185. Still budget-friendly but forwards-compatible with newer hardware when you want it. If you are looking for something cheaper, take a look at the $90 ASRock B550M Phantom Gaming 4, which also includes 4 RAM slots for future upgrades.
Best Budget Memory
Price: $70-80
Your computer's RAM is fast, temporary storage used for moving data from place to place. Almost any game will run on 8GB, though it may struggle at some points. I recommend buying 16GB, which is perfect for gaming and will do the streaming job. If you opt to get a motherboard with 4 RAM slots, you can easily add an additional 16GB if you choose to upgrade later.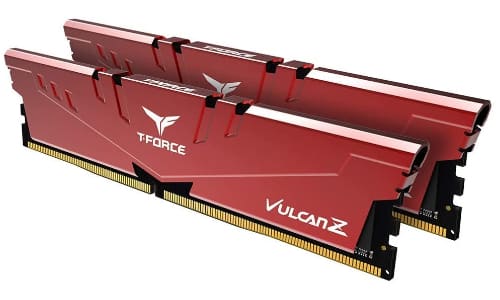 Team T-Force Vulcan Z 16GB
All RAM compatible with this system will be of the "DDR4" variety. We can pick whatever is the cheapest 16GB set of RAM that's at least DDR4-3000. At the time of writing this, that's the Team T-Force Vulcan Z 16GB (2x8GB) set. We opt for two 8GB sticks instead of one 16GB stick to take advantage of a "dual channel" — don't worry about what this means. Know that it helps give your memory a little extra kick!
To check out more RAM options, check out the Best RAM for Streamers article.
Best Budget Storage
Price: $55-110
There are two main categories of storage drives: Hard Disk Drives (HDDs) and Solid State Drives (SSDs). Don't worry too much about the differences — all you need to know is that SSDs are the way to go these days. There are three main options for budget-friendly SSDs. They have the same price, speed, and reliability, so pick whichever one you can get the best deal on.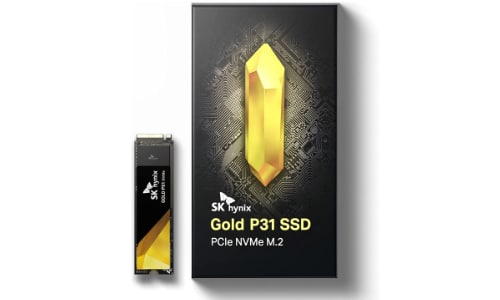 SK Hynix Gold P31
The SK Hynix Gold P31 is an internal SSD that will allow you to boost your storage by up to 2 TB of space. It can read up to 3.5k MB per second and write 3.2k MB per second.
I recommend the 500GB model, which is enough to store several large games simultaneously while staying reasonably priced. If you feel like you need more, you can always upgrade to 1TB – but the price will double with it!
Best Budget Power Supply
Price: $55-70
Y
Your power supply (PSU) is something that you should never skimp on. Wattage is easy – look at your processor and graphics card and find out the minimum amount of power you need to be pushing.
Even if sources online tell you that your components will only pull 350W of power, you're better off following your components' guidelines for safety. The power supply you need depends on the other components you purchase, so it's tough to make a specific recommendation. You may need to do a little bit of research on your own.
However, here are power supply options that may fit your budget streaming pc build: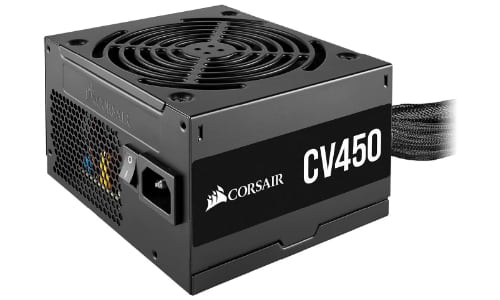 While I always recommend going with a fully modular PSU if you can afford it due to ease of use, we can settle for less for a budget build. Here are a couple of recommendations for power supplies of different wattages, depending on what else you put into your PC:
Best Budget Case
Price: $30-50
The case is another easy place to cut costs. Some people will spend hundreds on a case… We can settle for less. Rosewill sells some nice, cheap cases that you can find for very little. My choice for a budget case is the Rosewill FBM-X1, which can currently be purchased for $27. It's possible to go cheaper, but this one has a more excellent look, complete with a glass side panel allowing you to see the components on the inside.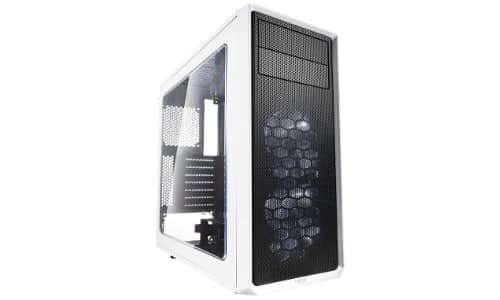 Don't you like the look of this one? As long as they have decent reviews on websites like Newegg, Amazon, or PC Part Picker, mostly anything should be fine! There are many options under $50 to match your style with varying shapes and colors.
And there you have it, the best parts you can get to build a budget streaming build. Now, you may interchange parts from our list, but be sure that all your components are compatible. And the next section will show you how to do just that.
How to Pick Your Own Components
Prices aren't static when choosing a motherboard, RAM, power supply, and case. There are many comparable options to the ones I picked, and prices will fluctuate! For this, PC Part Picker is a fantastic resource.
In the System Builder, selecting your processor will limit your motherboard options to compatibility. Use the filters based on my recommendations above (B450/B550, 2/4 RAM slots). Sort by lowest price. Look at the ratings for the top few on Newegg and Amazon. Anything with four or more stars should be fairly reliable. This will also help you avoid spam, fraud, and abuse when buying PC components.
Repeat this process for the other components. Before you know it, you'll have a whole system ready to be purchased! PC Part Picker will also show you price comparisons from various sources so you know you're getting the best deal if you're purchasing from a major parts retailer.
Frequently Asked Questions
How Much Does It Cost to Build a Streaming PC?
Based on the parts we picked in this guide, you can build a PC for gaming and stream for a little under $600 plus the operating system cost. A new copy of Windows 10 will cost about $100. You can often find cheaper keys for sale online, such as on eBay – this has mixed success rates, but if they cost $5 or less, it could be worth trying your luck if you're on a budget.
Should I Build or Buy a Gaming PC?
Building a PC will typically save you hundreds of dollars compared to buying a new, comparable machine. You also gain the knowledge and experience required to diagnose, fix, and upgrade it later if you need to. If your main priority is sticking within a tight budget, this is definitely the right option.
But if ever there was a time to buy a pre-built system, it is now. With the massive inflation of new graphics cards, the price gap between the two is smaller than it's ever been. Buying a PC from a site like iBuyPower or CyberPowerPC will give you a hassle-free experience and a warranty covering the entire thing, often for longer than the individual parts you'd buy.
What Games Can I Run and Stream With These Parts?
A PC with the recommended components above should run most modern games at 1080p on medium settings or higher. The newest games on the market may require you to turn some settings further down to keep a stable 60FPS.
If you intend to stream, you may need to further turn the quality down to maintain your gameplay experience and avoid dropping frames. There is no exact science to this; test playing while recording your gameplay through your streaming software, and see how it does.
How Do I Increase My FPS?
The quickest, simplest, and totally free way to get better numbers: Turn down your settings.
For a minimal investment, you can look into overclocking. Typically when people talk about overclocking, they're talking about their CPU. This is done by tweaking some settings to make the processor run at a higher clock speed. Doing this causes excess heat, meaning you will need to invest in a nicer CPU cooler than the one that comes out of the box. A cheap and reliable option is the Cooler Master Hyper 212 EVO.
Other components that can be overclocked are your GPU and your RAM. You can eke out a bit more performance from each, once again, by tweaking some settings to make them quicker. These aren't as common or as straightforward,
Remember that while overclocking can give mild-to-moderate performance benefits, it may also decrease the product's lifespan. Running at temperatures and speeds outside what they're designed for can permanently damage components if you're not careful and burn them out more quickly, even if you are. For some people, that's a risk worth taking; I don't typically do it myself.
Conclusion
Building a PC takes a lot of time and effort. But if you're deadset on building a dedicated streaming PC, all the research and part finding will be a truly rewarding task. And with this article, we hope we can help you build the best budget streaming PC.