However, does Twitch allow you to stream in 4K? And, should you stream in 4K? I've done my research and found the answers for you. Get ready because the answers might shock you.
Does Twitch Support 4K Streaming?
Unfortunately, Twitch does not support 4K streaming yet. You can try to stream in 4K but you won't get the best results. Why so?
The streaming platform currently has a maximum bitrate of 6000 Kbps. This means that Twitch can receive and upload your stream only at 6000 Kbps. At this rate, Twitch viewers can only watch the stream not higher than 1080p.
Bandwidth Required for 4K Streams
As you would expect, streaming in 4K demands a higher bandwidth than average ones. Live streams in 4K or Ultra HD resolution requires a bandwidth of 25 Mbps or more. Anything lower than that can result in dropped frames and a laggy stream which your viewers will not appreciate.
Furthermore, a bandwidth of 25 Mbps also means that your bitrate is expected to be 51000 Kbps at most. Even if you had that great of an internet connection, your Twitch streaming sessions are still limited due to the platform's limited upload speed (6000 Kbps max).
Best Resolution for Twitch Streams
The highest resolution for Twitch streams is currently at 1080p at 60fps. However, not everyone has the specs and requirements needed to stream at this resolution. The best resolution for a Twitch stream would really depend on the hardware you carry.
There are 2 things you have to consider when finding the best resolution for your streams: Encoding and Bitrate, which basically comprise your internet speed.
Encoding

Let's first understand the importance of knowing your encoding performance and quality.

You need to determine the encoding performance of your PC. Encoding performance refers to how well your CPU or GPU can handle streaming and gaming. If your encoder cannot deal with broadcasting and gaming, your live stream will suffer in quality.

Now, you either use an x264 or NVIDIA NVENC. Encoding is more demanding for your CPU if you have x264 specs. On the other hand, NVIDIA NVENC uses GPU encoding. With a dedicated GPU for encoding, your PC can better handle streaming and gaming without sacrificing game performance in the process.

There is also a difference between the encoding quality you get from an x264 and NVENC. When you choose the x264 as your encoder, you also have to choose a preset that works for you because the encoding quality differs depending on the preset you use. The NVENC offers a more consistent encoding quality as compared to the x264.

Bitrate or Internet Speed

On the other hand, your internet connection also greatly affects the quality of your streams. In streaming, we refer to your internet speed as your bitrate. This is basically the amount of data per second you can send Twitch while streaming.

A higher bitrate can help enhance the quality of your streams but only to a specific extent. As mentioned earlier, the maximum bitrate that Twitch allows is 6000 Kbps. This upload speed can only accommodate streams up to 1080p at 60fps. Other than that, Twitch can no longer upload your live streams at a higher resolution.

Luckily, Twitch has a set of Broadcasting Guidelines that help streamers determine the best possible resolution and frame rate for their device. They automatically set the best settings available so Twitch streamers can use the best video quality for their streams.

There are different settings for NVIDIA NVENC users and x264 users. Twitch recommends a different setting for each spec to stream a 1080p video resolution. You can also choose to stream at 60fps or 30fps, whichever suits your preference better.

Additionally, below are the suggested settings for streamers who want to achieve a 720p resolution at different frame rates.
Can You Save 4K Recordings of Your Streams?
Good news! You can absolutely record your streams in 4K. You simply have to download and install a software to do so. You can choose either Open Broadcaster Software (OBS) or Streamlabs as your recording and streaming software.
Open Broadcaster Software (OBS)

OBS is a streaming software that also allows you to record your streams as well. This software has other features that you may find useful.

For one, it allows video recording without a maximum recording time limit. You can also enable hotkeys to trigger software actions immediately. OBS includes an audio mixer that's convenient for beginner streamers.

OBS is compatible with Windows, macOS, and Linux so it caters to a wide range of streamers. It can be used for free or you can pay a premium fee for additional features.

Download OBS from their website here.

Here's a quick guide on how you can record your streams in 4K using OBS:

Step 1

Open OBS

Step 2

Click "Settings" under "Controls"

Step 3

Under "Video", set the following parameters:

Base (Canvas) Resolution to 3840×2160.
Output (Scaled) Resolution to 3840×2160.
Common FPS Value: 60.

Step 4

Save these settings and you are good to go.

Note: It's important to choose the encoder you want to use. Choose your encoder by going to "Settings" > "Output" > "Encoder".

Streamlabs

Streamlabs is another versatile streaming software that can record your streams in 4K too. Being an advanced software, it can cater to the many needs of streamers.

Apart from the video editing and recording capabilities, Streamlabs has features that can help streamers grow their brand and channel because it allows them to publish their streams on multiple platforms simultaneously. This feature is called "Multistream". What's more, you can add a tip page and a merch page for your channel.

If you're interested in using Streamlabs, check out their set of system requirements to know if your device can manage the software. Moreover, you can download this software on this page.

To record your stream in 4K using Streamlabs, follow these steps:

Step 1

Open Streamlabs.

Step 2

Go to the settings.

Step 3

Click on the "Video" tab.

Step 4

Set the following parameters accordingly:

Base (Canvas) Resolution to 3840×2160.
Output (Scaled) Resolution to 3840×2160.
Integer FPS Value to 60.

Step 5

Click "Done" to save the settings.
You won't regret using any of the two software mentioned above. However, do take a trial run for recording in 4K. This way you can work out the kinks before recording your actual live stream.
Can Viewers Recognize 4K Quality on Twitch?
Now, you may be wondering why Twitch hasn't allowed 4K streaming, unlike YouTube and other streaming platforms. There are many reasons for Twitch not to support 4K streaming yet and the first reason has something to do with the viewers.
Most people will rarely notice that you are live streaming in 4K. But don't worry, you are not at fault. The video quality option on a Twitch live stream only goes as high as 1080p at 60fps. Again, this is because Twitch only allows a 6000 kbps upload speed.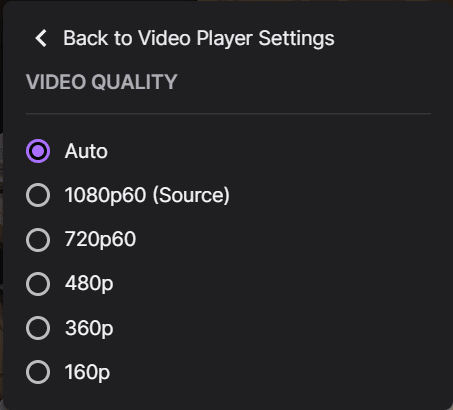 In addition, Twitch viewers may not have sufficient download speeds for watching your 4K live streaming sessions. Not everyone has 4K resolution devices to fully appreciate your high-resolution stream. So, streaming in an ultra HD resolution won't make much of a difference for your audience.
Lastly, not all games can be played in 4K too. So, there's no reason to burden your computer with the extra power to stream a non-4K game on Twitch.
Despite many people wanting Twitch to support 4K live streams, it may just not be time yet. Maybe we still have to wait for people to transition to 4K devices and for game developers to produce more games, or make existing ones available in 4K resolution. Until then, Twitch will continue to offer streams at 1080p max.
Conclusion
At the end of the day, you are better off streaming in full HD resolution rather than in 4K. Even popular streamers today opt to use either 720p or 1080p resolutions when streaming live content. Besides having the option to save your streams in 4K resolution, you should be assured that having it in 1080p is more than enough for streaming.
Finally, instead of worrying about your resolution, you can focus on improving your content to gain more subscribers and grow your channel. Happy streaming, Twitch streamers!